Lillys' Purple Plastic Purse
Materials
Plastic Baggie or Zip-loc Bag
Purple Bulletin Board or Construction Paper
Glue Dots or Hot Glue Gun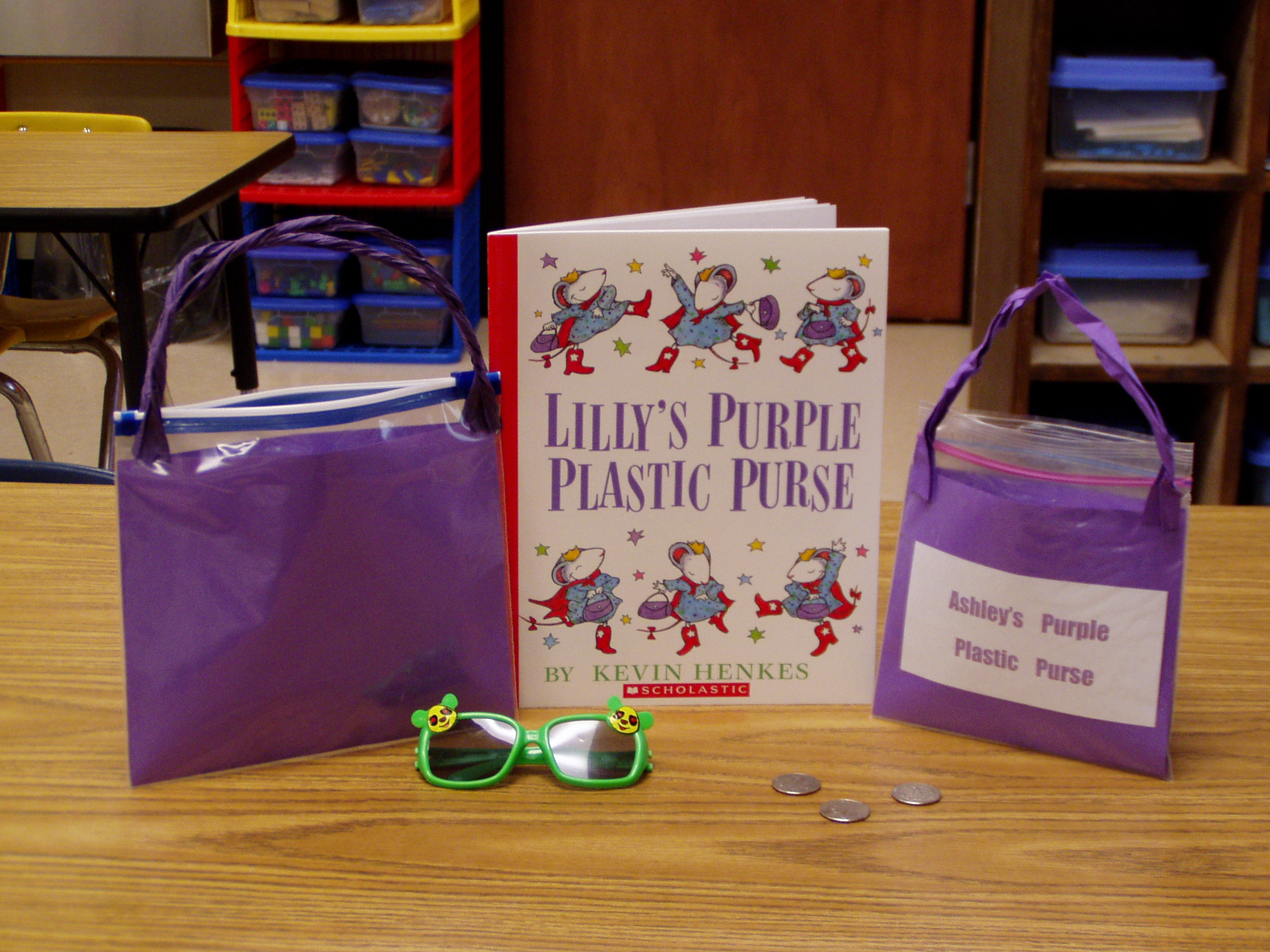 Fold purple paper and cut to fit inside baggie
Insert in baggie with fold at the bottom
Twist thin strips of paper to make handles-attach with glue dots

I have attached sheets I made for story recall, counting sets, and sorting coins.
Leave plain or make a personalized label
Ashley's Purple
Plastic Purse

You could put in "movie star sunglasses" and/or coins to practice coin recognition.

Students could draw pictures or cut out magazine pictues of what they would keep in a purse.
Renee Liles/Arkansas

Draw a small purple purse template. Have the kids trace and cut it out on the fold of a purple piece of construction paper. Glue up the sides, leaving the top open. Attach a strand of purple Mardi Gras beads for the handle on each side. Have the kids sequence the story and store the pieces inside the purse. Kath Brannen/Oklahoma

Objective: To write a friendly letter using Lilly's body as parts of the letter for visual learners.

Activity: Write a friendly letter to Mr. Slinger.

Materials: An enlarged picture of Lilly. Labels should be made to point out the parts of the letter that correspond with Lilly's body. These labels should include the five parts of a friendly letter: the "heading", "salutation", "body", "closing", and "signature".

Activity: Model letter writing with students, using the parts of a letter from the labels on Lilly's body. The heading goes at the head. The salutation label appears at the mouth. The body is the middle part of the letter and the middle part of the mouse. The closing refers the clothes Lilly wears. All parts of the letter follow from the head down.
After modeling the letter, have students write their own letter to Mr. Slinger. After writing, students can share their letters and the feelings they used in their letters that relate to the feeling that Lilly had in the story. - Marie McCombs/Illinois

Read the story with your students the first week of school. Then hand out the assignment for your students to create their own "purse" (bag for boys, I guess). Inside the purse should be a few selected items that reflect their uniqueness. Then choosing five or so a day, have the students present their "purse". The students can guess why they chose each item. (Example: I would put a role of film in my purse, because (the students would guess) ... I love to take pictures). _ Jess /Texa

I like this book. My idea is to make it into a play for the students to practice and perform for their school. It's also a great book to use for explaining why we have school rules. - Sonya

This story is about Lily's most prized possession and a great September activity to learn more about your students. After reading this story, talk about "prize possessions." Discuss how Lily's purse was so special to her. Then, I share one of my prized possessions from my childhood and read a description I have written about my object. Then, I have students begin writing a description about one of their prized possessions. I provided copies of a paperbag (for boys) and a larger purse (for girls) so the students can draw their prized possessions after they write their final copies. Also, I send a letter home to parents requesting students bring in their most prized possessions for the writing activity. Ask that these possessions be placed in a labelled brown paper bag for safe keeping. We then have a class sharing day. Students read their writing and show their actual possessions. After sharing day, I post students' papers & pictures on a bullentin board. Renee Cooperman /New York



Grade K-1.
I have an oversized purple purse made of posterboard and laminated. I have clip art of various objects, some beginning with the letter P. After reading the story the children pick one clip art, identify it, and if it starts with a "P", they stick it on the purse. - Patti Beckman

Read the story to the class and chart ideas about times when students did something that they regretted. You may even want to share a time like that of your own. Send them to their seats and let them write about a time like that on the attached printable. You could copy it on purple paper to make it even cuter.

Add different coin amounts (depending on your grade level) to the money page and have students practice counting money.

Use the graphic organizer to talk about the story elements.

Make purple construction paper purses in
PDF's
Links to other Pages!
This year at the beginning of school I'm going to read to my students "Lily's Purple Plastic Purse." Afterwards we'll discuss how they will have some days where they will like me, and some days where they won't like me. But I will always like them, and the next day will be better.
This is a good book to use to discuss consequences of following and not following directions. Ticia Messing


Would you like to make lesson planning easy

thisyear? Do your want your students to have fun while they learn? Then get our CDROMs & Packets Now!!!
Save when you order all four CD's today!

Order all Four CD's in one easy click & save US $4.40!

$123.00 US Total (Use button below)

Out of US Total $145.00 save $6.00 (Use button below)




Click above to order your back to school goodies.




Teaching Heart


Books For B2S /

Compiled Ideas /

B2S Printables /

B2S Resource Books /

Conference Ideas /

First Year Student Teacher /

Pocket Charts /

Themes /

Classrooms Around The World /

Teaching Heart Timesavers /

B2S BBoards /

Calendar Circle Time /

Center Set-up /

MOOSE /

Management Tips /

Behavior Tips

/ Parent Helpers /

Open House /

Sites /

Great Deal /

Themes for B2S /


Back To School Index

Logo & Webset Design By GoneCountryGraphics.com