Rainbow in My Cup Craft

White cup, pipe cleaners, floral foam, piece of gold (dollar store), cotton balls

Rainbow on My Head!

Printable for this can be found here!

Great fine motor practice… beading a rainbow bracelet! Also great for following a pattern!

Perfect fit for a little Rainbow Fish Fun!!!

We made our Rainbow Fish for old CD's. The template is in our Rainbow Fish Pack. Get it here!

East Cloud Rainbow Craft!
Click here to check out some more cute craft ideas from I Can Teach My Child!
So much fun with Rainbow Water Beads!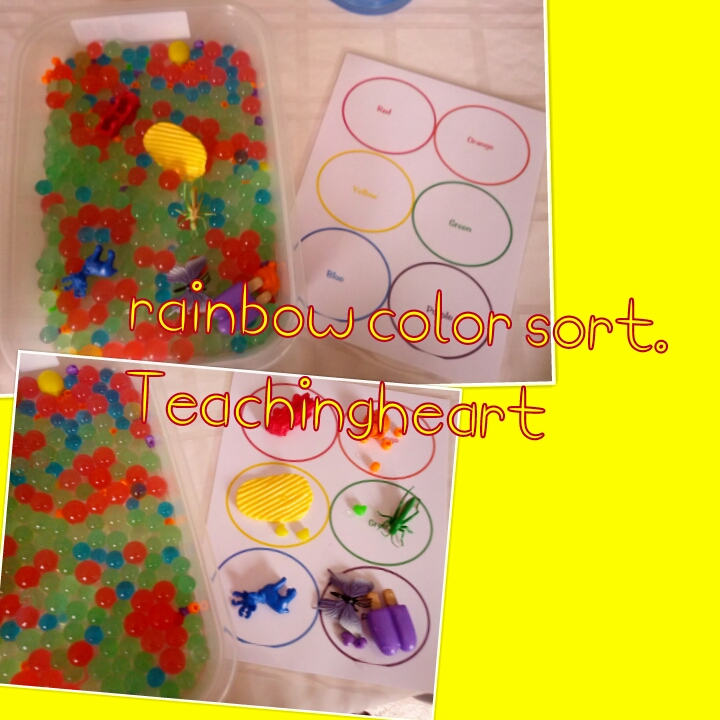 I love these water beads? Get a few colors and small containers and you have a fun sensory activity.
Students find hard objects mixed in with the colored water beads!
Fun Rainbow Centers! - Click here to get these!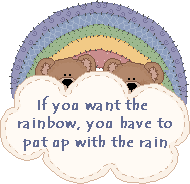 Great Ideas Found on Our LArge Pack # 3
Rainbow Race Student Game
- You supply a dice with six colors (you can buy a wooden cube at a craft store and color each side).
Your students roll the dice and place an x in the correct column. T
hey play till a color wins. They then answer questions about their race.
An activity sheet for this game is provided on our large pack


The Colors of the Rainbow
This includes sentences strips for your pocket chart. The strips are in color and include pictures to make the text easy to read. You can use this as a center. Place the strips in a pocket chart along with our center sheet that matches this. The center sheet in in black and white. The student write the color word in the blank and then colors the pictures to match the text. When they are finished they cut apart the strips, staple in the corner and take home a little book.
This is free to print from Teaching Heart
1.) Rainbow sentence strips - these are sentences in color with graphics. They may be used in a pocket chart or other.
2.) Activity sheet - after the student reads the center - they use the center to help them make their own book.


Raindrop Contraction Center
this includes all the manipulatives - teacher prints, laminates, and cuts. You can store these in baggies that students take back to their desk or in a pocket chart. You may choose to give a set to each student or use as a group activity. The student must match the raindrop to the umbrella.(1-3) If you do not have the CDROM, you can create a center like this. Find a die cut of an umbrella and raindrop. Place a match problem on the raindrop and the answer on the umbrella. Have the sudents match.


Umbrella Count by 5's Centers
Place umbrellas with counts by fives in a baggie. The student places the umbrellas in the correct order to complete the center.
These are just a few over 200 printables found on our January Through June Primary Teacher Timesavers Pack.
Check it out and Click Here to learn more!!!!



Noah's Ark is always fun to discuss with a rainbow unit!
This free set includes what you see in the image.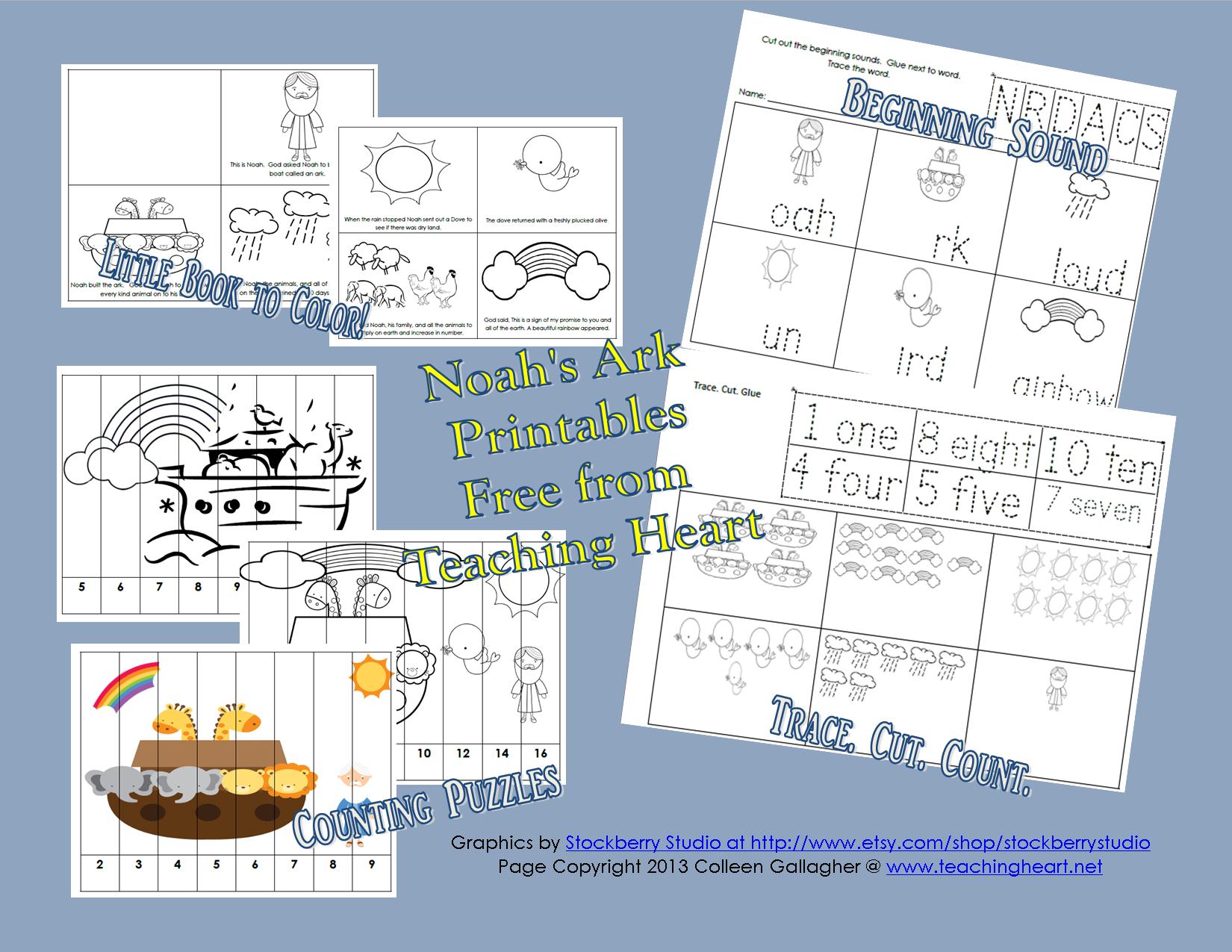 Your download of these files include:
Three Noah's Ark Counting Puzzles
Little Retell Book to Color and Use!
1 Beginning Sounds Activity
1 Trace – Cut – Count – Paste Activity
I hope you find them useful!
Click here to download the Noah's Ark Pack!
We made these cute Rainbow Ark pictures with half of an nine inch plate, fruit loops, brown construction paper, stickers, and cotton balls.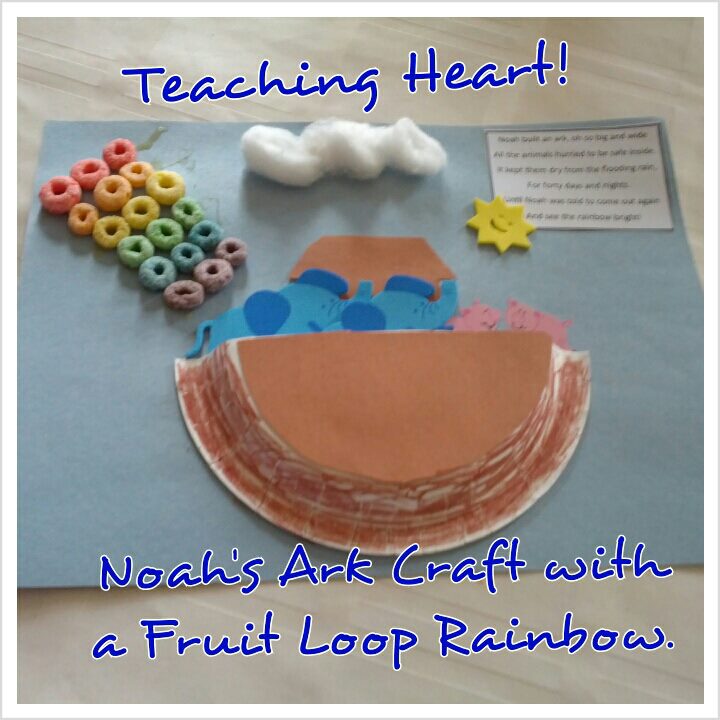 I thought it turned out cute! I have done the large fruit loop rainbow in the past. I wanted to do a small version with less fruit loops and this worked out pefectly. Three fruit loops in each color. I only used half a box of fruit loops for 24 kids. We could eat /play with the rest at snack.
I also attached this poem to the ark picture…
Noah built an ark, oh so big and wide
All the animals hurried to be safe inside.
It kept them dry from the flooding rain,
For forty days and nights.
Until Noah was told to come out again
And see the rainbow bright!
Lastly we pretended to be on Noah's Ark with my parachute.