Fantastic Fall Literature For Children


Keep these books in your reading center or read a book to your class!
| | | |
| --- | --- | --- |
| | | |
| | | |
| | | This book has beautiful photos of different leaves and trees. |
| | In this book, your class will learn about different leaves and why they change color. As a class, go on your own leaf hunt in a nearby park. Their are instructions in the back of this book for doing leaf rubbings and for pressing leaves in wax paper. | |
| | | |
| | | |
| | | |

Various Ideas

I am sure you have read one of the "Old Lady" books. There is a new one for fall called, "There was an Old Lady who Swallowed Some Leaves!" It's so cute and the kiddos love it. The pattern of the text makes it a perfect match for emergent readers. Once you read it a few times with a child, they can read it on their own using the picture cues. I love to act out these stories with the apron I made below. The kiddos can retell the story by putting the items in the old lady's belly. You can click here and download the pictures from There was an Old Lady who Swallowed some Leaves here. Below I will tell you how to make the apron.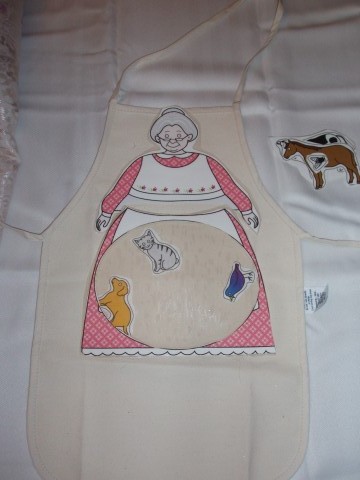 Above is one I created using a child's apron found at Michael's Craft store. The printables come from KizClub. Click here for the link to the printable. I printed, laminated, and then hot glued the lady to the apron. I would suggest you make a few of these and have your students retell the story using the vests. They will love this activity. Also you could have the lady swallow letters and say the sound as she swallows the letters.

Click here to learn about the pattern seen below – it can be used with all the Old Lady Books.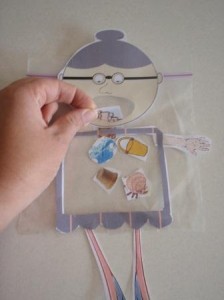 Click here to print objects for the Little Old Lady to Swallow that match There was an old Lady who Swallowed Some Leaves!
The kiddos can retell the story by putting the items in the old lady's belly. You can click here and download the pictures from There was an Old Lady who Swallowed some Leaves here
Click Here For the Old Lady Who Swallowed a Bat Activities

THE COLORS OF FALL
You can make this into a book or use it in a pocket chart. Cover up
a word and have your students tell you the word that is missing! You can do many
things with these printable cards. You can make your own or purchase our CD for October -December and use and modify ours to meet your needs.
Clcik here to learn about the CD
THE COLORS OF FALL
We see a black cat
We see a red apple
We see a colorful scarecrow
We see an orange pumpkin
We see a green leaf.
We see a yellow moon.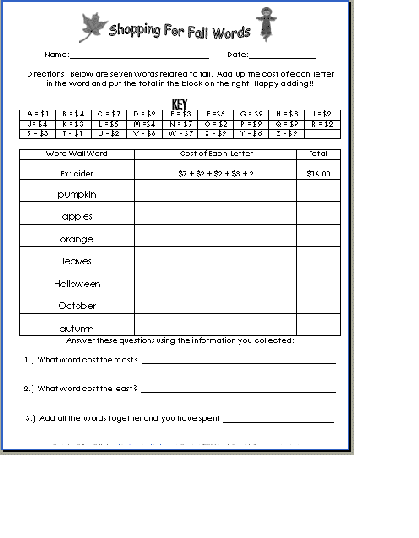 Over to your left you will see a fun math activity called, shopping for fall words. Students must use the key to find the price of their fall words. Adding multiple numbers is needed. (1-3). This fun activity sheet is found in our fall halloween packet. You can learn more about our packets by following the link below.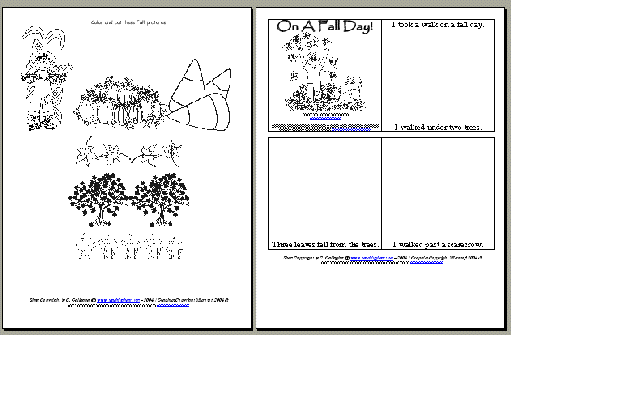 Have your students color page two of this document. Then have them cut out the pictures and glue them into the book on page 3 – 5. When they are finished have them cut the book and staple together. They can finish the sentence and illustrate the last page.
This is a fun activity for your writing center. To your left you can get an idea of what the document looks like. The pictures and document is shrunk so that it cannot be copied. This activity is found in our halloween/fall packet found at the link below.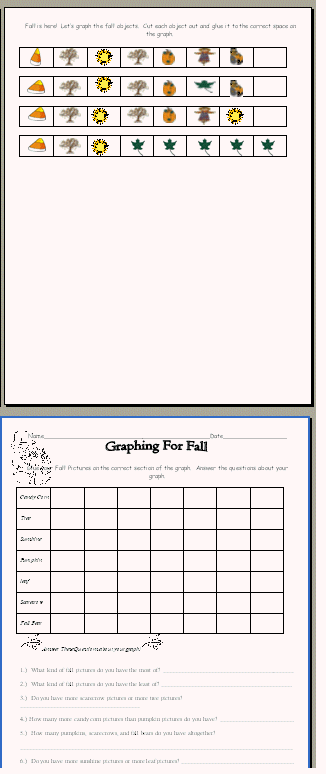 Graphing For Fall
Students cut the fall pictures and then glue them to the given graph. When they are done, they answer the questions about their graphs. This activity is found in our fall packet. You can learn more about the packet at the link below!
http://teachingheart.net/primaryteachertimesaver.html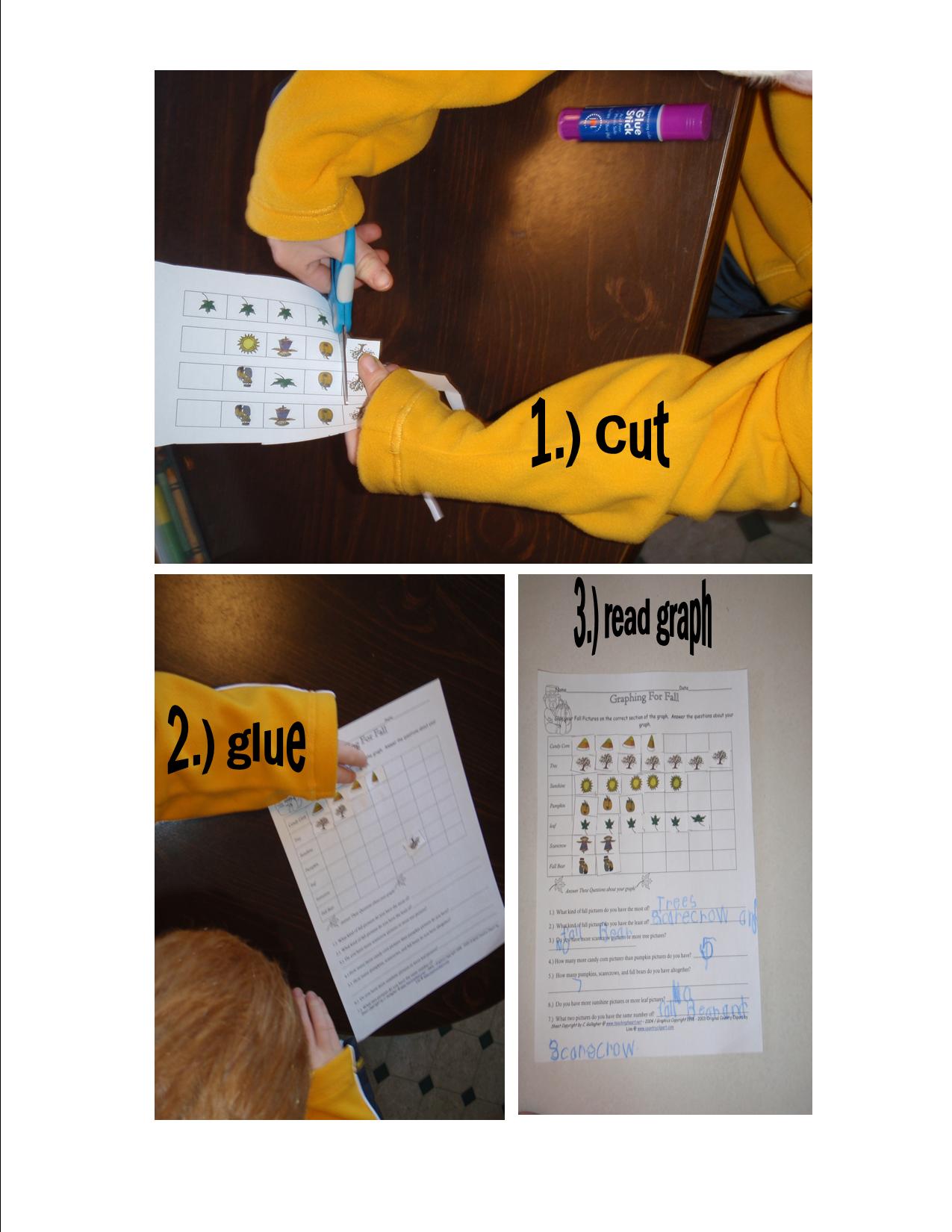 Here's a fun dice game for two – four players. You can download all you need to play here. Just supply a die per game.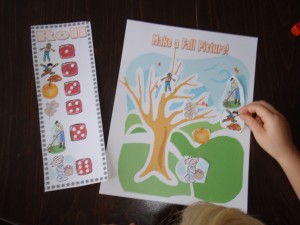 The object of the game is to create a fall picture. Students take turns rolling the dice and selecting the picture that matches the number on the dice. The first person to have all the six pictures on their playing card is the winner. My five year old had fun just playing with the card and the pieces once we finished playing the game.


Easy Apple Glyph

Here is a Glyph that would be great if your class is doing Glyphs for the first time!
Apple Color
Red = Girl
Green = Boy
Apple Stem
Pointing right = right handed
Pointing left = left handed
Leaves
The number of leaves = the number of people living in your house now.
Worm
If you have a worm in your apple = you like apples.
If you do not have a worm in your apple = you do not like apples
If you are unfamiliar with Glyphs please see


CLICK ON THE BOOK TO LEARN MORE
Free from the Teaching Heart Graphing CDROM!!!
*What is your favorite fall activity?
Above are the free printables. Click here to learn more about these activities!


Make fall fun and learning all around with our packet.
Teach Preschool or Kindergarten? Check out these FAB FALL IDEAS!!!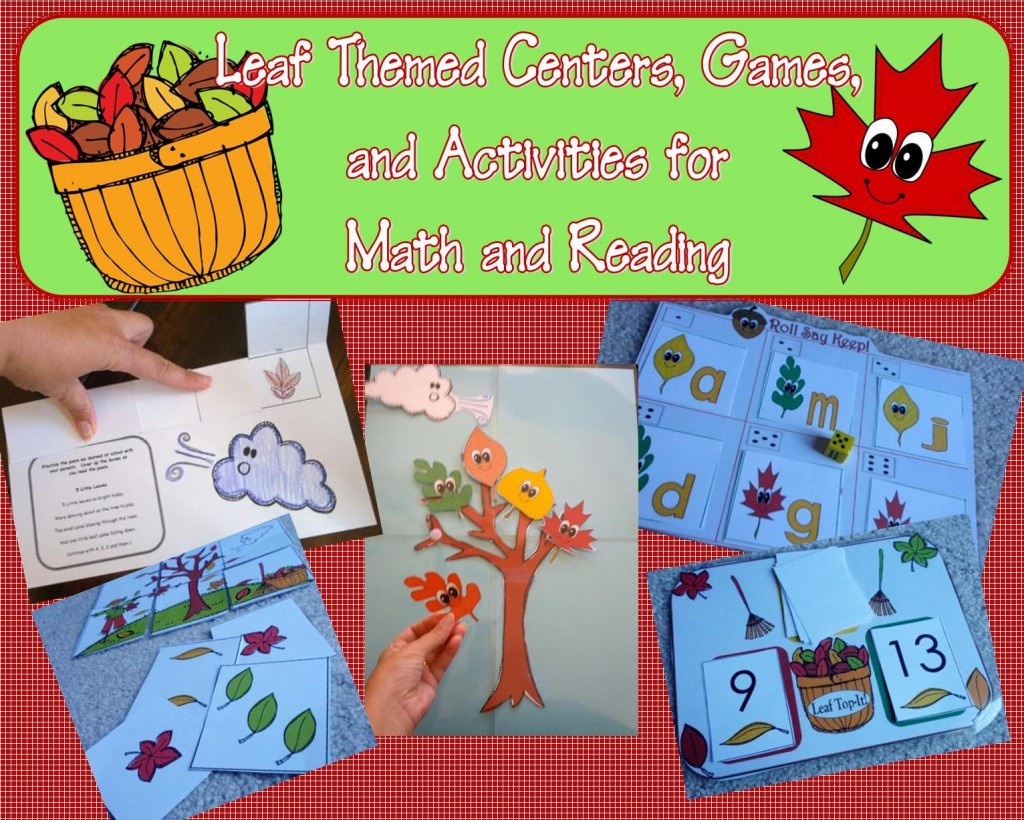 Below are pictures of some of the goodies found in the set above. You can get the set at ejunkie (CLICK HERE) Before you buy you may want to consider a HUGE way to save if you love my Preschool and Kindergarten Fall themed sets… I now offer the Fall Scarecrow, Pumpkin, 2 Apple Packs, and NEW Leaf Packet in a huge bundle. You save if you buy them all at once rather than separately. You can get the bundle here at ejunkie (CLICK HERE)!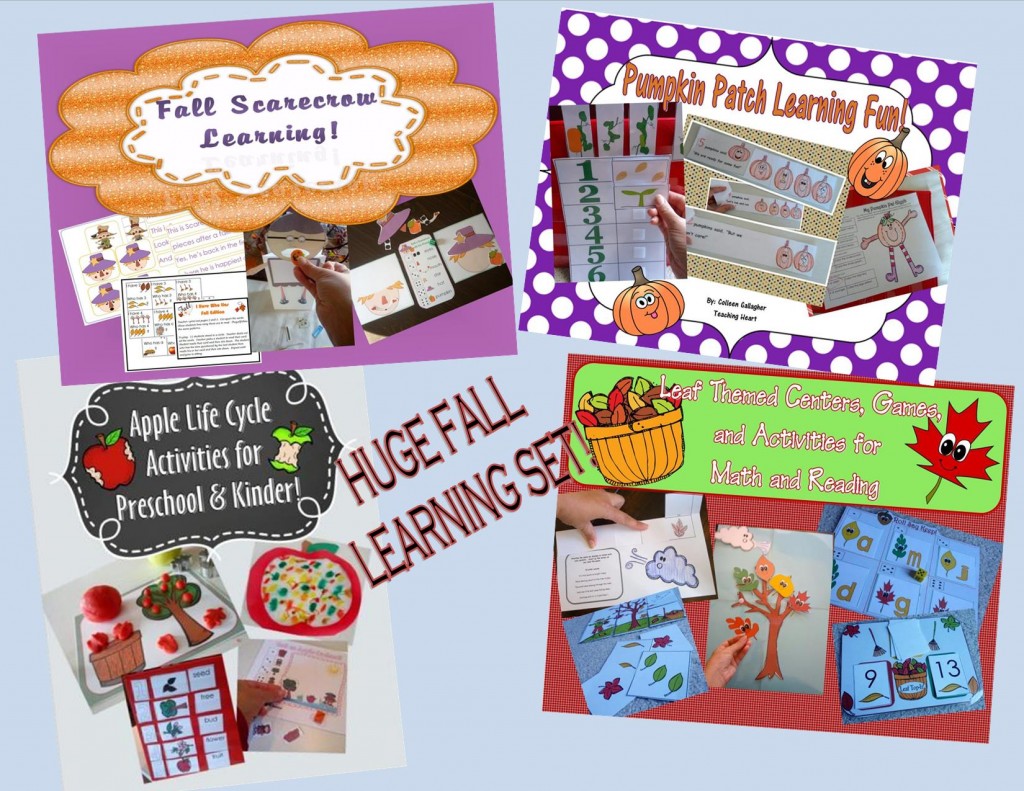 Here are some pictures of the goodies found in the leaf themed set!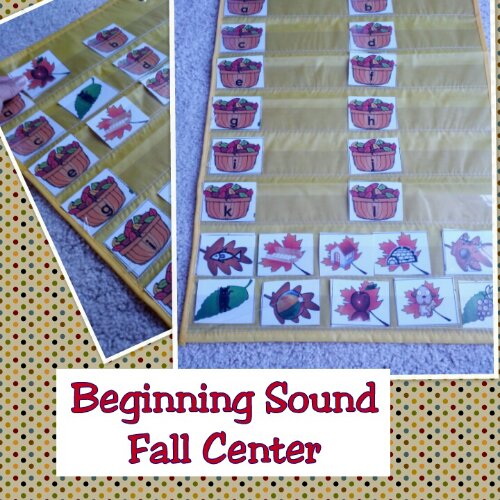 Beginning Sound Center

Fall Counting Puzzle Game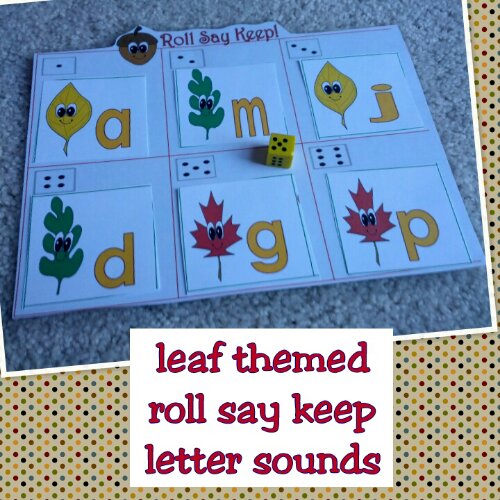 Leaf Themed Roll Say Keep Letter Sounds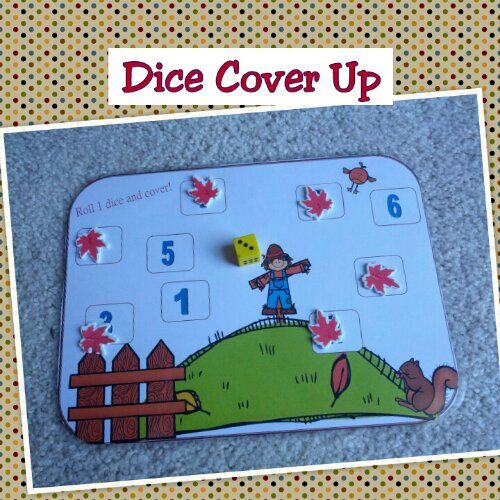 2 Dice Cover-up Games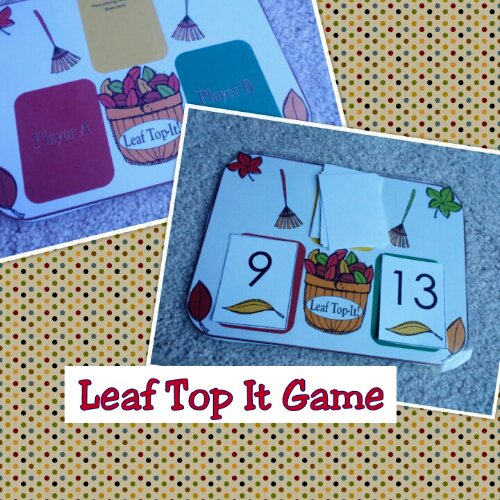 Leaf Top It Greater or Less Than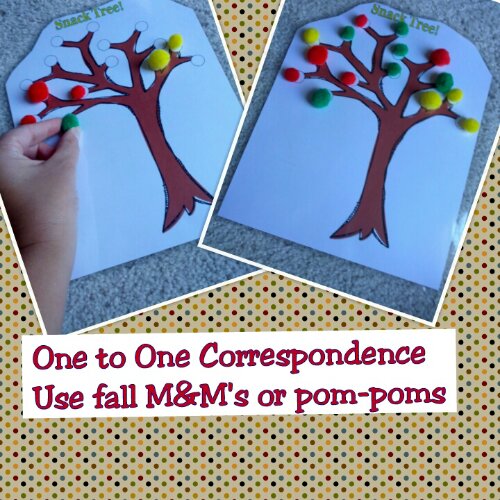 M&M Fall Snack Tree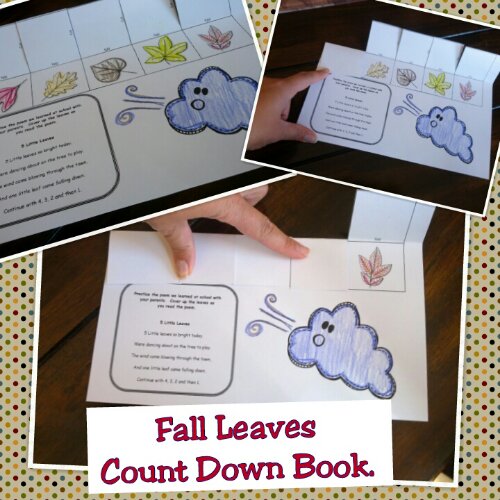 Five Fall Leaves Counting Book!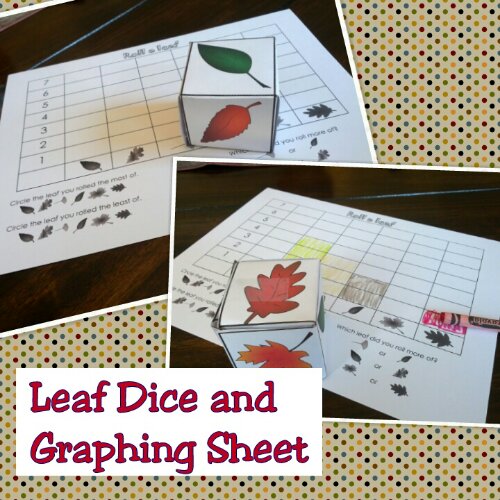 Leaf Dice and Graphing Sheet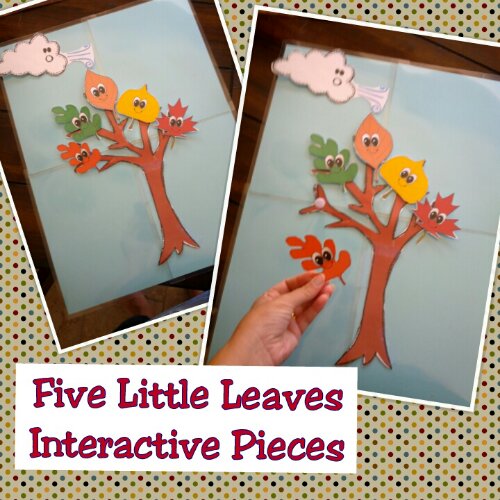 Pocket Chart Pieces and Story Retell Five Little Leaves!
You can get the set at ejunkie (CLICK HERE)
You can get the bundle here at ejunkie (CLICK HERE)!


Have your students write fall poems. Display the poems on cutouts of leaves. Here is one done by one of my students. Just a fun writing activity!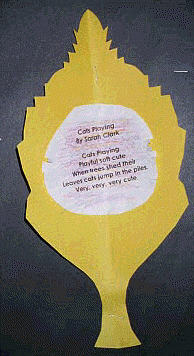 Debbie Goodman Shared this Ordinal Number Activity Sheet on the Teaching Heart Group. Click Here to Print!

Fall Board Game from our CDROM. Click here to learn more!!!For even more, click here!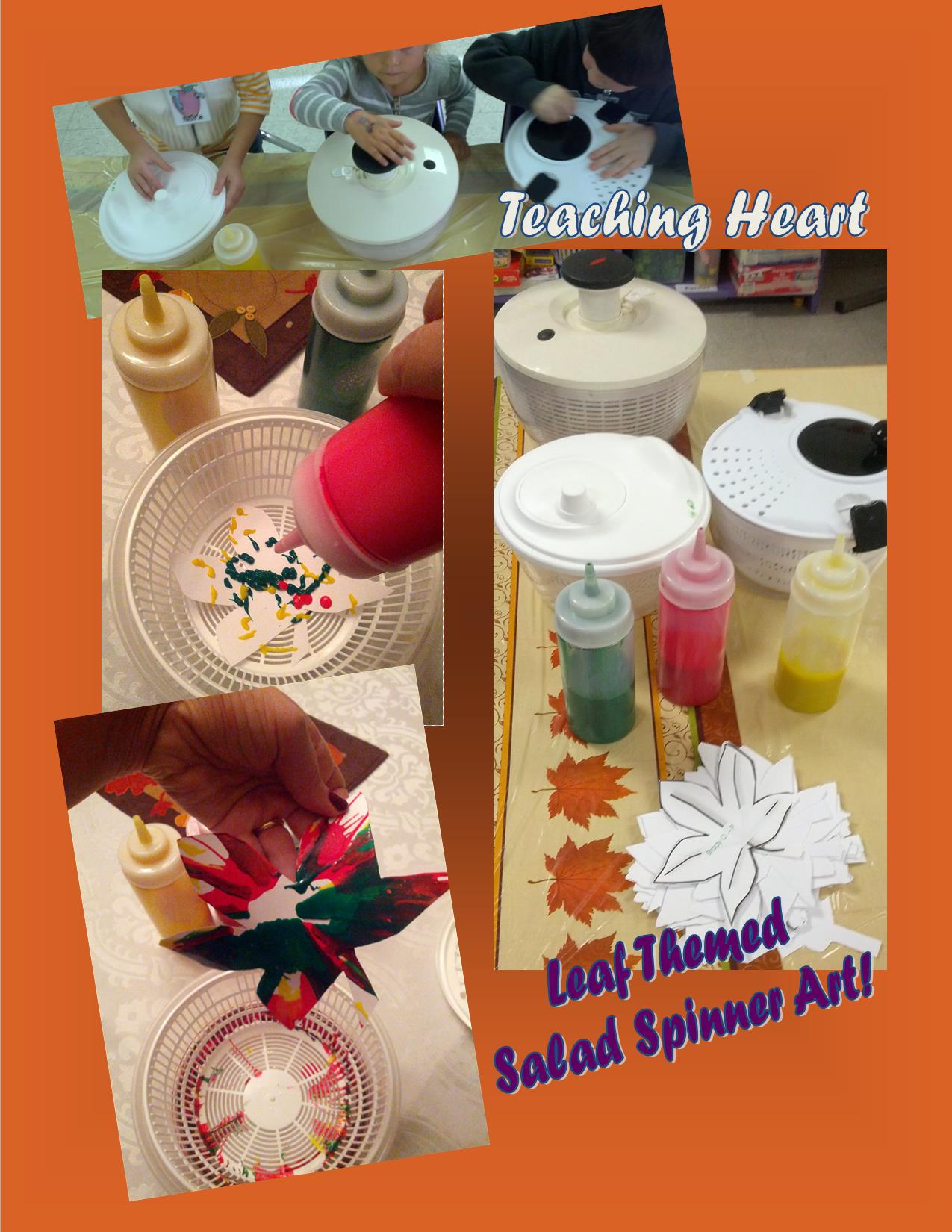 I saw this salad spinner apple on Teaching 2 and 3 year olds and knew it would be fun to do with leaves… so I borrowed three salad spinners from various friends… loaded up some squirt bottles with paint (fall colors) and gave it a spin. The kids loved the magic of squirting some paint on their leaves, closing up the spinner, and using the spinner… the magic leaves were so pretty when we opened up the spinners…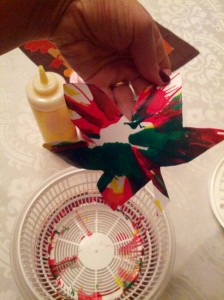 free leaf templates - page 2 contains the one I used on the craft above.
Here is a simple dauber leaf art activity… using three fall colors the students filled in four circles on the leaves!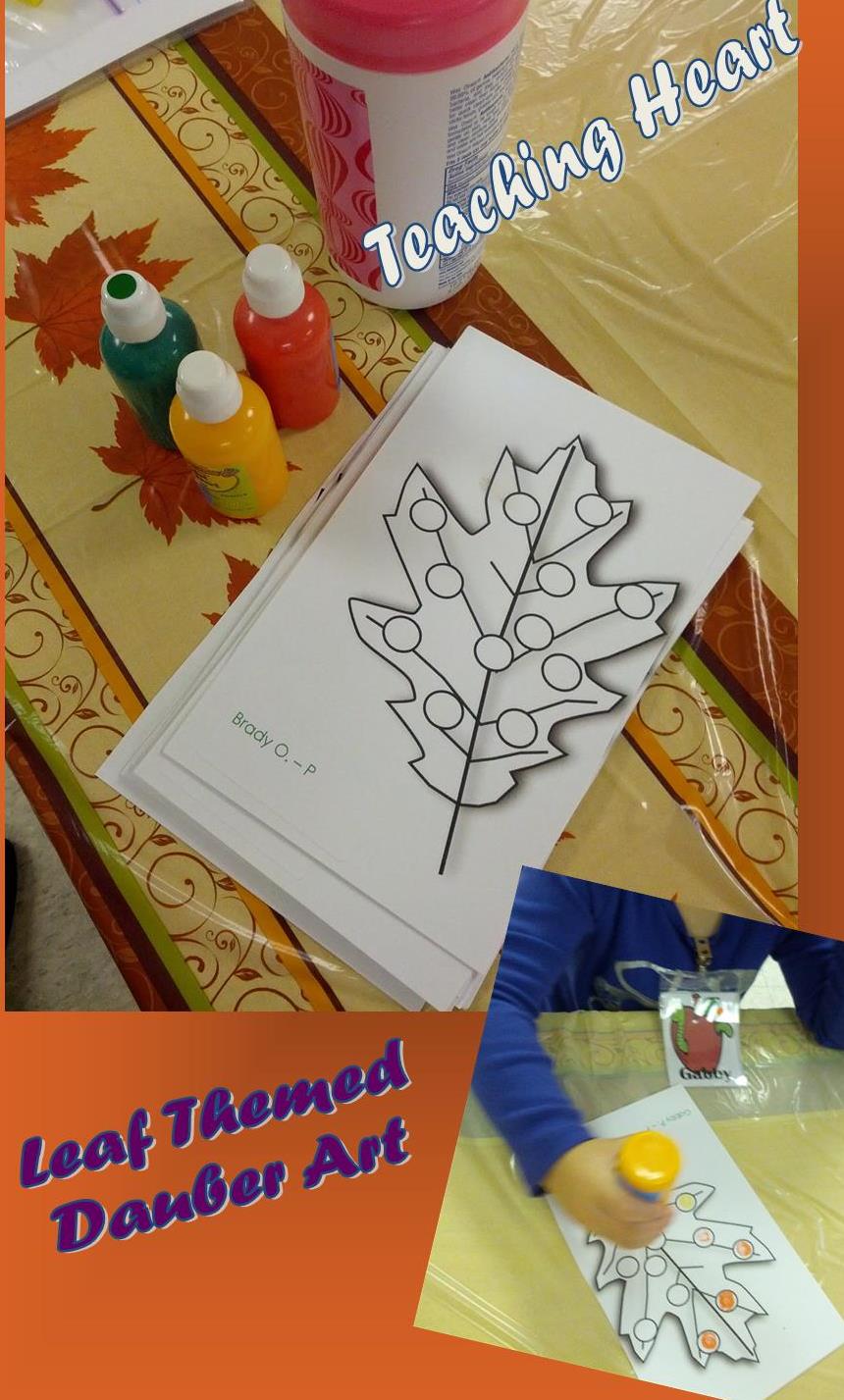 free leaf templates - page 4 contains templates for this!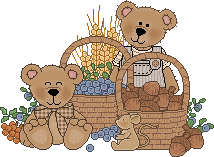 Bulletin Board Ideas!
Bulletin Board Ideas - Make your classroom come to life this fall with these great bbaord ideas galore!

Falling into Place (or Fall into Learning) - Autumn theme with a tree and different gold, red and brown shades of leaves falling to the ground, use students names if desired

Click Here To Learn about "Fall" Into Good Habits

The Leaf Mural
Enlarge and print leaf patterns for each of your children (use as many different patterns as you can find) let your children sponge paint the leaves in fall colors. Then put them on your bulletin board with the title "Welcome Fall" You can also put them in a tree shape with a few leaves falling down with the title "Falling into Autumn"

Click to print a leaves border

Raking In Good Work.
1.)Find a leaf reproducible, have students write words that rhyme with the words fall on their leaf. Display!
2.) Use leaves to show homework progress for the month. Do this by making a cut out of a tree and other fall things. Staple a pocket of leaves next to the board. Each time a student turns in homework they may fill out a leaf and place it under the tree. When the month is over - reward those with the most leaves.

Motivational Fall BBoard Idea
1.) Cover a large bboard with green or black butcher paper
2.) Cut the words Pumpkin Patch Kids from orange or yellow paper / or use a print program to make a banner that says Pumpkin Patch Kids. Place this at the top of your display.
3.) Use orange construction paper to cut a pumpkin for each student in your class. Glue a brown stem to the top of the pumpkin.
4.) Cut 2 black circles (eyes), a 1 black triangle (nose), and one black mouth for each student. Place all the eyes in their own ziplock baggie, place all the noses in their own baggie, and place all the smiles in one baggie. Now place these on your desk or in an easy to reach place.
5.) Have each student write their name on a pumpkin. Place the pumpkin on the bboard.
6.) As a students completes a specific tsk (you decide the task) they get to add one piece to their pumpkin for each task they complete. When their pumpkin is complete, award the student in some way!
NOTE: First and second graders love this!

Great books to leaf through.
Have your students write the titles and authors of their favorite books on leaf cut-outs.

Teacher Resource Books For Fall

Crafts!
Make a Fall Tree With Finger Paint
Click here to see pictures!

Use your arm as the tree and hands as the leaves!

What you need:
Sponge cut up.
Fall color finger paints.

We mixed green & yellow to get brown...Hand print becomes the branches. Use a sponge to tap on the leaves.

Fingerprint Leaf Prints

Fall Poems, Songs, and fingerplays
Patterned after Brown Bear,Brown bear.
sung to (Frere Jacques)
In October 2x
What do you see? 2x
I see a gray squirrel
Leaping on the trees.
In October 2x
What do you see? 2x
I see Jack-O-Lanterns 2x
Laughing at me.
In October 2x
What do you see? 2x
I see children
Saying trick or treat 2x
In October 2x
What do you see? 2x
I see leaves 2x
Dancing on the streets.

Poem The Dancing Leaves ( Sung to Clementine)
The dancing leaves are falling down
orange ,yellow, red and brown.
They are dancing, they are dancing
They are dancing on the ground.
With their crispy and crunchy sound
They are the children delight.
Dancing, dancing up and down
From the morning to the night.

Five Little Leaves
Five little leaves in the autumn breeze,
tumbled and fluttered down from the trees.
The first leaf said, I am red
I shall rest in a flower bed.
The second leaf said, I am yellow
I'm a happy-go-lucky fellow.
The third leaf said, I'm violet
pick me up, I'm cold and wet.
The fourth leaf said I am green
when it rains I'm washed all clean.
The fifth leaf said, I am brown
I shall blow all over town.

Five Furry Squirrels
One furry squirrel dashes by,
Two furry squirrels are way up high.
Three furry squirrels some nuts to hide,
Four furry squirrels all play outside.
Five furry squirrels chase round and round,
Scattering acorns on the ground.


Write all About it!

Here are some possible journal topics.
*What do you wear in the fall?
*Tell me why you like fall.
*Imagine you are a leaf hanging on a tree,
how would you get another leaf not to be afraid of falling off the tree?
*Write a story about an unusual leaf.
*Draw things that "fall" in the fall.
*What can you hear/smell/taste in the fall?
*I was eating an apple when...
*The leaves fell from the tree and...

Fall Words

Display a Fall Word Bank

Since your students will be writing about fall, you may wish to display a fall word bank that your students can easily view when needed. Here are some words to get your word bank started!
apple, tree, dark, night, cool, cold, windy, chilly, pumpkin, air, turn, light, leaves, fall, Autumn, colorful, green, yellow, red, brown, cider, sway, exciting...

Math Ideas

How Many Leaves On A Tree

Count the leaves on several of what seem to be typical branches, and figure the average number of leaves per branch. Count or estimate the total number of branches on the tree. Multiply the number of branches by the average number of leaves per branch to find the estimated number of leaves on the tree
To find the number of leaves along a certain trail or certain area, first compute the estimated number of leaves on several representative trees in the area, and then figure the average number per tree. Next, count or estimate the number of trees along the trail or in the area. It is best to use just one type of tree for this activity. (Use only Cedar Elms, Live Oaks, etc.)

This activity has potential for a number of math problems for older children. Also, it may lead to interesting discoveries about the numbers of leaves on different kinds of trees as well as variation in numbers on the same kinds of trees growing in different situations, such as sunny or shady places, or areas crowded with many trees.
o estimate the surface area of the leaves of a tree, use a ruler to make approximate measurements of each of several representative leaves. Then, compute the average area of a leaf. Estimate the total number on the tree, and multiply this number by the average surface area to find the estimated total leaf surface area of the tree. The leaf surface area of a tree is important because of photosynthesis. The more leaf surface area a tree has, the more food it may make for itself and the more oxygen it will transpire.
QUESTIONS: How can you estimate the number of leaves on a tree?
How good is this method in your view?
What other methods could be used?

Ask each child to bring in three leaves that they find in their neighborhood. Use these to create a graph.

Allow all your students to taste a green, red, and yellow apple. Then have the children write the color they like best on an index card. Next have them place their favorite apple on a graph. After the class graph is complete, ask the class questions:
What apple did the class like the most?
What appple did the class like the least?
How many students liked red the most?...


FREE Fall Printables, Activity Sheets, and Worksheets!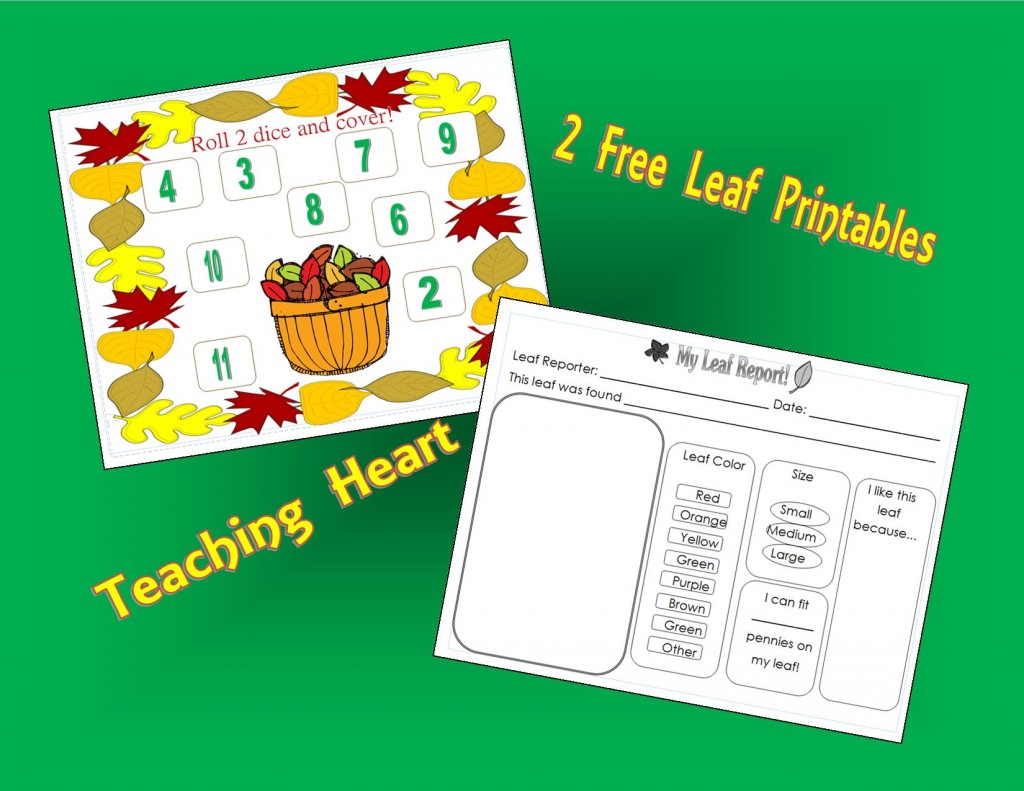 Click to download – Free Leaf Printables – Game and Leaf Data Sheet
Fall Leaf Snack!
The Fall M&M's are out! Here is a fun snack time activity using them. Preschoolers can practice one-to-one correspondence by adding a leaf (M&M) to the tree.
This printable below is found in our leaf packet!

More Fall Ideas


Making Fall Words

Making Words

A making words lesson is always fun when you use a fall word.

Make the word apples


Each student needs a,p,p,l,e,s
Some words to have your students make: as, pal, lap, sap, ape, pea, sea, spa, slap, pals, apes, peas, lapse, apple, apples
After the lesson: Have your students write these words in their journals. Have them circle all words with ap in them. Have them underline the plural words. Have them pick a word and write it in a sentence.

Make the word raking


Each student needs: a, i, g, k, n, r
Some words to have your students make: an, in, kin, ran, nag, rag, rig, rain, rank, rang, ring, king, grin, gain, grain, raking
After the lesson: Have your students write these words in their journals. Have them circle all the ain words. Have them put a star next to all the ing words. Have them underline all the ag words. Ask them to write a word that rhymes with ran next to the word ran... Have them use the word raking in a sentence.
If you are not familiar with Making Words Lessons please see the book below.


CLICK ON THE BOOK TO LEARN MORE!

My Favorite Fall links!