Awesome Books and Literature Activities To Share With Your Kids!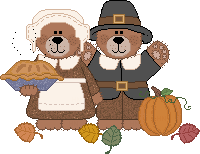 Click on a book to learn more about it from Amazon.com
Before Reading
Discuss what other story has a similar name. Have students tell their favorite parts of Twas the Night Before Christmas. Before reading the book, tell the students to listen for similar parts in this story.
Which story does the class think was written first; this story or Twas the Night Before Christmas? Discuss the term parody.
Write the following words on bus cutouts. holiday, Thanksgiving, farmer, turkey, bus, gobble, fall, farm, and autumn. Discuss what each of these mean. Have a student use the words in a sentence.
Other Activities
Divide the students into groups of four. Give each group a map. Tell the goups that it is their job to guess where the story took place. Then, have the groups explain what makes them think this is where the kids in the book were from.
Learn about point of view by having your students become the Turkey's in the story. Ask them to imagine how they would feel when they saw a bus load of children on the eve of Thanksgiving.
I read T'was the Night Before Thanksgiving and then the children make turkeys for our bb. The turkeys are dressed in shirts, pants, a tie and a cap. The clothes are made from wallpaper scraps. They make a talking balloons and write something that the turkey thinks you should eat for Thanksgiving instead of turkey. They are absolutely adorable. -Cathy Furlong Concord NH


Some More of My Fave Turkey Time Books:
Follow this link to learn how to create a Thanksgiving Dice Story Problem Dice Game. Free printables to make this game are included!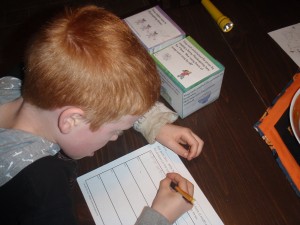 Get a free roll a turkey game over at the blog. Click here to learn more!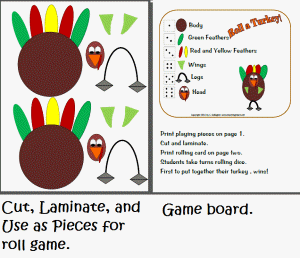 Here is another version found in our Preschool and Kindergarten Games Pack - Click here to learn more!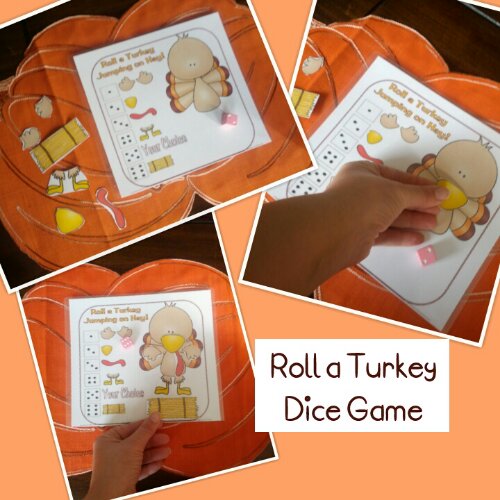 Ideas Found on the Teaching Heart Thanksgiving Packet
To learn more about this pack et and how you can purchase the awesome printables to match the ideas, CLICK HERE!!!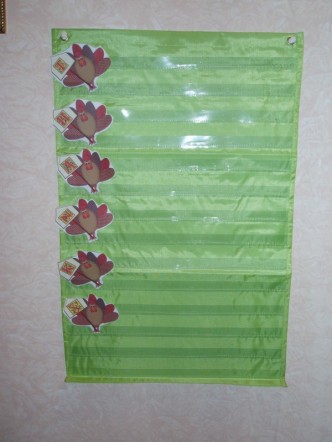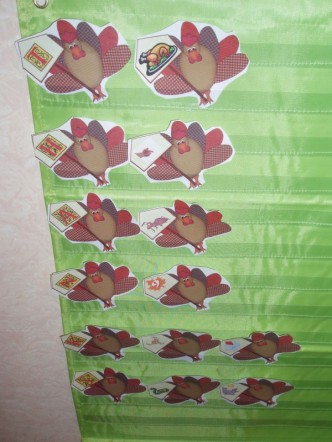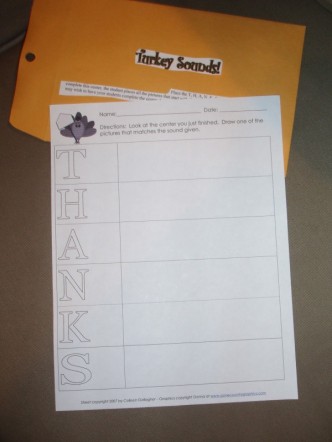 Turkey Pocket Chart Center - Many turkeys are programmed with pictures. Students sort the turkey cards by initial sounds (6 letters, t, h, a, n, k, s)into a pocket chart or organize on the floor. The last page of the file is a center sheet you may choose to have your students complete once they have done the center.K-2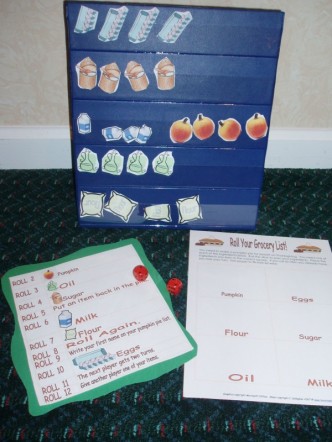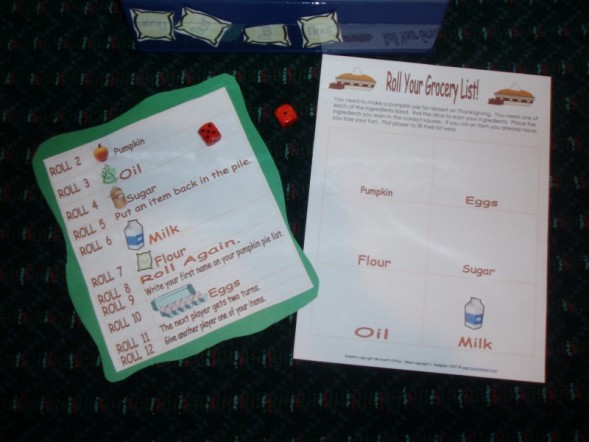 Roll a Grocery List To Make a Pumpkin Pie - Students take turns rolling the dice and completing the task as directed by the given key (page1) First player to fill their playing card (page 3) with one of each pumpkin pie ingredients (page 2) wins.(1-3). I use a small pocket chart as the store. When the students roll, they take the item from the chart and put it on their list. This makes a great center or a fun activity for free time!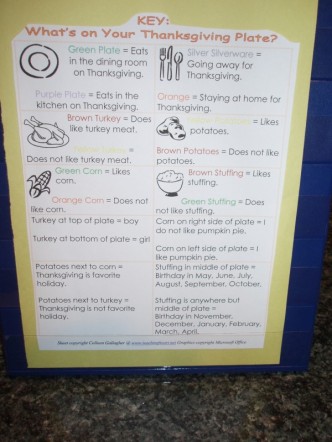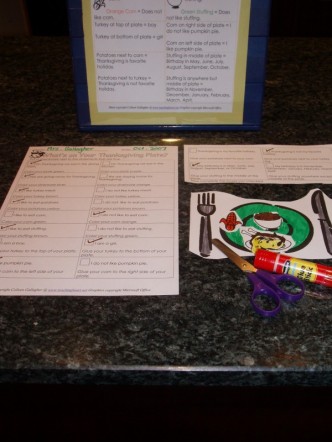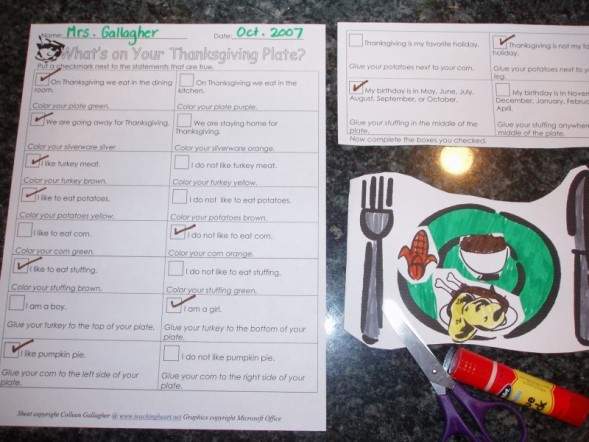 Thanksgiving Plate Glyph Activities – Includes manipulates to make the glyph, printable glyph key, and a classroom activity sheet for analyzing glyph data.(1-3) First the students answer questions about Thanksgiving in their family. Then they color and cut the glyph based on their answers. After the glyphs are done I suggest you display them along with the key. Then the display can become even more fun with learning. The students can fill out a sheet that asks questions about all the glyphs.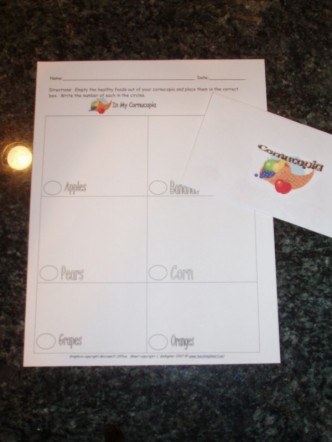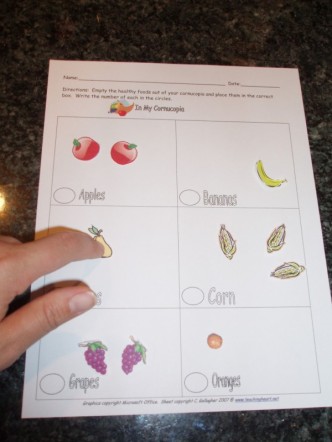 Cornucopia Activities – Six pages of fun cornucopia activities. Background information for the teacher, graphing activity with manipulatives, sorting activity, and a counting activity. (k-2).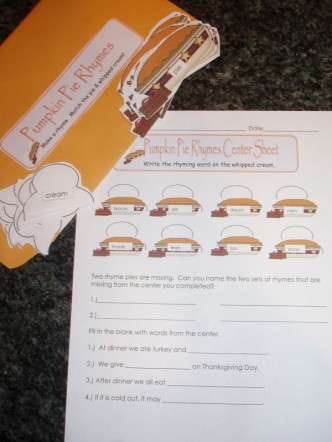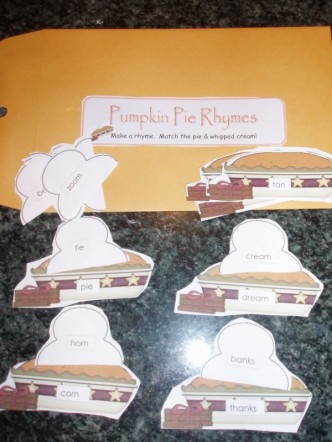 Pumpkin Pie Rhyme Take It To Your Seat Center – Teacher places given manipulatives in an envelope. Student takes envelope to their desk and matches the pie to the cream by using rhyming pairs. A matching center sheet is included. The student completes the sheet as they work on the center.(1-3) The center sheet can be completed independently by second graders. First graders will need assistance.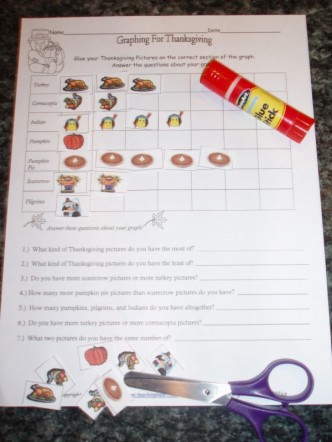 Graphing For Thanksgiving - Print pages 1 -2 on separate sheets of paper. Cut out a few of the Thanksgiving pictures and show your students how to place them on the graph. Then, allow them to complete the rest. When they are finished, instruct them to complete the graph questions.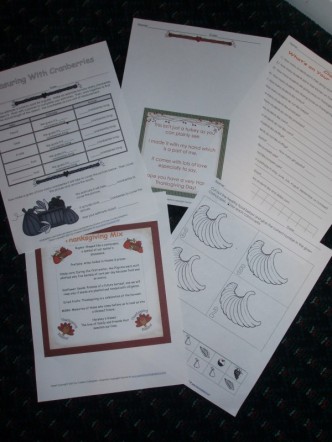 You have the ideas... do you want the printables to match??? The printables above are from our Thanksgiving email packet. If you like what you see, click here to learn more!
My Favorite Turkey Songs/Poems
The Turkey Ran Away (tune: Farmer in the Dell)

The turkey ran away,

Before Thanksgiving Day

He said, "They'll make a roast of me

If I decide to stay!"

The pumpkin ran away,

Before Thanksgiving Day

He said, "They'll make a pie of me

If I decide to stay!"

The cranberry ran away

Before Thanksgiving Day

He said, "They'll make a sauce of me

If I decide to stay!"

ALBUQUERQUE THE TURKEY
Sing to tune of "O' My Darlin' Clementine"

Albuquerque, he's my turkey,
and he's feathered and he's fine
and he wobbles and he gobbles
and I'm awfully glad he's mine.

He's the best pet you could ever get
better than a dog or cat
Albuquerque, he's my turkey
and I'm awfully glad of that.

Albuquerque, he's my turkey
he's so cozy in his bed
because for our Thanksgiving dinner
we had scrambled eggs instead.

Thanksgiving Colors

Orange is a pumpkin.

Yellow is the corn.

Brown is the turkey

With stuffing to adorn.

Red are the cranberries.

Green are the beans.

Five delicious colors-

In a feast of my dreams

Turkey Dinner

Turkey Dinner, turkey dinner,

Gather round, gather round

Who will get the drumstick?

Yummy, yummy drumstick,

All sit down, all sit down.

Cornbread muffins, chestnut stuffing,

Puddin' pie, one foot high,

All of us were thinner

Until we came to dinner;

Me oh my! Me oh my!

My Turkey
I have a turkey, big and fat
He spreads his wings, (Fan hands at hips)
And walks like that (Strut)
His daily corn he would not miss (Pretend to eat corn)
And when he walks, he sounds like this, ('Gobble, Gobble, Gobble')

http://teachingheart.net/blog/page/2/?s=thanksgiving

Some of my favorite Novemebr Activities:
I like to have my class make a turkey glyph. To the right you will see a picture of a finished glyph. This glyph come from the book :


Super Graphs, Venns, & Glyphs : Hundreds of Great Data Collecting Activities to Build Real-Life Math Skills. I have modified it a bit.

To complete this activity with your class, you will first need to make a legend.

Body - DARK BROWN - I like dark meat

Light Brown - I like light meat

White - I don't eat Turkey

Feet -Yellow - I am going away for Thanksgiving

Red - I am not going away for Thanksgiving

Beak -On Thanksgiving we usually eat in the...

OPENED = Kitchen

CLOSED = Dining room

Wattle -Orange - I do not like gravy

Red - I like gravy

Eyes - OPENED = I will eat dessert on Thanksgiving

CLOSED = I will not eat dessert

FEATHERS - On Thanksgiving I like to eat...

RED - cranberries

ORANGE - pumpkin pie

GREEN - Green beans

YELLOW - Corn

BROWN - Stuffing

PINK - Mashed Potatoes

Have your class use the legend to create their turkeys. The second two pictures on the right show my Turkey Glyph Bulletin Board.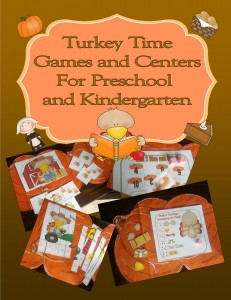 Check out our game packet for Preschool and Kindergarten... Below are pictures from the set!

Treat Your Class To a Video
Click the video to learn more!

-Graphing:
Do you like white meat or dark meat?; Which do you prefer chicken or turkey?; Do you like pumpkin pie?:
-Turkey Feather Game
Find a picture of a turkey that you like. Make six copies of it. Cut out the bodies of the turkeys (so you just have to add the feathers to make the turkey complete). Write the number "one" on the first turkey, two on another, repeat with the numbers three through six. Provide the students with twenty one feather shapes, cut from construction paper or store bought craft feathers. Ask the students to place the appropriate number of feathers on each turkey. One feather on the turkey with the number one one it... and so on.
- Native-American Counting Game
Materials: 5 circles cut out of card board Paint a half moon on 1 side of 4 circles, paint a star on the other circle. A basket
Once the paint has dried put the circles in the basket. Each player takes turns shaking the basket and counts the pieces that end face up. The score keeper puts the number face up and the shape that shows. Each moon is worth 1 point the start is worth 2.
- Provide red, yellow, brown, or orange playdough and turkey-shaped or leaf-shaped cookie cutters at the Playdough Center.
Make mats (laminated paper mats or divide vinyl placemats) by dividing it into fourths with a permanent marker. Put a different number on each section. Have the students cut the correct number of dough turkeys to place on each numbered section of the mat.
A favorite Thanksgiving tradition that my family has...
I once knew a turkey who never...
Once upon a time there was a turkey who...
On Thanksgiving, my family...
My grandmother was cooking the turkey when all of a sudden...
Cut out large turkeys and ask each child how to cook a turkey
- Have childen make handprints on a card. The thumb is the head and the fingers are the feathers.Add legs, eyes, beak to complete
the turkey. Inside the card print the following verse:
This isn't just a turkey,
As anyone can see.
I made it with my hand,
Which is a part of me!
It comes with lots of love
Especially to say--
I hope you have
A very happy Thanksgiving Day!
Love _________

Create awards with a Thanksgiving Theme to give to students that do a great job at a task.

TURKEY TRUTH - the first picture on the right shows a poster I created. I enlarged the poster to share with the class. We talked about each truth. Then a team of three students took two Turkey Facts from the chart and found the facts in books. They shared the paragraph from the book they found their truth in. The students enjoyed this task. It helped them work on their research skills and they learned more about Turkeys!

Here are the facts found on the sheet:

Female turkeys are called hens.
Male turkeys are called Toms.
Baby turkeys are called poults
Wild turkeys rest in trees at night.
Turkeys eat seeds, nuts, grains, insects, berries, and greens.
Turkeys have excellent eyesight.
Wild turkeys can fly up to 50 miles per hour.
Domestic Turkeys cannot fly.
A turkeys head and throat change color when it is excited.

Both of these are found on our CDROM. To learn more go to http://www.teachingheart.net/cdindexseptdec.html
Thanksgiving Graphing - Graphing Materials & Center Sheet
Turkey Drop Game – This is a simple game that is fun for the kids and also is a great way to introduce or practice fact families. It is also a fun way to practice math facts to 10. The turkey manipulatives and score sheet is included. Just print and use! (Use with grades 1-3. Grade 1 will need more direction from the teacher. Before playing the game, play a few games with the class as a group and then allow them to play as partners. (1-3)
Sorting Thanksgiving Treats - The student cuts out various pictures of snowmen and then sorts them on a sorting sheet (k-2). The student answers question independently (1-2) about their sorting sheet
Graphing For Thanksgiving
Pilgrim, Pilgrim Mini Book
cornucopia graphing activity
Draw a Turkey Glyph
Color a Turkey
Cranberry Measurement
What's on the Thanksgiving Table Dice Game
Pumpkin Pie Rhymes
Match the tHANKSGIVING wORD TO THE pICTURE
There was an old

VOCAB!
I always introduce topics with a good book and vocabulary that relates to the topics. I place a word on a sentence strip. Then I have the class read the word. Next we talk about the words meaning. After we have talked about each vocabulary word, I then place the words on chart paper. This chart becomes a word bank that can be used by the student during the unit:
| | | | | | | |
| --- | --- | --- | --- | --- | --- | --- |
| feast | thankful | gather | corn | Indians | Pilgrims | stuffing |
| festive | turkey | friendship | cranberries | harvest | kindness | Mayflower |
| Plymouth | friends | food | gravy | cornucopia | family | pumpkin pie |

Making Words
Make the word pumpkins
Each student needs i,u,k,m,n,p,p,s
Some words to have your students make: us, in, ink, kin, ski, skip, skin, sink, spin, mink, pink, punck, pump, spunk, minus, pumpkin, pumpkins
After the lesson: Have your students write these words in their journals. Have them circle all words with sk in them. Have them pick a word and write it in a sentence.
If you are not familiar with Making Words Lessons please see the book below.

CLICK ON THE BOOK TO LEARN MORE!
Make Class Books
To the right is pictures of the masters of two of the books I like to make with my classes around Thanksgiving.

1.) The first book is called I'm Thankful. Each student is given a copy. The students draw their picture on the cover and then completes the inside of the book. There are six pages that ask the student to write and draw. Here are two examples from the book:

A picture of an empty plate. - Student draws their favorite meal and then finishes the paragraph or sentence - "At mealtimes, I'm thankful for..."

An empty space for the student to draw their family. Then the student finishes up by writing "I am thankful for my family because..."

You could make a book like this one or you could purchase our CDROM - it has this master on it for your use! To learn more go to: http://www.teachingheart.net/cdindexseptdec.html

To print pages 1-2 of this book click here!

2.) The second book is a pattern book based on the Brown Bear Brown Bear Pattern. This book is called Pilgrim, Pilgrim. All the words are written on the pages. The student must illustrate the words in the given space. For instance a page may read: "Pilgrim, Pilgrim what do you see? I see corn growing under my feet. " The student would then draw a picture of a pilgrim with corn growing under his feet. After the book is completed, the student can easily read it by looking at the illustrations. A good idea, is for the teacher to make her own copy (enlarged). Then the class can practice reading the book as a group. When they are reading it with ease, have them take it home and read it to an adult for homework. THIS HELPS YOUR STUDENTS WORK ON THE READING STRATEGY OF USING PICTURES TO DECODE TEXT!

Once again, you could make a book like this one or you could purchase our CDROM - it has this master on it for your use! To learn more go to: http://www.teachingheart.net/cdindexseptdec.html

Here is a cute little run turkey book with a twist. It is free to download, click here to learn more and to download!
Thoughtful Teachers Share Their Fave Ideas!
My class does a Thanksgiving booklet entitled "I am Thankful for All These Things" The children are the illustrators of the book. First page- My Family, children glue a picture of their family and sponge print a heart near it. Second page- My Home, children connect the dots I have made of a triangle and square to make a house, then they color it in. third page-My Senses, children glue features on a face( wiggly eyes, cotton ball, yarn, macaroni) Fourth page- My Trees and Flowers, children glue a tree trunk out of construction paper to page and glue tissue paper for the leaves and then draw flower stem and either tissue paper the petals or draw them. (pom poms can be used also) Fifth page-My Food, children cut their favorite foods out of magazines and glue that to the page. Sixth page- My Friends, children cut out a traced paper chain of two children holding hands and glue that to page. (make it simple, just head hands and legs) not only does this booklet reinforce basic motor skills but teaches children about things they are thankful for. Also you can tie this into a theme about Authors and Illustrators. I know my children were really excited to be called illustrators after this activity.

Make A Thankfulness Bag.

Get a brown paper lunch bag. On the front, make a picture of a turkey holding a sign that says "Made by:" with a spot for the child's name.

On the inside are 2 pieces of paper. One says:

Thank you for your loving care And the kindness that you share, For helping me to learn and grow, And showing me all that you know. That's why I just want to say, "THANK YOU" in the biggest way!

On the second sheet is:

Thankfulness Bag Ingredients 1. A rubber band - to keep our hearts tied together always 2. A candy kiss - to say thank you for all your love. 3. A penny - to say thank you for sharing my thoughts and letting me know they are important to you. 4. A warm fuzzy (small piece of furry fabric) - to make you feel good when you are sad, like you always do for me. 5. An adhesive bandage - to say thank you for all the times you make my hurts feel better. 6. A facial tissue - to say thank you for all the times you dry my tears. 7. A piece of Lifesavers candy - a circle to show that my love for you will never end.

Have all these items on hand for the children to put in their thankfulness bags

I just found your Thanksgiving part of your site but I thought I would share something that I have been doing for the last few years and my kids really love it. I found a Turkey pattern in Teacher Created Materials one year. With this pattern was a letter to the parents inviting them to participate with their child in a Turkey decorating contest. We usually pass the pattern out the first week in November and ask that they be decorated in any fashion by the third week. This project involves the whole family. On the third week just before Thanksgiving vacation we place them on a bulletin board and have several teachers judge the project. We award 1st, 2nd, and 3rd prize on the Thanksgiving Day program when the parents and grandparents are invited to eat lunch. The 2nd and 1st graders really look forward to getting into 3rd grade for this reason. Janna Tipton 3rd grade/librarian Ringgold, LA

Make copies of a turkey picture, place on number on each turkey. Around the turkey, place artificial feathers for the students to put onto the turkey picture to correspond to the number. Students could also make their own turkey picture and draw the correct number of feathers on the turkey body.
Turkey Disguise Idea
From g8tr4101981@yahoo.com on the Teaching Heart MAilring
Dear Parents,
It's time for Holiday Homework! Your child is bringing home a
construction paper turkey today. Please cut out the turkey shape and
help your child DISGUISE Tom Turkey as a different animal or
character in hopes of avoiding being caught for Thanksgiving Day
dinner! Please use any items you find in your home to create your
turkey's disguise. Some suggestions for disguising the turkey may
be: a sheep, a cat, Superman, a pilgrim or Indian, etc. Please
return these turkeys sometime during the first week in November.
Good Luck and enjoy working on this project with your child.

And here's the poem I put outside.
~~My name is Tom Turkey and I'm afraid as can be!~~
~~I'm wearing my disguise so you won't catch me!~~

I FOUND THIS FROM ANOTHER TEACHER!! but have taken the idea and useit for pumpkins and leaves for October and wreaths for December.
There's a letter and pattern on this page: http://www.susanezzell.com/november.htm
Bulletin Board Ideas and Pictures
| | |
| --- | --- |
| | |
| | |
| This is an adorable activity that I used to decorate the outside of my door. I painted the child's hand three different colors, brown on the palm, red on the fingers and orange on the thumb. The palm was the body of the turkey, the fingers were the feathers and the thumb was the beak. They each did a handprint on yellow butcher paper and I added a beak and legs once they were dry. On the top of my door I added, "Mrs. Creel is Thankful For..." I wrote each of their names beside their turkey. I have received many compliments on how cute my door turned out! Posted By Rhonda Russ | A Tie Turkey. Ask the parents/guardians to send in old neck ties for an art project. On a transparency, blow up a picture of a turkey. Leaving out the feathers trace the image onto large paper. Have the children color the turkey. Each child can then decorate a tie (using all kinds of collage materials) and these become the feathers on the turkey. It makes a great bulletin board display! |
| | Make a large turkey body out of brown wrapping paper with facial features. Send home a cardboard, cut-out feather with each child with a note explaining to decorate it as a family. Everyone will love the creative and unique effect of all the homemade feathers. Arrange the feathers behind the turkey body as they arrive. Some have cereal, candy corn, glitter, tissue paper, markers, etc. |
| Gather old ties, in various sizes and colors, staple them in a fan shape in the middle of your board, layering them to look like tail feathers, the more the better. Last, staple a turkey body with head on to the ties. It's pretty impressive when you finish up the board with other fall decorations, pumpkins, etc. | |
| | |
Some ideas I have collected from Teaching Heart Mailring!

Thanksgiving Center Ideas: - From Lori

1. Read The Hoboken Chicken Emergency. The children will write about what they would do if they had a 260 pound chicken for Thanksgiving. (The book is adorable)

2. I give the children suitcase or Mayflower patterns. They need to pack what they would take for their trip and why. This is nice in pairs.

3. Take shopping bags and cut them into skins. have the children sue symbols to write on their "deer skin"

4. Use paper towel tubes to make totem poles. Each child can make their represent them. There is an All Aboard Book called Totem Poles that is nice. I have also had the children make dream catchers after reading that story.

5. Estimations and measurement with cranberries (Dry or fresh) Children can guess how many cranberries long some items are and then use actually berries to measure.

6. Acrostic Poem using Thanksgiving

7. Have each child make a quilt square showing something they are thankful for. Put it together for a class quilt.

8. A Venn diagram of thanksgiving long ago and today.

Make a Turkey Erase a Rhyme

Draw a Turkey on the Board

If a Pilgrim you'd like to meet, then you can erase his _______ (feet).
If you plan to eat like kings, then you can erase his _______ (wings).
If he's a Tom, then he's a male. Why don't you erase his _______ (tail)?
Did you know his feathers are spotty? Please erase them on his _______ (body).
When he eats, I've seen him peck. Can anyone here erase his _______ (neck)?
If you like ketchup in a bottle, then you can erase his _______ (wattle).
If you look there near his cheek, then you can erase his _______ (beak).
If you like homemade pumpkin pies, then you can erase his _______(eyes).
If you like honey on your bread, then you can erase his _______(head).
My Favorite Links To Great Ideas and More!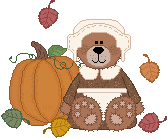 Books With Printable Activities!
Click on a book to learn more!
Things To Print!
2 Free Printables From Our CDROM #2 can be found at
http://www.teachingheart.net/cdindexseptdec.html - Scroll to
Thanksgiving and check out the
free goodies. The picture below
shows only some of the Thanksgiving Printables found on this CD. A Must Have!


Free Turkey Phonics Printables

Have you ordered our Thanksgiving packet there??? Get it now and start planning some fun learning for school or home!!!
http://teachingheart.net/thanksgivingpacket.html
Teaching Heart Blog - Thanksgiving!