Valentine's Day Packet New and Improved in 2011


Great activities to help make Valentine's Day fun and educational in your classroom! I have had many requests from you all for a Packet with a V-day Theme. I hope this helps make v-day a hit in your room!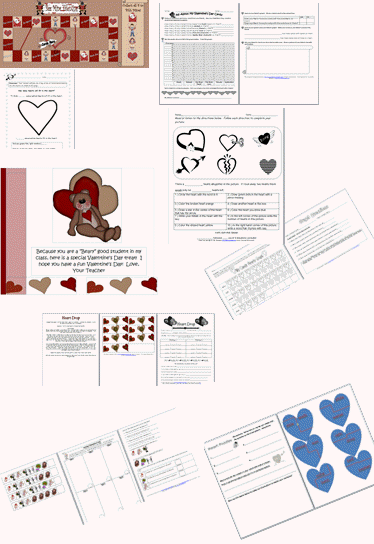 1.) Bee Mine Valentine Board Game (K-3) – Great Game for Reviewing Previously taught skills. All you need is a die and flash cards. You can use math problems, questions from a previously taught lesson, spelling words… The object of the game is to collect all four pieces and then you are the winner. Roll the dice. Move. Turn over a flash card. Answer the questions. Collect your piece.
2.) Cupid Erase a Rhyme (1-2) This is three sheets. The first sheet is teacher directions. The second sheet is an easy to draw graphic of cupid. (The students may also keep this at their seats and cross out the parts as you work the lesson with the class.) The third sheet is an independent activity for your students to complete after the lesson.
3.) Conversation Heart (k-1) - Your teacher will give you a bag or box of conversation hearts. Use the hearts to complete this page.
4.) Graphing Candy Hearts (K-3) – Includes two pages for the student. Just provide the candy hearts. Students color the graph to match the hearts you have. After you have the graph colored, trade with a friend and have them answer the questions on the back using your graph.
*5.) Following Directions – You can use this with non-readers by reading them the directions and have them do as stated (PreK-1) or use with readers by having them read the sheet and complete (1-2).
*6.) V-day Mini Book (2-3) Student completes given tasks in book.
7.) V-day Topper – Attach this cute Topper to a bag of candy for your students and watch them smile! Bonus St. Patrick's Topper inside as well. (Comes in PDF and Publisher)
*8.) V-day Mini Book - (k-1) An easy to read book for your students to make. (word)
*9.) Bring a Heart to Life (1-3) This includes three pages & detailed instructions. A student game. Students roll dice & complete the given task. First person to complete all tasks wins. Simple adding is required. (word)
*10.) Valentine's Day Card Activities (1-3) – After your kids collect their card have some educational fun with the cards by using this activity. Students will use their cards to make a graph and answer questions about their cards. (word)
*11.) Heart Drop Game (1-3) – All you need to play this fun game that will be helpful when working with fact families. Directions are on the first page of the document. (Word)
*12.) Questions About a Valentine Graph – Answer questions about the given graph (1-2) (word)
*13.) Heart Plural Ending Activity Sheets – Students use the word bank and change the word to plural by placing it in the correct heart (2-3) (word)
*14.) Heart Sums Game – This game is set-up for addition. You may change the sums to play as multiplication. A two player game. You supply dice and two crayons. Activity sheet is attached on page 2 of document. (1-3)
*15) Compound Word Puzzle Take it to Your Seat Center – Includes center pieces and an activity sheet. You can change the words on the puzzle hearts to meet your needs.
16.) Valentine Candy Bar Wrapper – You are ready to give your students a treat!!! Fits a regular hershey bar. This file is PDF.
*17.) Sorting Valentine's Day Pictures – Three pages. Directions for the teacher. Pictures for the students to cut out and glue to a sorting sheet. (K-1) Once the sheet is complete they may answer the questions on the third page about their sorting sheet. (1-2)
Get a better look at what is in the packet. Click here for Printable Index with pictures.
These are word files and some are PDF. As soon as you pay you will get directions for instant download.
You will be sent a link for instant download!
Please make sure your email is correct when you order. If you don not get the packet
in 3 hours after you place your order, please email us to let us know.
Thanks!
*These sheets may be modified to meet your needs. The wrapper and topper are the only sheets that will be in PDF and cannot be modified. Once you place your order you will be sent directions for an instant download. Seventeen different activities! Over 25 pages of resources. So many activities for only $15.49.
$15..49
Single Classroom use only!
To Learn about this on & other products, please go to:
http://teachingheart.net/primaryteachertimesaver.html