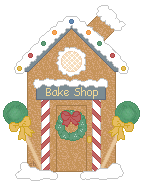 Teaching Heart's Gingerbread Man Themed Unit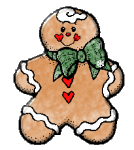 Welcome to Teaching Heart's Gingerbread Unit. A great theme for the winter months is gingerbread. You thought it was only a cookie, but it is also a wonderful theme! Below you will find some of my favorite gingerbread ideas. Also at the bottom of the page you will see various ideas from teachers who entered our Gingerbread Baby contest. We hope that you will be able to use an idea or two in your classroom! Mmmmm!!!!
Updated on November 2012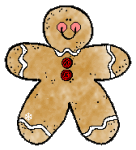 Journal Topics
Some Journal Topics!
Why do you think the Gingerbread Man ran and ran?
How did the old lady and old man feel at the end of the story?
What would you do to catch the Gingerbread Man?
You see the Gingerbread Man talking to the Fox. What would you do? What would you say?
Do you think the Fox should have eaten the Gingerbread Man? Why?
What if the last animal he saw when he was running was not a Fox but a dog. What do you think would happen in the end?
Some Preschool and Kindergarten Themed Ideas - Click here for more! and stay on this page for 1st -3rd below!
Playdough Mats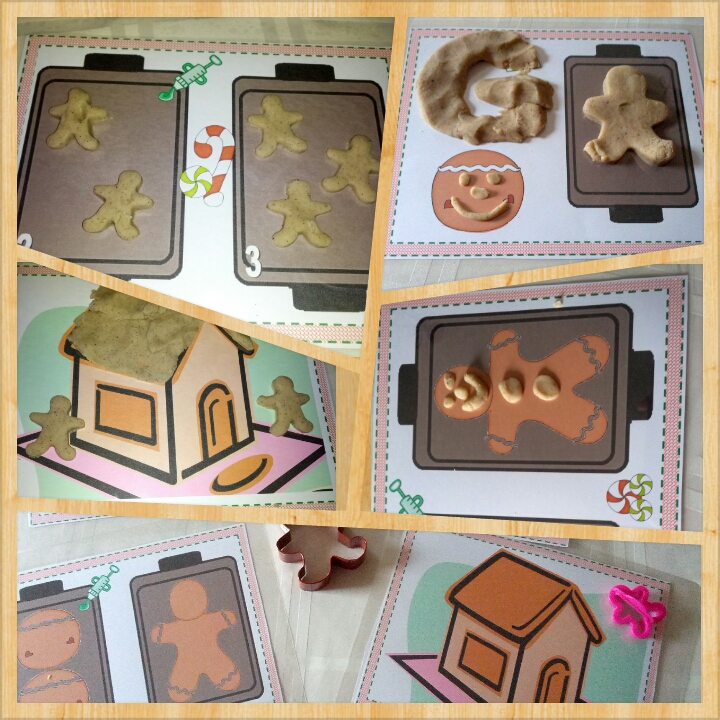 Make some yummy homemade playdough and have fun with these mats - (found in this packet)

I wrote a little poem and attached it to homemade Gingerbread Dough and
ta-da, you have a great inexpensive Christmas gift for your students!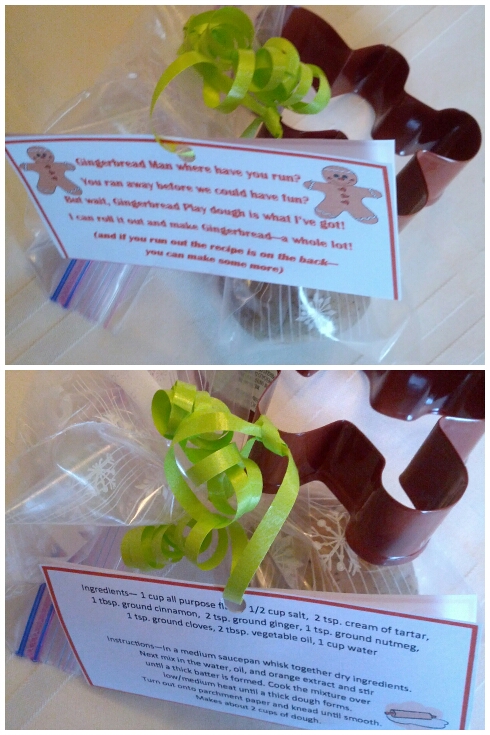 Part of this packet!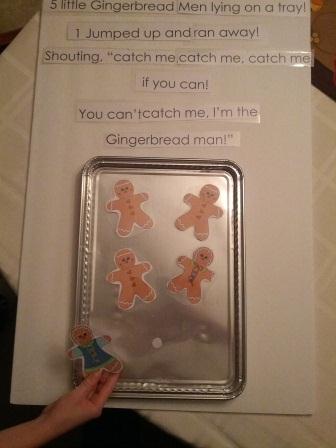 You can get packs of cookie sheets at the dollar store to use during your unit!
Above I used the 5 Little Gingebread Poem. I used velcro to attach the Gingerbread Men so that I could
manipulate the poem as we practiced it. (Printables for this are found here!)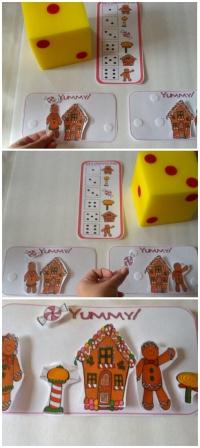 Roll a Gingerbread Scene Dice Game!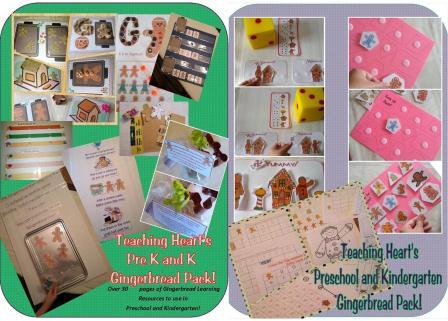 For More Great Ideas for the little Gingerkids (PreK - K) click here!

Class Book Ideas
Here is a class book idea. Each student makes a page to fit inside the book. When the book is done you may have each student take turns bringing the book home to read. Once each student has brought the book home you will have a very nice class book for your library.

The book is in the shape of a gingerbread cookie. The cover of the book is titled, "If We Were Gingerbread Boys and Girls..." The students are given a gingerbread cookie of the same size and asked to fill in:

If I were a gingerbread _____________. I would run to ______________. If a fox asked me to jump on his back I would _____________. Being a gingerbread ________ would be __________. I hope no one would ___________________________.

by:_______

To the picture shows the cover of the book and the inside. There is room for the student to illustrate the head of a gingerbread or draw an illustration to match their write up. You could make a book similar to this. The masters seen are available on our Oct - Dec. CDROM. Click here to learn more!

Another Class Book Idea:

To the right is a picture of everything you need to make a class book about the gingerbread man. You will find the cover page. Also copy one activity page for each child. Have the student fill in the blank with someone/something that chased the gingerbread man. Finally, have each student illustrate their writing. Bind together to make a class book! You make your own blacklines or use our found on our CD. Click to learn more!

The cover says, THE GINGERBREAD MAN

The student pages say

Run run as fast as you can!

You can't catch me, I'm the Gingerbread Man.

I ran away from the ____________

And I'll run away from you!

Save room for the students to illustrate this paragraph.

To Make Yummy Gingerbread Man Books

Students need to cut out and decorate 6 gingerbread men.

1.) Copy page one- two for each student or supply each of your students with six gingerbread cutouts.

2.) Have the student decorate the gingerbread men.

3.) Then they need to cut them out.

4.) The Cover is on Page Three – each student will need a cover for their book. If you are making your own cover it may say; One Yummy Gingerbread Man by:_______________ and may include a colorful picture of a gingerbread man.

5.) Supply the students with a page for each gingerbread man. You can have the pages pre-programmed with the words or you can have the students write the words on each page. Student will need each of the pages:

The directions are for each page.

6.) Have your student do the following and then glue their gingerbread man on to the page.

Page 1: Eat one leg. (tear off one leg to make bite marks) Thiis page says: My name is __________ and I once baked a gingerbread man. The first thing I ate was the leg.

Page 2: Eat the other leg. (tear off both legs) Thiis page says: Boy did that leg taste good! After I ate one leg I ate the other leg.

Page 3: Eat one arm. (tear off both legs and one arm) Thiis page says: Yum! Next, I ate an arm.

Page 4: Eat the other arm. (tear off both legs and both arms) Thiis page says: Then I ate the other arm.

Page 5: Eat the head. (tear off both legs, both arms, and the head) Thiis page says: Next I ate the head. Mmmm!

Page 6: Crunch, crunch, crunch. (the last gingerbread man can be used as crumbs. Tear him up to make crumbs) Thiis page says: Crunch, Crunch, Crunch!

To the right you will see the cover of my book and two finished pages from the book. You could have your students illustrate a background for each page.

Basic Recipe

Gingerbread Men

INGREDIENTS:

3 1/2 cups all-purpose flour
1 1/2 teaspoons ground ginger
1 1/2 teaspoons ground cinnamon
1/4 teaspoon salt
1/2 cup white sugar
1/2 cup shortening
1 egg
1 cup molasses
1 teaspoon baking soda
1 1/2 teaspoons warm water
1/4 cup raisins for decorating

DIRECTIONS:

In large bowl, cream shortening, sugar, egg and warmed molasses. Dissolve baking soda in warm water and add to egg mixture. Beat until smooth. Mix in flour, spices and salt until well blended. Cover and chill for 24 hours.
Preheat oven to 350 degrees F. Grease cookie sheets. Roll out dough to a thickness of 1/4 inch on a floured surface. Cut out gingerbread men using cookie cutters and place 2 inches apart on cookie sheets. Use raisins to make eyes, noses and buttons.
Bake 10 to 12 minutes in the preheated oven, or until firm. Let cool on wire racks.
A Compounds Words Center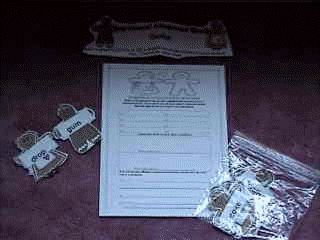 You could use this center idea in a pocket chart or you may wish to bag the pieces and make a take it to your seat center. I always include an activity sheet to match hands-on centers. This way I know that the student completed the center and understood it.
This center is found on our CDROM (click to learn more) or you could use our idea and create your own.
Title: Gingerbread Compound Words Center
Make it Your Self: Make cut-out of gingerbread men and equal cut-outs of gingerbread girls. Place the first part of a word on the girl and the second on a boy. Have the student match a gingerbread man and women together that make a compound word. Then create a center sheet for them to complete. Your sheet might include activities such as:
Match a gingerbread man up with a gingerbread woman to form a compound word. If you did it correctly you made 8 compound words. Write the eight words you made in the table below.
Choose two of the words to draw a picture of
Now choose two different compound words from your list and use each one in a sentence.
Use Ours: Print the pre-made gingerbread people on cardstock or tag-board. Laminate them. Store in a Tupperware container or a large Ziploc bag. Make as many sets as needed. You can use this in a center as a compound word activity. Have the student match a gingerbread man and women together that make a compound word. Then have them write the compound word on the center sheet. The center sheet is titled gingerbread compound center sheet and is found on this CD
The FREE Printables Below are From
This Contest
FROM: Laura Rieben
A Gingerbread Roll and dot!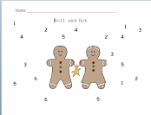 Gingerbread Pattern
BY: Amanda Dover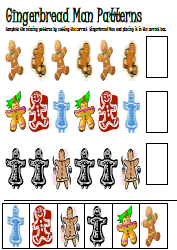 Gingerbread Counting
BY: Amanda Dover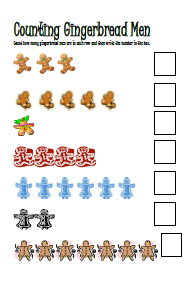 Gingerbread Files
Gingerkids song for shared reading, number sight word recognition, concepts of print, etc. I also included a page of gingerbread counters for hands-on experiences for counting and matching objects to the number words.
Match the number cards, words and value in a pocket chart or at a learning station.
By: Marlana Howerton of Lil' Country Kindergarten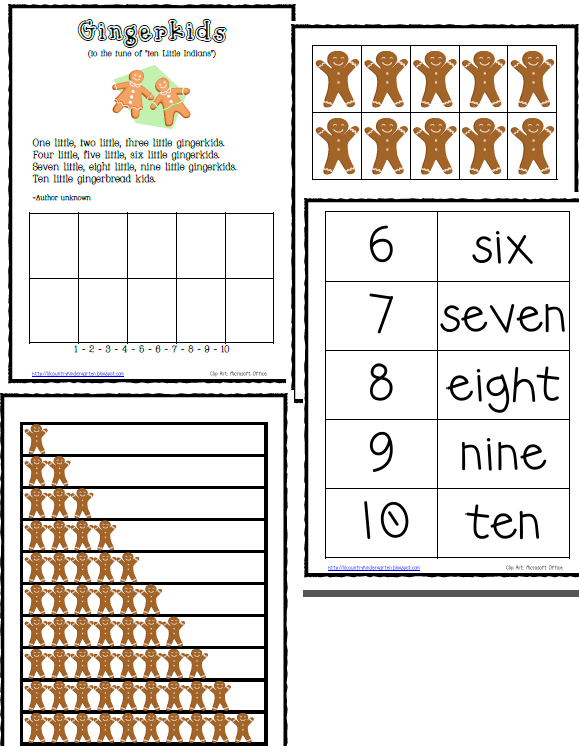 Gingerbread Sensory Table!
Basically White Rice – Mini Gingerbread Men from Oriental Trading, Plastic Candy Mints (Dollar Store), and small red and green circles (pom-poms work too).
The house in the middle is a box from the Dollar Store.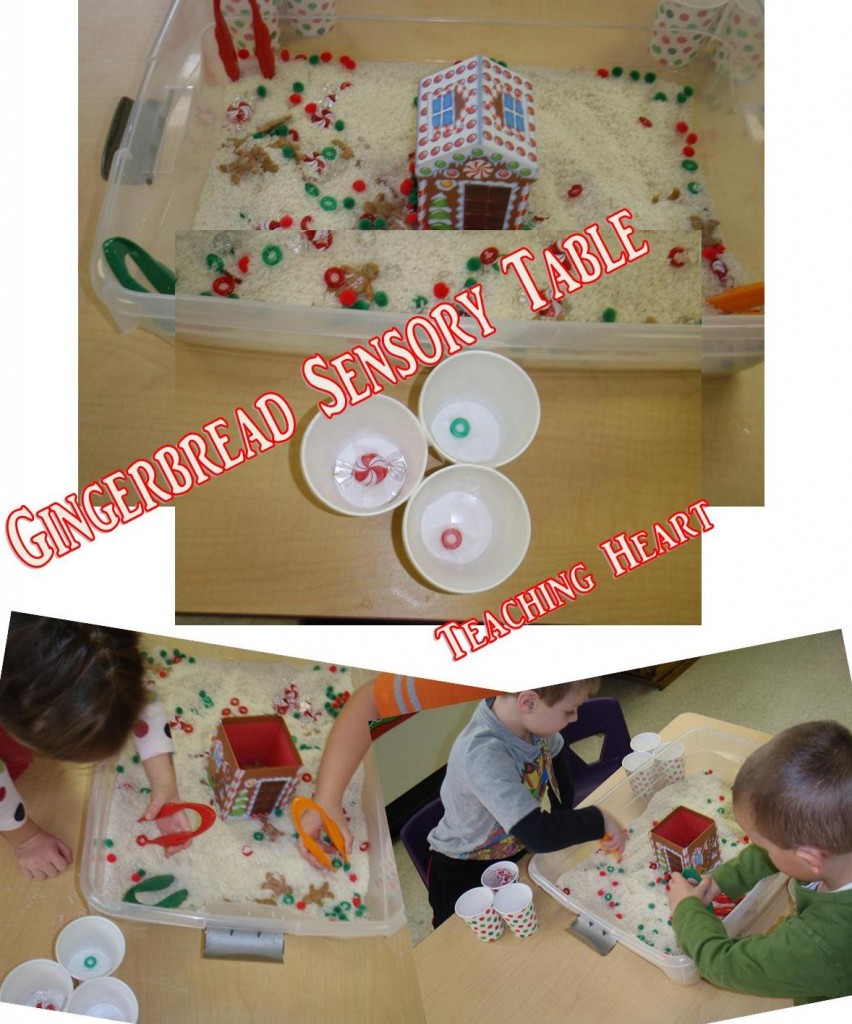 They worked in groups to sort the Gingerbread men into the Gingerbread House and then collected as many candy pieces as they could into their individual cups…
Only rule, you cannot use your hands – just use the grabbers to pick up the items. They love this activity!!!
Make a big deal out of all the items they find! Count them together and talk about what they found the most and least of!


Math Ideas With A Ginger Theme!

Some Math Ideas!

As a center activity, give the students small paper plates with one numeral written on each plate. Ask the students to place the number of Gingerbread cookies (erasers) on each plate or card, according to the numeral written on the plate.

Character Graph:Make a graph using all the characters from all the stories. Find out which characters appear in the most versions. (Guess who comes in first??)

Gingerbread Man Glyph Create a simple blackline drawing of a gingerbread man. Children color it based on specific instructions. I used the following:
If you are a girl, color the eyes blue.
If you are a boy, color the eyes green.
If you are 5 years old, color the nose red.
If you are six years old color the nose orange.
If your favorite activity is reading, color the buttons yellow
If your favorite activity is sports, color the buttons purple.
If your favorite...

After the children finish these you can hang them on a bulletin board with the title, "Our Gingerbread Glyphs" and the key. Now you can use this bulletin board as a center activity. Make a question sheet the students will use at the center. Questions may include: How many girls are in our class?, How many people enjoy reading?, Subtract the number of girls from the number of boys... The students would answer the questions and turn in the sheet.

It is easy to create this display or you could purchase our CDROM. It includes everything you need to help make your class display. To the right you will see what is on the CD to match this lesson. Click to learn more!

A Yummy Graph Idea

Bake or purchase one gingerbread cookie for each student in your class. Hand out the cookies and instruct each student to take one bite. They can only take one bite and they must choose to bite the head, one of the arms, or one of the legs.

Create a graph as a class and have the students create one at their desks as you create yours. A sample student graph is seen to the right and is found on our CDROM.

Now have the students work with a partner to answer questions about the graph...

Some of the questions on your sheet might include: (this sheet is found on the CDROM)

1.) What did you eat first? _______________________
2.) What gingerbread part was eaten first the most? _______________________________________________
3.) Which gingerbread part was eaten first the least?__________________________________________
4.) How many students ate the head first?_________
5.) How many students ate the right arm first?____
6.) How many students ate the left arm first?______
7.) How many students ate the right leg first?_____
8.) How many students ate the left leg first?_______

A Fun Measurement Activity (All blacklines for this are found on our CDROM #2)

Before you start this lesson your students will need some background knowledge of area and perimeter.

Hand out a blackline of a gingerbread man. The gingerbread man should fill a sheet of paper. The directions at the top of the sheet could say: Let's measure our gingerbread man.You teacher will give you three small Ziploc baggies. One is filled with marshmallows, one is filled with Red Hots, and the last is filled with raisins. You will use these to measure your gingerbread man's perimeter and area. Your teacher will do the first one with you!

Do one with the class and allow them to do the other two on their own. They will fill out a sheet as they go. Some of the questions may include:
Our gingerbread man's area is _______ marshmallows.
Our gingerbread man's perimeter is ______________marshmallows.

I love these BLANK foam dice that I can program how I like. I use them all the time. Here is one way I use them and you get the free printables to make your own! It's your lucky day! You will need a blank dice or just put the pictures over a dice that you already have.


I created a roll and graph activity you can use as a center or as a game. You can make your own rules; but, here are some suggestions:

Students roll the dice a given amount of times. They fill in the graph as they roll. Once they have rolled the dice a given amount, dicuss results.
Or have the students roll the dice till one of the items on the graph is completely filled in. Lots of hands on fun with graphing that you can modify to meet your students needs!!!

Click here for the Gingerbread Roll and Graph Dice and Graphing Sheet!

Gingerbread and Snowman Friends for First and Second Grades!!! Click here!

Gingerbread Preschool and Kindergarten Packet!!! CLICK HERE!

Check out all the files here for winter teaching grades k,1,2 – click here!

Sort Marshmallows onto a sorting sheet! You can get the sorting sheet we used here.

Gingerbread Counting Game - FREE to Print. (click here to see the Polar Express Themed one!) These games will review counting and sorting skills.

The object is to collect as many Gingerbread Men as you can.

To play:

Shuffle cards face down in center of two to four players.

Players take turns drawing one card.

If they draw a gingerbread man card they keep the card.

If they draw a heart card, they keep that card.

If they draw a fox, they must put all the gingerbread and heart cards they have collected back into the pile.

If they draw part of the house, they place it face up in the center so that players can build the puzzle as they play.

The game is finished when the six pieces of the house are put together in the center of the table. Finally, players count up all their gingerbread men they have collected. Heart cards are not part of the count. The player who has the largest amount of gingerbread men is the winner. (Below you see one player has a score of 6 and another of 8)

*OPTIONAL—Page 7 includes a sorting card you can use if you choose. Give each player a sorting card to lay the cards they collect as they play. This is an optional card and does not need to me used to play.
I love the Gingerbread Baby
My Favorite Ginger Story!
Click for Some Activities To Match
Compare and Contrast this story with your class. Read the book above and The Gingerbread Boy . Then discuss what was the same in the stories and what was different. Have teams fill in this Venn Diagram as a team effort. Finally make two Gingerbread Boy shaped patterns and one heart for each student to cut out. On the heart have the students write a similarity of the two books and on the gingerbread cut outs have them write a difference. Place the finished product on the bulletin board.
See Jan Brett Read and Draw Gingerbread Baby
Design Your Own Gingrebread Friend
In the Gingerbread Baby, Mattie made the Gingerbread Baby a house to live in. In this sequel, The Gingerbread Baby is lonely and needs a friend. Where should he look to find a friend? Find out when you read about his Gingerbread Friends adventure. The Gingerbread Baby is found looking for a friend to live in the house Mattie made for him. Along the way he realizes that not all cookies want to be his friend and that sometimes home is a safe place to be. Jan Brett makes me want a Gingerbread Friend in this delicious new book! Children just eat this story up with the colorful illustrations. You can spend so much time looking at the beautiful pictures with your children. It is fun to watch Mattie at work in the side illustrations which you will find in many Jan Brett books. This is a must read for the holiday season and will be found on many k-3 classroom shelves. Be sure to check out Jan Brett's site for extensions to match this book!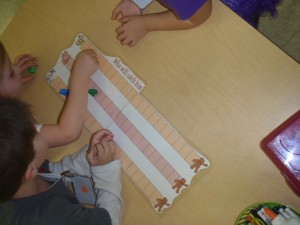 Above we are playing the catch the Gingerbread Friend Dice game found here. – Which one of the characters can get to the Gingerbread first?

When I taught I would always make Gingerbread Houses with my students. The kind you make out of milk cartons and graham crackers. I even have a unit on Teaching Heart all about Gingerbread... click here.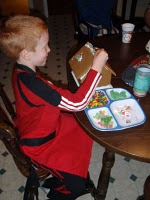 Then I had my own kiddos and every year we have our own tradition of making Gingerbread houses. I buy a Wilton kit for both my kids and one for myself (this way I let the kids enjoy the process instead of trying to fix theirs, I tick to my own) at the sales after Christmas. I buy extra candy and icing and we set to work. This year I added a tradition of reading a story before we get sticky with candy, when Janice Mineer sent me her story Gingerbread from the Heart. Of course I read through once by myself and soaked in the beautiful illustrations and the wonderful lesson taught in the story. The teacher in me knew this would be a perfect read for all of the classrooms which make delicious gingerbread houses. What a wonderful way to introduce your class to the process of making a Gingerbread House. In the story the children make delicious, candy covered houses for their grandmother. Each of the three children makes a totally different creations while wondering if Grandma will like their creation the best. While we were reading the story my seven year old was getting ideas for his creation of his Gingerbread house. The story really got him thinking about how he would create his masterpiece and whom he could share it with. The best part of the book is that it shows the delight one can feel from doing something nice for someone else.

Check out the book on Amazon... You will love it!


Even better... Janice shared a printable she made of the house. Click here to download.
Gingerbread Treats From Amazon
Gingerbreadman Stories of All Kinds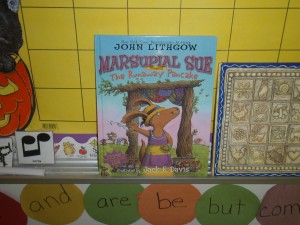 I LOVE THIS BOOK – The Runaway Pancake to use to compare and contrast it to the Gingerbread Baby. It comes with the CD. John Lithgow does an excellent job of reading the story. The kids love it and really get into comparing how the story is like the Gingerbread Baby and how it is different from the story. This is a book you MUST have. I promise your students will love it and the CD that comes with it!!! LOVE THIS!!!
Compare and Contrast Using Two of the Books Above!
Compare and Contrast
Read two different versions of the Gingerbread Man with your class. You could pick two from the list above. Discuss each of these topics with your class:
Title:
Author:
Who made the gingerbread in this story:
What kind of decorations does this gingerbread have:
Who does he run from:
Who ate him:
Create an organizer like the one seen here:
Have your student fill one out for each story!
This organizer is available on the CDROM #2 (CLICK TO LEARN MORE!)


Things To Print!
| | |
| --- | --- |
| | |
| | |
| | |
| | |
| and | |
| | Printables From Teaching Heart |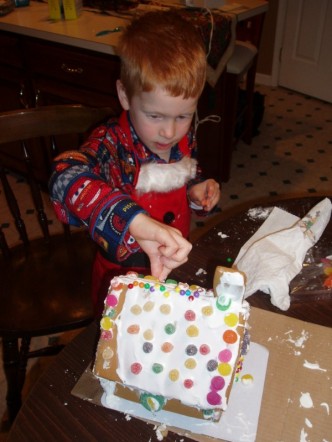 Yummy Gingerbread Houses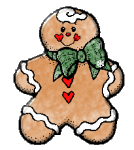 Poems, Songs, & Fingerplays
Do You Know The Gingerbread Man?

(Tune: the Muffin Man)

Do you know the Gingerbread Man,

Gingerbread Man, Gingerbread Man?

Do you know the Gingerbread Man,

Who ran and ran and ran?

He said, "Catch me if you can,

If you can, if you can."

He said, "Catch me if you can!"

Then ran and ran and ran.

Eat, Eat, Your Gingerbread Boy
(To the tune of "Row, Row, Row, Your Boat)

Eat, eat, your Gingerbread Boy,
Before he runs away.
Faster, faster, faster please,
Don't let him get away!

Catch, catch the Gingerbread Boy,
Catch him, yes, today.
Faster, faster, faster still,
For he has run away.

Say bye-bye to the
Gingerbread Boy.
Say good-bye today.
Say so long for he is gone.
The fox ate him today. ]

Where is my Gingerbread Man?
(tune of "Oh where has my little dog gone?")
from ME!!!

Oh where, oh where is my Gingerbread Man?
Oh where, oh where can he be?
He popped out of the oven and ran out the door.
Oh where, oh where can he be?

Gingerbread Baby

[tune: "Oh Where, Oh Where Has my Little Dog Gone?]

Oh where, oh where is the Gingerbread Baby?

Oh where, oh where has he gone?

[He pranced around the big blue bowl,]

And then re ran on and on!

Repeat the verse four times, placing the underlined words with the following phrases:

He climbed right up the garden wall

He stopped to get a drink from the well

He jumped off the bridge and onto the ice.

He jumped up and tweaked the milkman's nose.

Finish the song with this final verse:

Oh where, oh where is the Gingerbread Baby?

Oh, do you think that you know?

He clapped his hands and he ran right in

To his gingerbread house in the snow!


Click on the image above and order a Gingerbread Candel for your unit!

Stir a bowl of gingerbread,
Smooth and spicy brown.
Roll it with a rolling pin,
Up and up and down.
With a cookie cutter,
Make some little men.
Put them in the oven
Till half past ten!


We are having a blast with the Five Little Gingerbread Poem. We made our own scratch and sniff cookie sheets with our own little Gingerbread Friends in the tray. Details about that activity can be found here.

Printables for the poster below are found in this packet.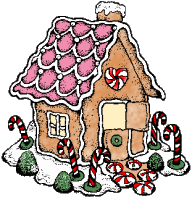 Fun crafts!
Make Ornaments With Your Class!
Gingerbread men ornaments.
It is as follows:
1/2 c. cinnamon
1/2 c. applesauce
2 Tablespoons glue
Mix together and roll out onto wax paper. Use a gingerbread cookie cutter to cut out the shape. Poke a hole on the top with a straw. Let air dry for a couple of days. Then you can paint them if you like. But the smell is wonderful!!!! This makes approx. 6 ornaments.
NOTE: I have not tried these. Remember that they are NOT edible.
Sensory Gingerbread Baby Friends!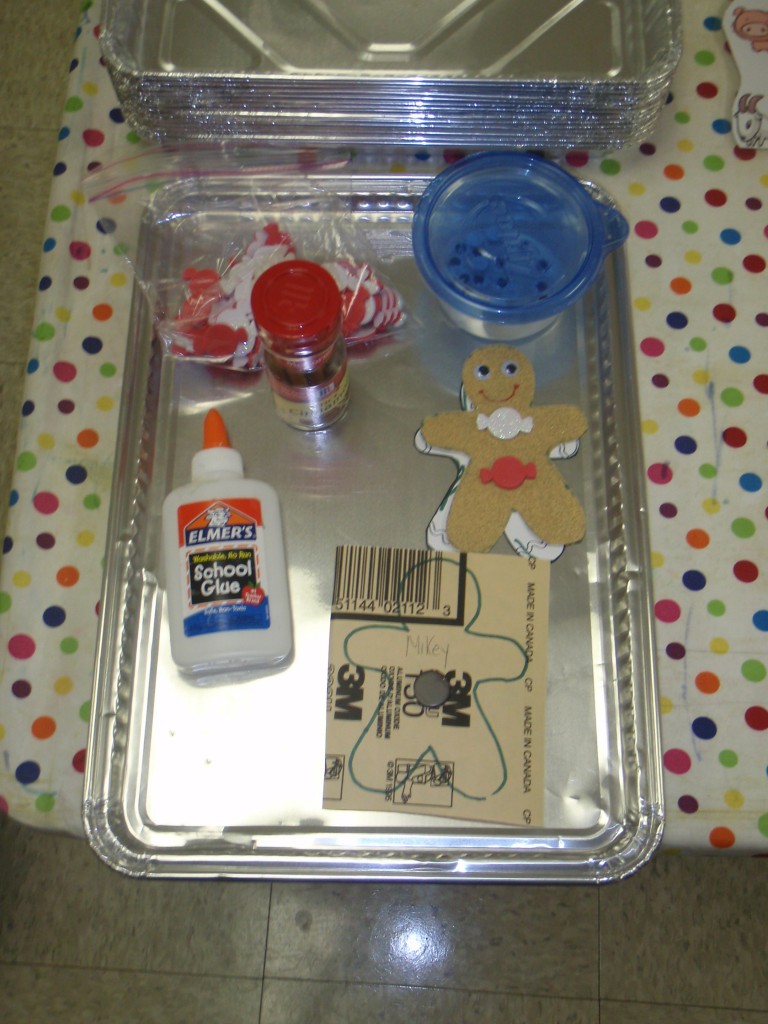 You need sandpaper, cinnamon sticks, scissors, wiggly eyes, glue, magnets (walmart makes them in packs of 54), stickers, marker, and the template found here (more instructions included).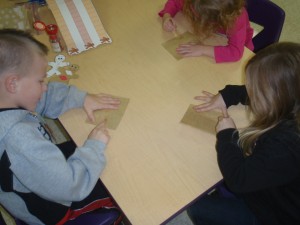 Above we are working hard to color in our forms. Then we cut them out. Put on the eyes and buttons. Add a smile and a magnet and you have a Gingerbread Baby that smells good, feels rough, and looks yummy!
For more free and fun ideas and printables for Gingerbread, click here!
Flour Smelly Puffy Paint Idea / Craft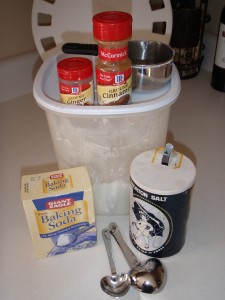 1 Cup of Flour, 3 tsp Baking Powder, 3 tsp salt, and pinches of Ginger, Nutmeg, and Cinnamon!
(after mixing the above I added water till in was a thick liquid) You can add food coloring to make colors, but I just wanted a more cookie like color so I did not add any color. This stuff smelled yummy – I was tempted to taste it! I put it in the Wilton squeeze containers as seen below to store my "paint" in. The kids also used these to squirt them onto their craft.

Make sure you tell them to make a light squeeze to start. I suggest that the kids practice a few squirts on another surface before you put it on your craft.
We made the above Gingerbread Cutie. I got them i packs of 8 at the Dollar Store. The bows are just printed out and glued on in advance. The kids color the bow to their liking. They add buttons (colored pom-poms) and thread a ribbon through the top to hang it. Here are some finished creations…
Scratch and Sniff Paint!
Grab some Kool-Aide. Find small containers for each color. Empty the packet into a container. Add water slowly… just enough to make the powder dissolve. That is it!
Now you have some smelly paint.
I did find that q-tips work best for applying the paint. It is a thinner paint and I liked it that way… but if you wanted it thicker, you could always add some of your tempra paint to each color. I loved how quickly it dried too!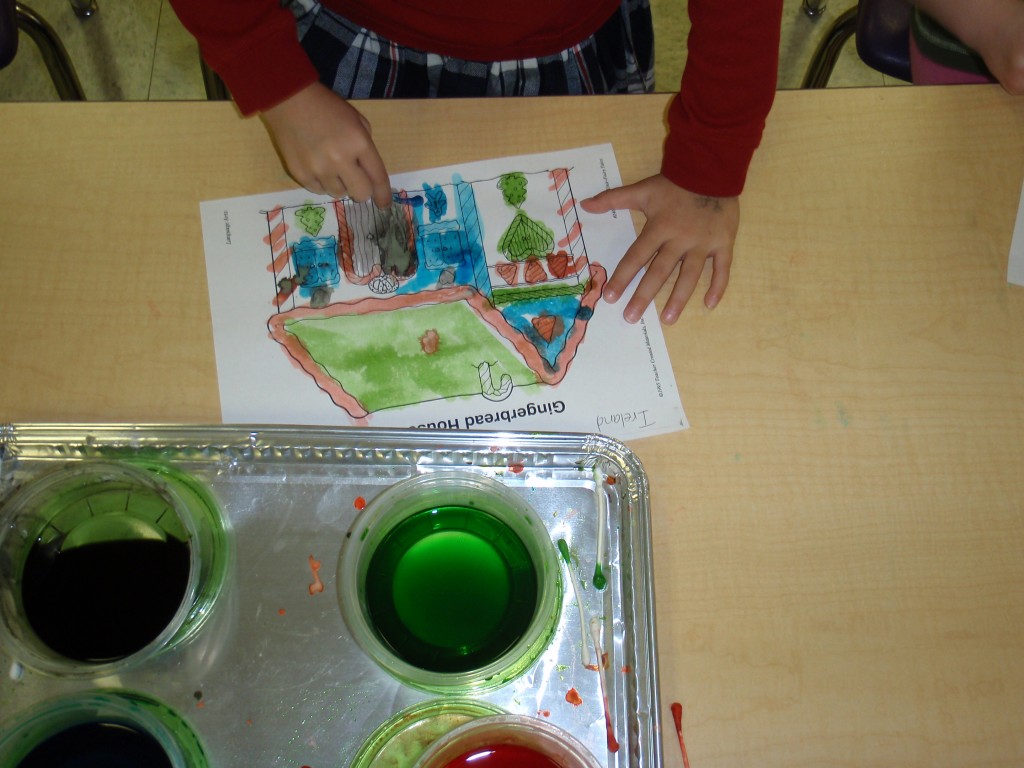 Ideas from our
Snowman and Gingerbread Friends Thematic PDF Kit
Great for grades 1,2, and 3!!!
8.) ***Sorting Gingerbread & Snow Friends – The student cuts out various pictures of snowmen and then sorts them on a sorting sheet (k-2). The student answers question independently (1-2) about their sorting sheet.
9.) Line Up Snowmen and Gingerbread Friends Pocket Chart or Envelope Center– This activity focuses on ordinal numbers from 1 – 8. You may choose to use this in a pocket chart or place in an envelope for the student to take back to their seat. A center sheet is included for your students to work on after they complete the center. (1-3)
10.) Gingerbread Addition – A practice worksheet of addition facts with a gingerbread theme. (k-2)
11.) Gingerbread Word Search (1-3) – Student looks at the word bank and then finds the word in the puzzle.
12.) Gingerbread Drop Game – This is a simple game that is fun for the kids and also is a great way to introduce or practice fact families. It is also a fun way to practice math facts to 10. The gingerbread manipulatives and score sheet are included. Just print and use! (Use with grades 1-3. Grade 1 will need more direction from the teacher. Before playing the game, play a few games with the class as a group and then allow them to play as partners. (1-3)
13.) Gingerbread Baby Mini Book – Student reads book and cuts out the graphics. Student places a graphic on each page to match the text. The student may color the pictures when complete. Last page of the book is a student activity. (k-2)
14.) The Yummy Gingerbread Mini Book – An eight page book about eating a Gingerbread Man. The students read the book and cut out graphics (to demonstrate how to eat a gingerbread man) as stated in the directions. (K-3)
15.) Gingerbread Snack Labels – Here is a little poem I wrote about Gingerbread Cookies. They print on 3 1/3" x 4"mailing labels/ AVERY 8164. Print them out and stick them to a zip-loc baggie. Place two or three gingerbread shaped cookies in a baggie and give to your students and a sweet treat for a great job on a Gingerbread Unit. Note: over the holiday season, you can find the Gingerbread cookies at your local grocery store. They come in a box and are made by Pepridge Farms.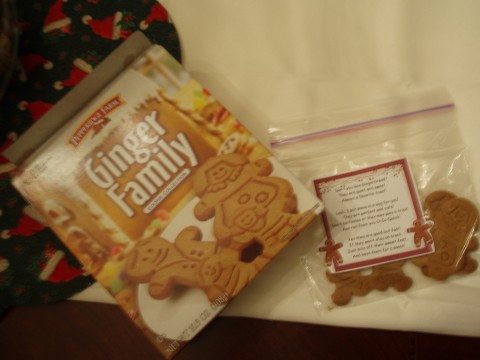 16.) Gingerbread Fact Family – Student must write the family of facts into each gingerbread house. (1-3)
Click here to get the files above
Ideas From our 2002 Gingerbread Contest
The winner won a CDROM with Gingerbread Printables and a hard cover Gingerbread Baby Book! We loved all the ideas, so we sent each entry a free printables from our CDROM. Thanks to these teachers for their sharing heart.
Name: Barbara L. Jaszcz
Grade Taught: First
Lesson: Gingerbread People
Time Alloted: 4 Days
Curriculum Connection: Writing, Math (Money)

1. After reading "The Gingerbread Boy", the children are directed to look at the gingerbread boy's features.

2. A discussion follows as to how each student would create their own.

3. Students are shown different items that they can "buy" to decorate their gingerbread person. Items include; paper bag gingerbread shape (2 cents), cord (3 cents), buttons (3 cents), ribbon/lace (1 cent per inch), yarn (1 cent per inch), glitter (3 cents per color), pipe cleaners (2 cents each), sequins (3 cents per scoop) and beads (1 cent each).

4. Each student is given plastic money to spend-5 pennies, 2 nickels, 1 dime. 3. Each student is also given a gingerbread shape, to design his/her own gingerbread person and a shopping list to plan out the cost of making the gingerbread person.

5. Everyone must purchase two gingerbread shapes and a length of cord to sew the two shapes together. Students figure out the different ways to pay for the shapes and cord.

6. The students then decide what to put on the shopping list to create their gingerbread person.

7. When they are ready, students bring their shopping list and money to the "store" to purchase the items they need.

8. All of the money does not need to be spent. Money may be saved to spend later to add to the design.

9. The shapes are sewn together and stuffed with newspaper. They are then decorated with the purchased items.

10. Students write about their gingerbread person.

11.The original shopping list, drawing, gingerbread person and writing are displayed to show the progression of the unit.

Renee Guzak
Grades Taught: 1st and 4th

Ideas I've used in the past:

I read aloud the Jan Brett story and then I have my students write their own gingerbread story. They pretend they have just cooked a gingerbread boy or girl. They write how the cookie travels trough their house, their school, their city. Some students include their pets chasing the cookie through their house until she/he is caught (or eaten).

I then have my student used gingerbread tracers so they can decorate they own ginger bread baby to go with their story.

Also in the past, I have used brown foam and buttons to make gingerbread ornaments. We hang them in our classroom from the ceiling and watch our classroom transform into a "gingerbread room"

One final activity I have done with my first grade students was model a gingerbread baby story after the book "Brown Bear, Brown Bear, What do you see?"
First, the class and teacher makes a list of what we see during Christmas and winter. Some of these ideas come from Jan Brett's story. Each student will then write and illustrate a page choosing a word from our list. Finally, We bind it into a book called "Ginger Bread Baby, What do you see?"


Cynthia Spiess
Grade taught: First Grade
Gingerbread Scavenger Hunt This activity incorporate reading, math, and social studies skills. Materials Needed: Gingerbread cut outs, glitter glue (red and green), gingerbread cookies for students at the end of the hunt, readable clues that incorporate math, reading, social studies or whatever skills you feel the students have mastered.

Directions:

1. Decide first how many teams you will have in your class. I usually have between 15-22 students so I pick two teams.

2. On the gingerbread cutouts, I paint 10 gingerbread cutouts feet with red glitter glue and 10 more cutouts with green slitter glue so that I know which clues go with which group.

3. Type clues that would lead the student to different parts of your school. An example: I like to read many stories to different children and you can read hear too. Where am I? I type ten clues per team but you could do as many as you feel your class could handle.

4. I hide all of the clues during our Gingerbread theme unit. (I usually pick the last day of the unit) One clue stays behind for each team and can start the teams off.

5. I have a poster that is written by the "Gingerbread Baby" telling the students he is tired of staying in the book and he went to explore the school. The students read the clues to find out where he went.

6. The last clue should lead both teams back to the room. While we were out, I have another teacher place gingerbread cookies on their desks. These I have baked fresh and have added their own names in frosting as a surprise.

7. The children are then allowed to eat their cookies as a treat!

8. We even graph what part of the cookie we eat first and discuss the clues while enjoying our snack! Happy Hunting! cspiess@npsd.k12.wi.us

Here are some activities I use when I do a Gingerbread Man theme:

1. We read various versions of the Gingerbread Boy, then use graphic organizers to compare & contrast them.

2. Using a brown construction paper cut-out, the students decorate their gingerbread person using found objects such as buttons, ric-rac, lace, yarn, beads, etc. The boys usually choose to decorate a "boy" and the girls make their own "gingerbread girl."

3. Writing: Students write about a new adventure for the Gingerbread Boy, then illustrate and make into a book. We also write poems about the gingerbread boy or girl. One way we do that is to write the letters in Gingerbread going vertically. Then use the letter as the beginning of a line of poetry.

4. We write our own Reader's Theater and act out the story.

5. Handwriting: Copy recipe for gingerbread. Of course, I bring in some and we all taste a sample.

6. Research: Students read and write about the spice ginger.

7. Map Skills: Students work in cooperative groups to draw and label maps showing the gingerbread boy's adventures. Hope you can use some of these!

Cheryl Luckie 2nd Grade

Janice McCarthy
Grade: Kindergarten
After reading the Gingerbread Baby by, Jan Brett we decorate gingerbread cookies. After that I do a wonderful math lesson with my class. Everyone in the class takes their first bite of their cookie at the same time. They only take one bite. Then we graph where everyone took their first bite, i.e. head, foot, arm or body. We make a class graph with gingerbread baby's cut from paper. The student rips the body part that they bit first. After making the graph, the student's eat the rest of their cookie

Every year I have my preschoolers make a ornament at Christmas time. This is what we did last year. I used 2 different shades of brown fun foam sheets. Trace a shape that looks like a cutting board with a handle, out of the darker brown. With the lighter brown, trace gingerbread people, small enough to fit both on the board. (I did a boy and a girl). I have those you can cut the shapes out and help the others who can't. Using tacky glue, glue the gingerbread people to the board. With red and white puff paint, have them decorate their people. Use a hole punch to make a hole at the top and attach red or green ribbon to hang by. These come out just darling and the children really enjoyed doing them.

Judy Chambers
Grade Taught: Elementary Math Pre-K through 5
Lesson level: primary
After reading The Gingerbread Man, we follow-up with the following math ideas.

For data analysis we start with each child getting a gingerbread cookie. Before eating them though, they have to decide if they which part of the gingerbread cookie they would bite first: the right arm, left arm, right foot, left foot or the head. They graph this by each getting a gingerbread cut-out (from a die-cut system) and tearing off the "first bite". They are then graphed to see which part is the most popular starting point.

For geometry each child gets a big paper gingerbread cookie to decorate. We first talk about symmetry and how everything on one side must be just like the other side. Then using paper, trims, beads, or whatever you choose (or have available), the students make their symmetrical gingerbread men. I then string them up in the room for decoration.

For computation, I make gingerbread men out of construction paper and then cut them in half in random cuts so no two are alike. The facts go on one half and the answers on the other half. If the cuts are different, it makes the activity self-checking. Variations could be number words and numbers, shapes and names, coins and values, clocks and times, etc.

For patterning, make large (9x12) gingerbread men and let the students design patterns around the outside edge using fruit loops. Actually, they can estimate the number of fruit loops it would take to do this first. When finished, they can count how many they used and compare with their estimate. For older students, have them find the difference.

Name: Nichole Dirks
Grade: Multi-Age 2nd Grade (mornings are with 2nd but afternoons are K-2nd)

Here is a listening activity that I use every year around Christmas. You will need an outline of a gingerbread person. The students will decorate their gingerbread person according to the directions. It is interesting to see what each child's gingerbread will look like when completed. This is also easy to alter and vary depending on your class. Different aspects of this can then be turned into a graph or these can be put onto a bulletin board to display for families to see.

Directions:

Color eyes the same color as your own.

If you have a: dog = triangle nose
cat = square nose
bird = circle nose
fish = diamond nose
If you like: to read = red smile
computers = blue smile
play outside = green smile
play in the rain = yellow smile
draw/color = purple smile
puzzles = orange smile
If you were born in: January = purple hair February = red hair
March = green hair
April = blue hair
May = yellow hair
June = pink hair
July = brown hair
August = blue and green hair
September = red and yellow hair
October = orange hair
November = purple and orange hair
December = red and green hair
Color 1 blue stripe on the left arm for each brother you have
Color 1 red stripe on the right arm for each sister you have
Color 1 button for year of age (example: 7 years old=7 buttons)
Color 1 stripe on the feet for each tooth that you have lost

Tina Barr
Pre-K Math Activity:
Items need:2-3 sheet of fun foam or felt
paint pens
ribbon
10 clothespins

I start by cutting out and decorating 55 small gingerbread men cut from fun foam. You could also use felt. I attached the ginger bread men to 10 ribbons (example: 1 on the first ribbon, two on the second ribbon etc.) These I attached with a hot glue gun. Leave a small piece of ribbon showing at the top. I then strung clothespins, numbered 1-10 on a piece of yarn, on the wall. The children choose a ribbon, count the gingerbread men and clip it on the appropriate clip. It has been very successful. I was worried that the gingerbread men would fall off after a few days but hey have stayed on beautifully. (Sorry I don't have a picture to share!)

Tina
Tina2Barr@aol.com

Cathi Cooper
Third Grade
Gingerbread town
This was used in a lesson for a way to make a map or community living. We made gingerbrread homes out of small brown paper lunch bags. Each group of students had a part of the town to build. Such as the post office, the fire company, school. They were given the lunch bag and had to come up with an idea for their building. They could put on any candy or decorations the team deemed useful.Real or paper candies After the houses are built the class decides how they want to Gingerbread Town to look.

How to make the houses:
1. Paint the bags brown using sponges dipped in brown paint
2. Measure 10 inches from the bottom and draw a light line across the bag
3. On the side of the bag draw the peak of the house and cut the bag to get a roof look
4. staple the top of the bag together and put some fiberfill on the top of the bag to look like snow. A little goes a long way.
5. You can even use a little potpourri to make them smell like gingerbread.

Still need more ideas... Try

Gingerbread Gems
http://www.mrsmcgowan.com/cc/gingerbread.htm
Go to www.teachingheart.net