Other Froggy Fun
Roll a Leap Frog Dice Game. Provide dice per pair of students.
Students take turning rolling the dice and drawing the part of the frog. As you can see in the picture, this student rolled a three. So, they drew the arms of the frog.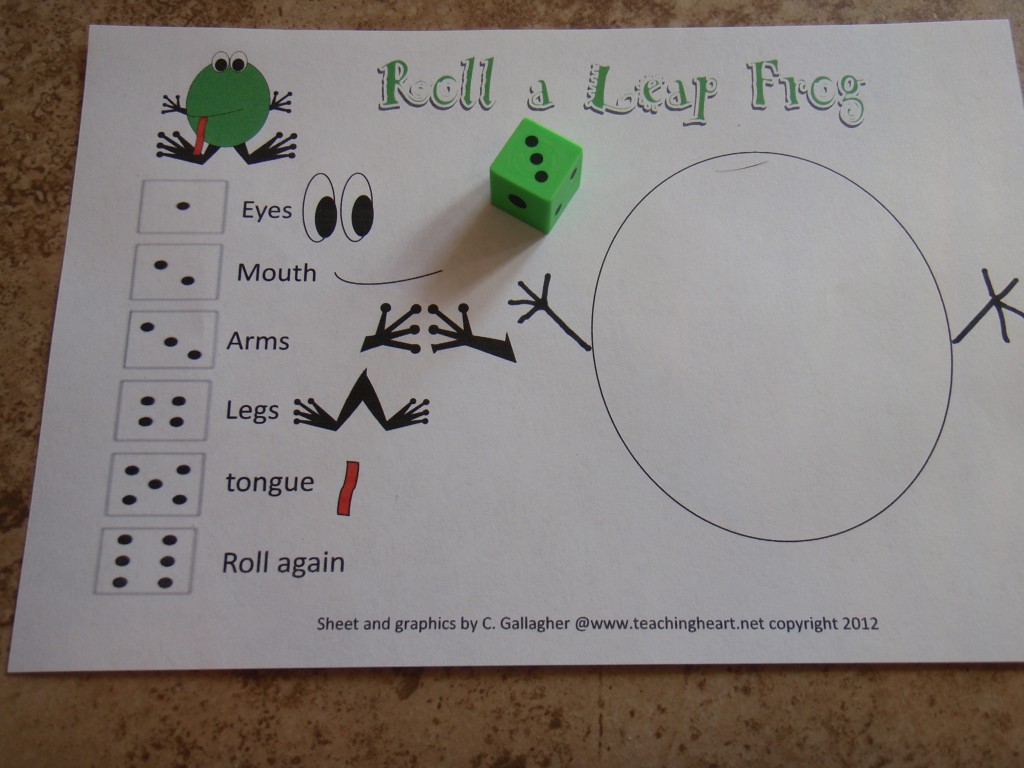 First student to draw all of the froggy wins!!!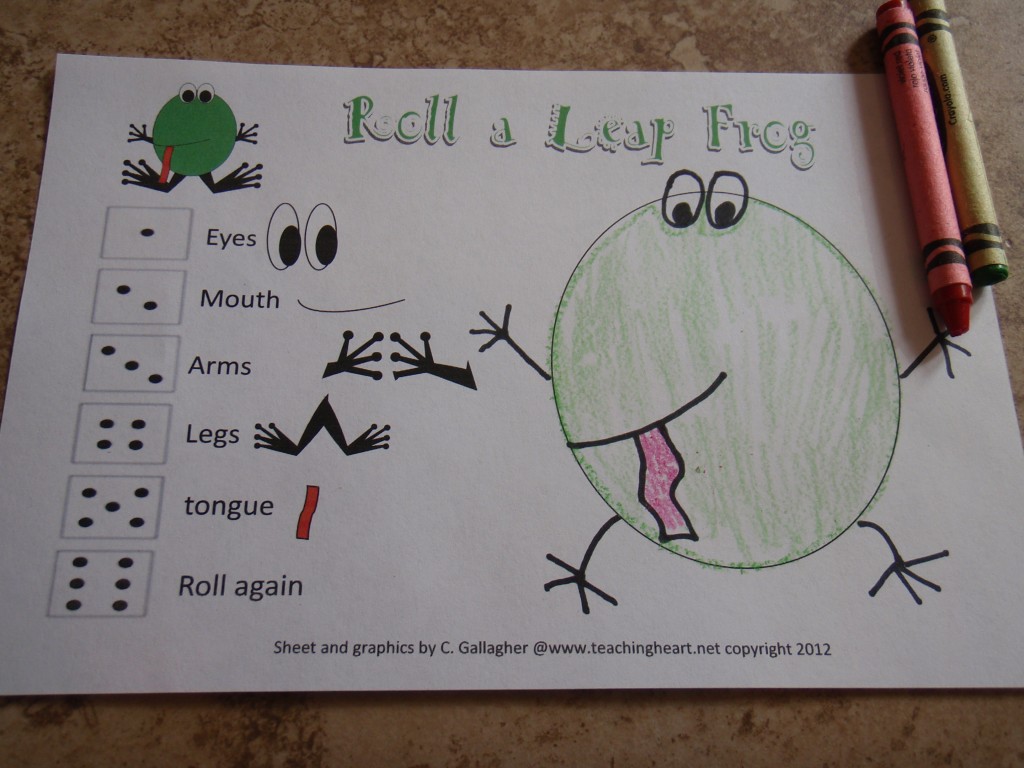 Click here to order the pack that this printable comes in!!!
Here's a free one for you to download today!!!
Play with partners and three dice.
Whoever has the most Lilly Pads covered at the end of the time limit, wins the game.
The picture below shows a roll of 6+5+3. The sum of that is 14. The student should cover the 14 with one of their frogs. Now it is the next persons turn!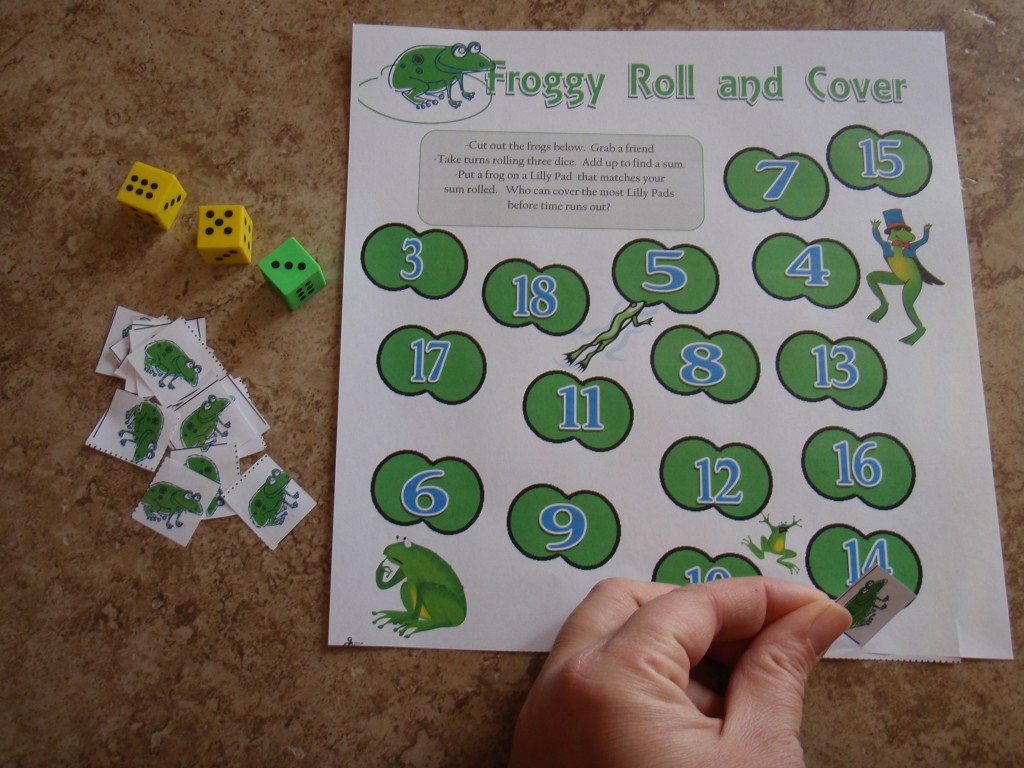 Another idea is to just call out a number and have the students cover the called number. You may download this file by clicking here!!!
Check out the Teaching Heart Leap Frog Packet-----
OR try one of our other LOVEd products.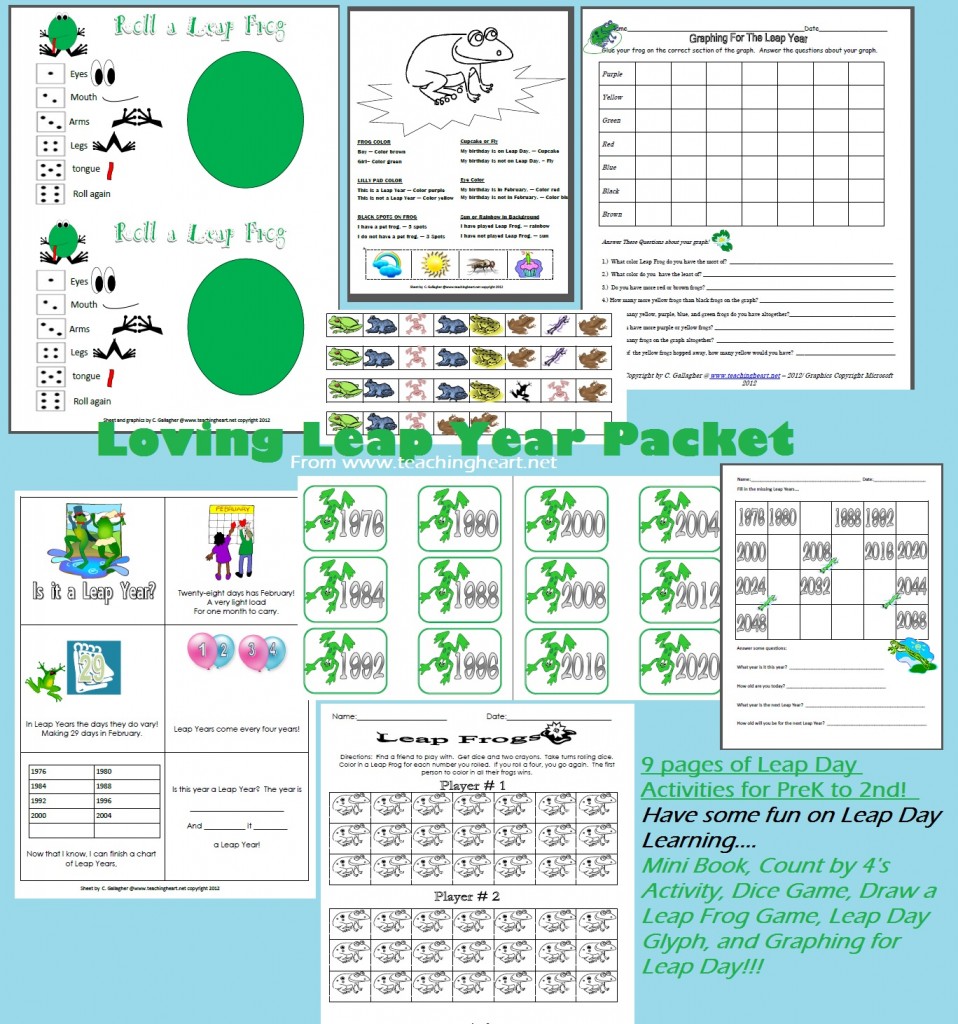 -- Follow the link to many Leap Year Books on Amazon – Leap Year Books
--Teachers be sure to read the Leap Day page for teachers here.
-- Scholastic Shares a Few Ideas as well.
Leap Year Song(Tune of Bingo)
There was a year called Leap Year,
And February was its name-o,
L-E-A-P Y-E-A-R,
L-E-A-P Y-E-A-R,
L-E-A-P Y-E-A-R,
And February was its name-o.
Ga-goon went the little green frog one day.
Ga-goon went the little green frog.
Ga-goon went the little green frog one day.
And his eyes went blink, blink, blink.
IDEA SHARED BY: Denise
My classroom job chart is called Hoppy Helpers andI have the jobs written on lily pads. Each child has a frog with their name on it and I move them onto the lily pads every Monday. As part of my classroom management I have a large soft toy frog with a crown on his head. He's the King frog and his mouth has a zipper.When a child does something 'wonderful' they get to go to the King Frog and take a 'blessing' from his mouth. The blessings are cards with rewards written on them eg. sit next to a friend, take off your shoes etc.

IDEA SHARED BY: Pat pstine2002@yahoo.com
Attach a drawing of a frog to a small ruler. Make a number line on a long strip of paper. I use adding machine tape for my number line from 0-30. (You may extend the number line for older students)I then show the students how to skip count by 2's on the number line by hopping the frog on every other number. 2, 4, 6, 8 etc. as the students count along with me. Once we have memorized the pattern for 2's, we count by 3's, 4's 5's etc. The number line can also be used for addition and subtraction, odd and even numbers etc.