Jelly Bean Fun
Jelly Bean Prayer:
Free Jelly Bean Prayer Printable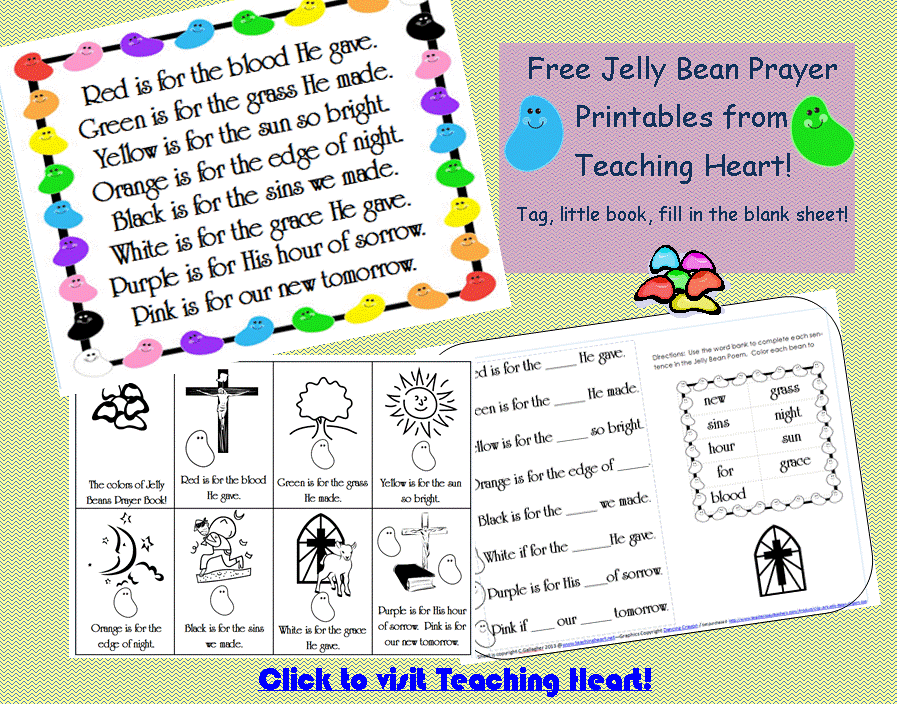 1.) A Jelly Bean Prayer Tag to attach to Jelly Beans
2.) A Jelly Bean Mini Book – Student would color and then staple together.
3.) Jelly Bean Prayer fill in the blank with word bank.
Jelly Bean Prayer Resources
More Great Printables for the Spring!
Create a "Jelly Belly Line" on the table. Students measure the line. Then state a certain number of jelly beans to pull out of the line for the students to eat. Now have the students measure again!
Do YOU know how many jelly beans it takes, end to end, to create a yard of jelly beans?
Write all About It!
I WOULD MAKE A JELLY BEAN THAT TASTES LIKE........
MY FAVORITE JELLY BEAN FLAVOR IS.....
IF IT RAINED JELLY BEANS.....
From the Teaching Heart Mailring
What about doing a probability lesson? Take a small brown lunch bag and put 7 jelly beans in it. Use only 2 colors of jellybeans. After drawing a jellybean 10 times, (they put the one they drew back each time), have them predict how many of each color is in the bag. You can do it with one bag and the whole class first and then have them work in partners after that. - dkandtm@aol.com
Click here for A Jellybean Sort PDF - Here is a jellybean sorting sheet I created to help sort jellybeans for graphing by color. By Kimberly @ luv2tch@gmail.com
Also by Kimberly... A Jelly Bean Graphing Sheet. Click here to download.