It's Cold Outside Teaching Heart Packet by Colleen Gallagher
Do you need to warm up your students with a few activities to review previously taught skills? Do you need a few winter activities to use as centers or take home activities? Check out all he great activities in this Teaching Heart Packet. Your students will enjoy each activity and you will make learning fun without making extra work for yourself.
Below are all the activities that you will get in this packet!
It's Cold Outside – Grades 1,2,3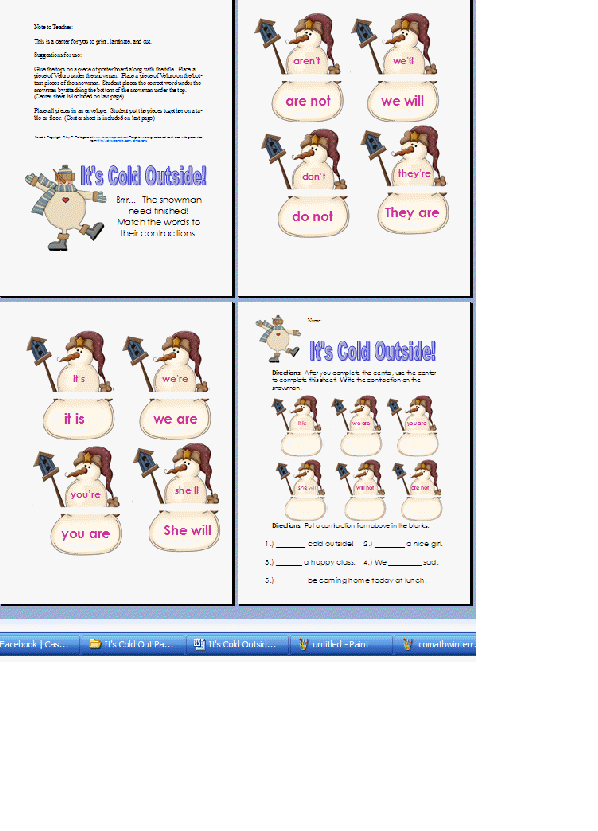 A center activity or take it to your seat activity. Students finish the snowman by matching the words to a matching contraction. This file is five pages and includes a center sheet. PDF and Publisher.
Winter Mail – Grades Prek, K, and 1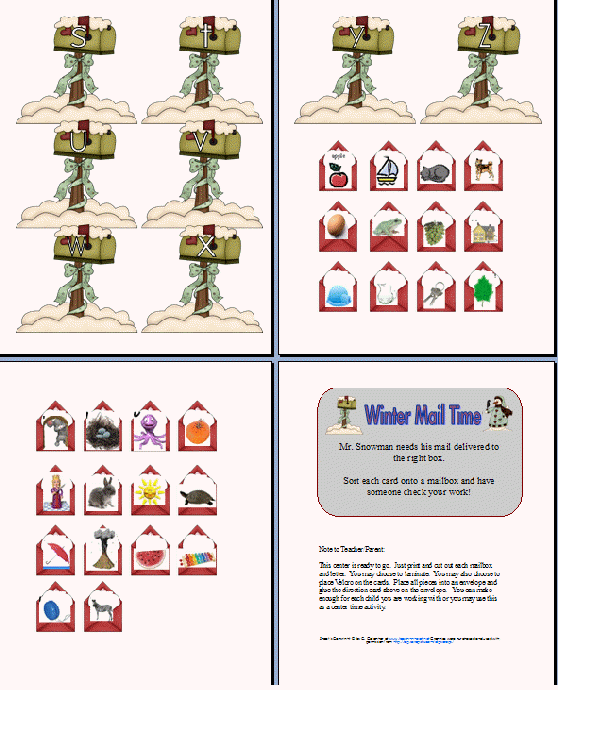 This activity is practice of beginning sounds. This center is ready to go. Just print and cut out each mailbox and letter. You may choose to laminate. You may also choose to place Velcro on the cards. Place all pieces into an envelope and glue the direction card above on the envelope. You can make enough for each child you are working with or you may use this as a center time activity. This file is 7 pages. PDF and Publisher.
Winter Math Review Game – Grades K, 1, 2,3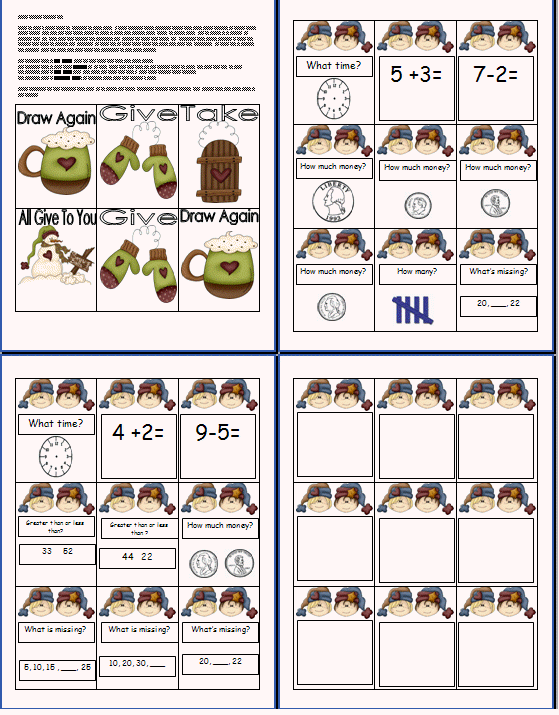 Print or type a math word or problem on each card. I have included some premade cards with math skills already on them (first grade level). You can use the blank cards to type in your own chosen skills based on grade level (k,2,3). Directions for the game are included. This game is great for a filler review activity in your classroom. Also perfect for small groups! Parents, try this game at home with your kids. This file is four Pages! PDF and Word
Winter Warmth Math/Reading Dice Game – Grades K,1,2
Just print and use as a math/reading center or during a math/ reading lesson to review skills. An easy and fun to use dice game your students will love! This document is three pages. The first two game boards are programmed with first grade math problems and first grade sight words. You may type in skills on the blank card or print and write in the desired skill (sight words, shapes, vocabulary, math problems…). PDF and Word.
Winter Graphing Center – PreK, K, 1, 2 (3 files)
1. Winter Banner – To place above manipulatives. Asks your students what their favorite winter activity is.
2, Winter Manipulatives – Use the manipulatives on a white board. Your student places a mitten next to their favorite activity.
3. Winter Graphing Center Sheet – Students fill out the sheet while looking at the finished class graph. (3 files)
It's Cold Outside Game Board PreK, K, 1, 2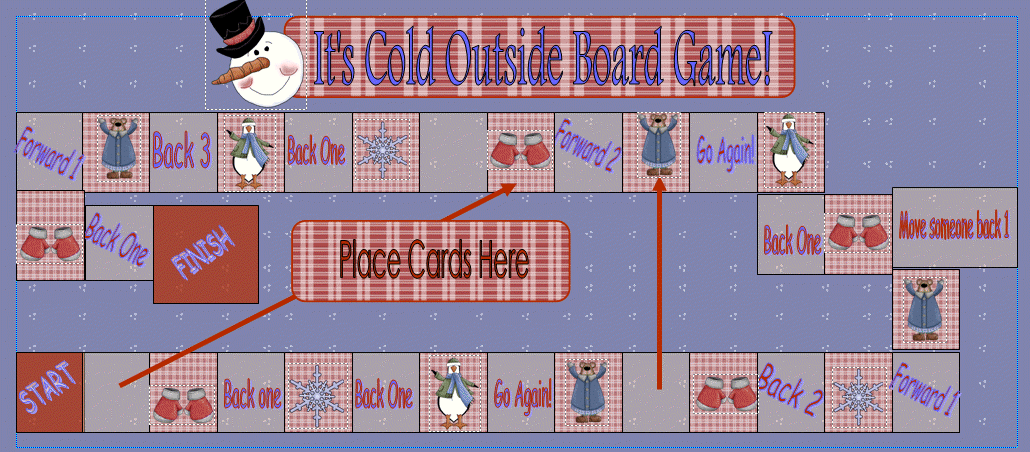 Print, laminate, and use this game board in a center or in a small group to review the skill of your choice. All you need is a dice and markers for each player. Program index cards with the skills you would like your students to review (sight words, math problems, comprehension questions, shapes…) Students roll the dice and move the number on the dice. Follow the directions on the square they have landed on. Lastly they draw a card and answer the question. Publisher and PDF
Graphing For Winter Sheet – Grades 1,2,3
Students cuts out pictures and glues them to a graph. Once all the pictures are glued to the graph, the student answers questions about their completed graph.
Word and PDF
Mitten Match Center – Grades Prek, K, 1, 2, 3 -
CLICK TO Print PDF FOR FREE
Mitten Match Center: Student must match the number mitten (sum) to a mitten with the math problem on it. You may print, laminate, and cut the pieces below. Have the student place the matching mittens in a pocket chart next to each other.
You can change the mittens to any skill below by clicking on the white squares and typing in the skill you wish (colors, shapes, multiplication, subtraction…)
Winter Clothing Mini book – Grades Prek, K, 1,
A little book about winter clothing. Student reads and colors the pictures to match the text. Last page should be illustrated or you make take a picture of the student in their winter gear and paste it on the last page.
9 activities with over 25 pages of printables. Less than $2.00 a file!!! All files are in PDF form and in Publisher or Word (you can modify the publisher files and word files to meet your needs.)
Once payment is received you will be sent and email with directions for instant download.
OVER 25 Pages of Printables For
$12.99
Sheet is Copyright © by C. Gallagher at www.teachingheart.net Graphics were purchased and used with permission from http://digiscrapkits.com/digiscraps/