The Games/Trials:

As stated above, each Jedi was given a card.
everytime we played a game they were given a star to
go on their training card, putting them closer to becoming
a Star Wars Jedi.

I had written out two plans. One plan was if it did not rain and we could use the yard for the party
and the other plan was if it did rain and we were stuck inside. It did rain and we were stuck inside. I was bummed
because we had to split the kids up for the games and because space for the games was much smaller. Looking
back, it worked in the end and luckily the garage was cleaned out.

CLICK HERE TO DOWNLOAD MY SCRIPTS IN WORD FOR THE PARTY

Trial 1: Learn the names of the characters.
We played Jedi Bingo
I had glow bracelets on my arm. When someone got a Bingo, I gave them a bracelet. Of course, we played till everyone was a winner.

We did a cake walk on star wars masks. They would walk around on the masks till the music stopped. When the music stopped the children would
stop on a mask. I would draw a mask and anyone on the mask would sit on the given maks. Play until only one is left standing.

CLICK TO DOWNLOAD MY STAR WARS BINGO CARD
Trial 2: Jedi Training Course
This would have been much more exciting outside, but the kids still loved it. We ended up setting up in our basement.

The kids wore Yoda on their back (like Luke did while training). I found the greatest backpack on amazon.com. It is below.


1.) First they put yoda on their back.

2.) The kids had to go through cones with storm troopers on them.


3.) They had to fly a star fighter into a black hole. This was a frisbee with a picture of a Starfighter on it and a black bucket.

4.)They had to go through Dagobah Tunnle. Basically a play tunnle with green string hanging from it.

5.) They had to make their way over hot lava. A red table cloth with black stones on top.

6.) The plan for if it was nice out was to have a kiddie swimming pool filled with green water. The kids would take off their shoes and walk through the swamp.

They each took turns going through this. My husband hyped it up by telling the kids how important the Jedi Training course was and how each activity related to the movies.
Trial 3: Save the Princess
Blow up balloons and put a princess paper inside each balloon. Children sit on the balloon and pull out the princess to save her. I suggest the smaller balloons - they pop much easier.
Trial 4: Jedi Scavenger Hunt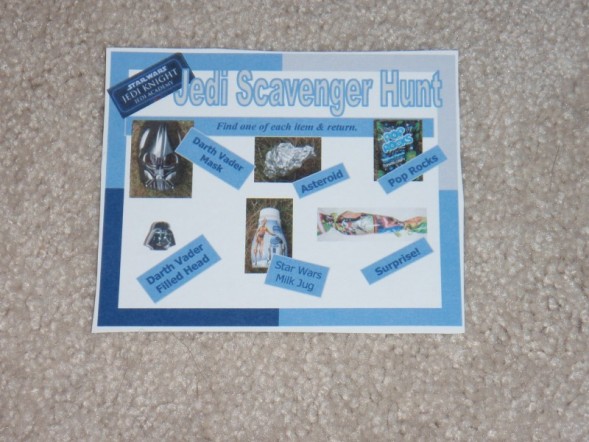 Each player was given the card above and to find each of the items. Once again, it rained over the party and we had to do this inside and it would have been easier to do this activity outside.
They had to find a mini darth head, a milk bottle (it had magnets of various characters in it), a wrapped Star Wars gift (this was a McDees Star Wars Toy), and asteroid (foil wrapped with candy in it), and pop rocks.
Trial 5: Pin the X-wing on the Death Star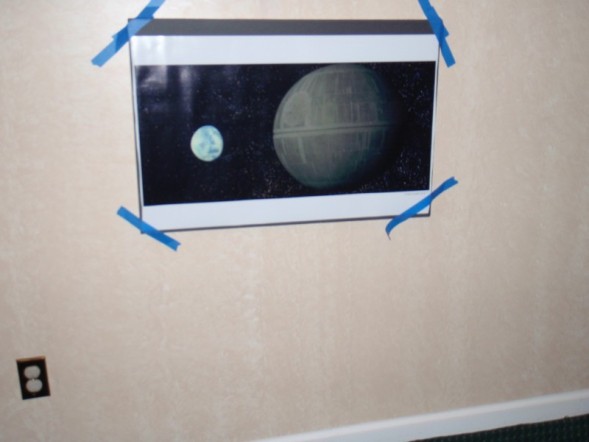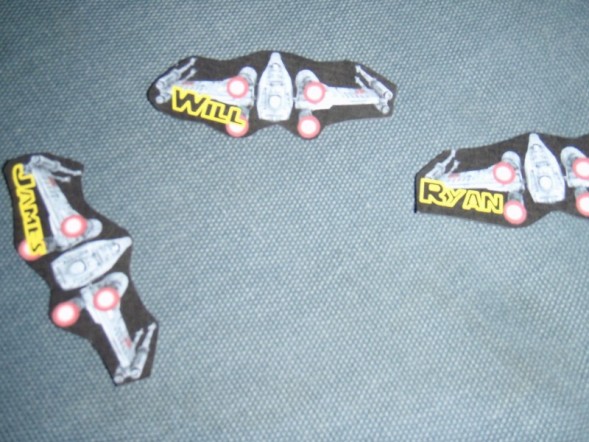 We ordered a Death Star Poster from Zazzle. Each child was given an x-wing cut-out. They put on sunglasses with tape over the lense so they
could not see and had to try and get their x-wing in the middle of the Death Star.
Trial 6: Light Saber Practice
We gave each child a lightsaber made out of a pool Noodle.
We were at Disney in May and they had Jedi Training camp at Hollywood Studios. My husband basically stole the moves from the act
at Hollywood Studios and taught the kids a few moves with their sabers. If the weather was good we had planned to let them pop bubbles with the sabers.
Since we were inside we packed up the sabers for use later.
Ideas for Jedi Training on You Tube!
Trial 7: Faceoff with Darth Vader
The kiddos gathered around the garage doors and concentrated on using their new Jedi powers to life the gargage doors open. When they opened the garage doors,
Darth Vader appeared. Each child in groups of two got to lightsaber with Vader.
Other Filler Games:
Pass C-3PO
I got a C-3PO from Amazon and played Star Wars Music while the kids played passed C3PO. My daughter claimed this little doll as one of her favorites after the party!