Here are some places to explore if you are doing a unit or looking for ideas about space... These are my favorites...
---
http://amazing-space.stsci.edu/ (Gr. 2+) Amazing Space is a set of
web-based activities primarily designed for classroom use, but made
available for all to enjoy.
LEGO Town Space Simulation Station (6455)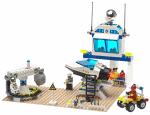 http://www.luc.edu/schools/education/science/zastrole.htmAstronomy Lesson Plans & Activities.
Read The Animals' Journey to the Moon
Matchbox Mega-Rig Powered Space Base
http://btc.montana.edu/ceres/html/EdActivities.htmlA team of master teachers, university faculty, and NASA researchers have created a series of web-based astronomy lessons for the CERES Project. These classroom-ready activities for K-12 students represent a robust combination of contemporary teaching/learning strategies from the National Science Education Standards

Astronomy Smart Junior : The Science of the Solar System and
Beyond (Princeton Review Series)
Get ready to take the field trip of the century-the twenty-first century, that is! Bridget, Babette, Barnaby, and Beauregard take you on a tour of the solar system, including stops at colonies on the Moon and Mars. Along the way you'll learn about: our galaxy and its stars and planets
twentieth-century space exploration
matter and its evolution
constellations and how to find them
History of Space Exploration Coloring Book
http://www.coreknowledge.org/CKproto2/resrcs/lessons/198StepSpace.htm(Gr.1) Centers involving role play, design, cooking, problem solving, and
measurement allow students to test ideas.
http://www.yale.edu/ynhti/curriculum/units/1996/6/96.06.08.x.html
Our Planet . . . Our Solar System k-2

The Adventures of the Bailey School Kids Super Special #4: Mrs.
Jeepers in Outer Space

Amazing Pop-Up, Pull-Out Space Shuttle
http://members.aol.com/kidcross/space.htmcrossword puzzle
http://www.thepotters.com/puzzles/kids/space.htmlspace word search
http://www.nationalgeographic.com/asteroids/index.html (National Geographic) Online game.
http://www.adlerplanetarium.org/99/ast_onl/c_calc.htmCalculate your weight on other planets.
Astronomy Smart Junior This book teaches the concepts of astronomy (including helpful diagrams and charts) while sending the reader on a exciting tale of mystery and knowledge.
READ Bugs in Space : A Pop-Journey
http://www.headbone.com/derby/mystery/From Headbone. Includes teacher's guide for using this in the classroom (Shockwave required).
http://observe.ivv.nasa.gov/nasa/fun/concentrate/concentration.html (Gr. 2+) Concentration game.
http://www.seasky.org/sky3.html(Sea & Sky) Somewhere in the outer bands of a spiral galaxy called the Milky Way, is an average-sized middle-aged yellow star known as the Sun...
http://seds.lpl.arizona.edu/billa/tnp/Each of the planets is described and illustrated with hundreds of pictures.
http://spaceboy.nasda.go.jp/Db/Kensaku_html/Type27_e.htmlClick on the planet that interests you for information from the Space Encyclopedia.
http://starchild.gsfc.nasa.gov/docs/StarChild/solar_system_level1/solar_system.htmlWhat is the solar system? It is our Sun and everything that travels around
it. Our solar system is elliptical in shape. That means it is shaped like an
egg. The Sun is in the center of the solar system.
http://www.libsci.sc.edu/miller/Solar.htmA Collaborative Thematic Unit Theme: The Solar System and Astronomy by Catherine Quattlebaum and Evelyn Pickens Focus: Students will explore the influences and characteristics of the sun, Earth and moon examining the relationship between these three
bodies and the larger solar system.
http://tommy.jsc.nasa.gov/%7Ewoodfill/SPACEED/SEHHTML/color.html
The Space coloring Book
http://www.educast.com/arc/lp/sci/980216ks.htmllesson that includes activity sheet.
All of the site below have some great ideas to add to lessons and units on space!!
http://liftoff.msfc.nasa.gov/kids/
http://www.nwc.net.au/members/denyse/space.htm http://www.angelfire.com/ma/1stGrade/space.html http://members.aol.com/charlenewp/kkc2.htm http://www.geocities.com/Athens/Aegean/2221/space.html These links are brought to you by Teaching is a Work of Heart:
http://www.geocities.com/athens/thebes/9893EMAIL ME