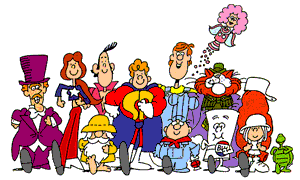 The Schoolhouse Rock Page For Teachers!
Links and Lesson Ideas!
Hello and Welcome to Teaching is a Work of Heart's School House Rock Page. As you know, the Schoolhouse Rock series has been used as a learning tool with students since the late 70s. The anniversary DVD marks the first time that all of the songs have been available in one collection. I have personally used the Parts of Speech VHS many times in my classroom. The students really love "Unpack Your Adjectives" and "A Noun is a Person, Place, or Thing". I love them too. It is amazing how quickly students grasp the parts of speech after watching these videos a few times. I have also used some of the multiplication songs to teach some of the tables. The history rock video has also been used in my classroom. We all are familiar with "I'm just a Bill". The School House Rock collection has made my lessons exciting and entertaining... I don't think I could teach the parts of speech without them. Tee-hee! When I first got the the DVD I was so thrilled with it. It would be so easy to use in a classroom - no more rewinding or fast forwarding to get to "A Noun is a Person, Place, or Thing" Plus it is such a joy to have ALL the videos in one place! Now only if the schools I have taught in would get DVD players. I am sure most classrooms will have them soon! Anyway, this page is dedicated to teachers who use the Schoolhouse Rock Series in their lessons. We hope you will find a new idea or resource on this page. Enjoy the lessons, links, and products! Happy Teaching!
October 2002
Other School House Rock Products - Click to learn more!
School House Rock Software
Great Ideas From Great Teachers!
There are many ways to use these songs in your lessons. Below teachers will share the way they use them in their classrooms.
We asked teachers to tell us how they use the songs and videos in their lessons. Below you will see all the ideas teachers gave. We then choose our 7 favorites. The names of the 7 favorites were entered in a drawing to win a The Best of Schoolhouse Rock! - 30th Anniversary Edition DVD. The Top 7 Lessons Were Enetered in the drawing. The two lessons with the schoolhouse graphic Won a Free DVD from Teaching is a Work of Heart. Congratulations to Maura Timmerman and Kathy Lee !
A big thanks to the many other teachers who handed ideas in. All the ideas were wonderful. Still, we could only pick two. We wish we had more than 2 DVD's to give away. I am sure many will use your ideas! Thanks for sharing!
School House Rock Links to Lessons and More