Teaching Heart's
Year Round Thematic Learning Printables for Kindergarten and Preschool
Huge Bundle of Resources on DVD-ROM!!!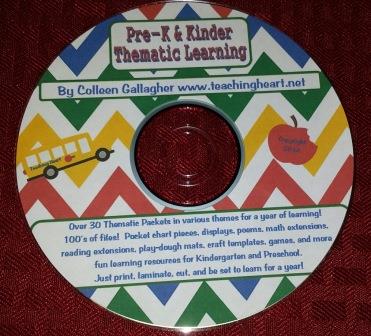 Over a $140.00 Savings!!!
Over 30 Thematic Packets in various themes for a year of learning! 100's of files! Files come to you via US Mail on a DVD-ROM. Just stick in your computer and print 100's of resources and prinatbles activities for your classroom.
Pocket chart pieces, displays, poems, class manipulatives, math extensions, reading extensions, play-dough mats, craft templates, games, and more fun learning resources for over a year of learning fun in Kindergarten and Preschool. Activities are based on Common Core Standards in Preschool and Kindergarten. Just print, laminate, cut, and be set to learn for a year and beyond! Sold seperately you would pay over $280.00 for this set.
Purchase all the files together and save over $140.00. Be ready for a year of learning!!!!
You get 100's of files that if purchased individually, you would pay almost $300.00 for...
Get it all today for $109.00
If you are in search of a preschool curriculum, this may be your saving grace!
All materials tested on children ages 4 to 6 and used in a classroom environment!
These files were developed over two years by Teaching Heart Creator Colleen Gallagher.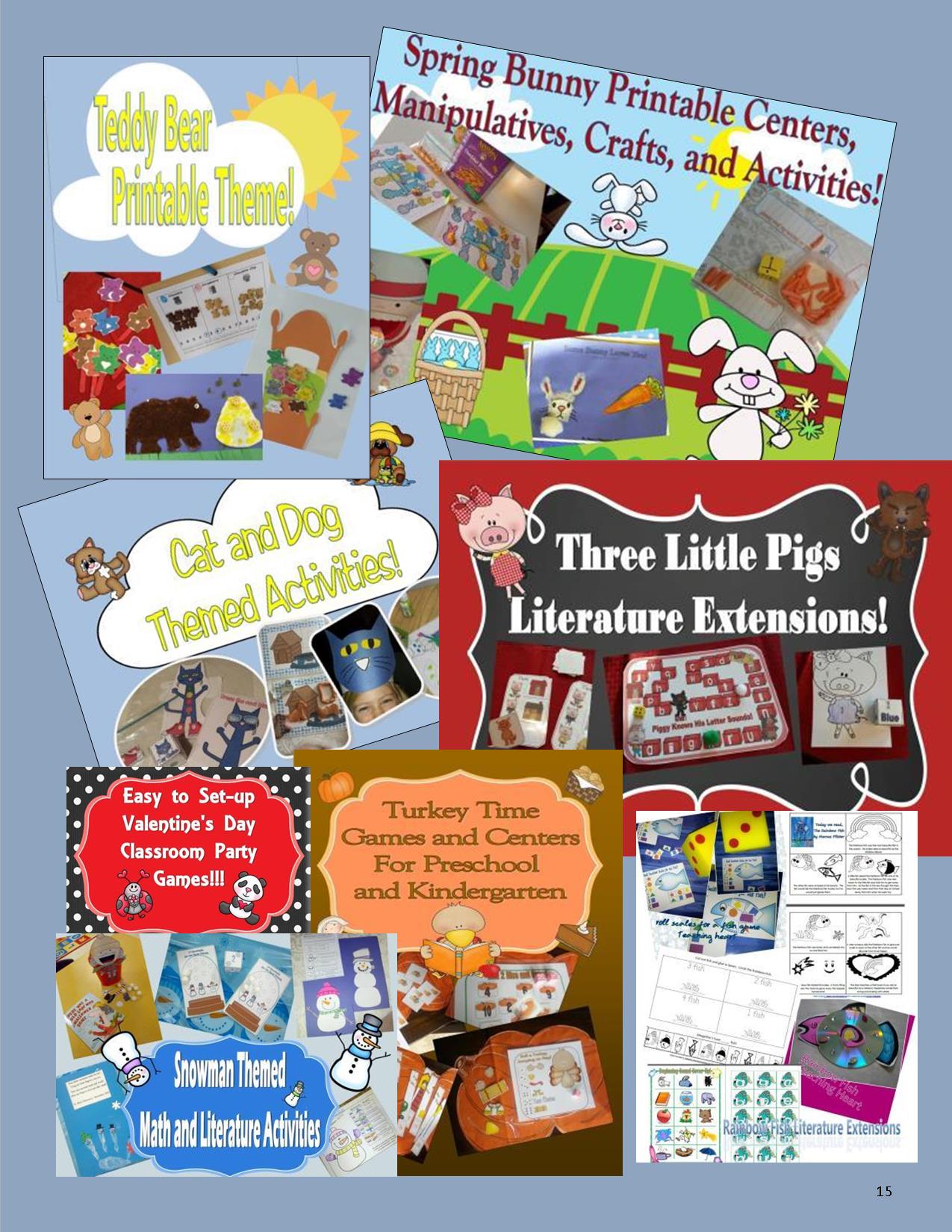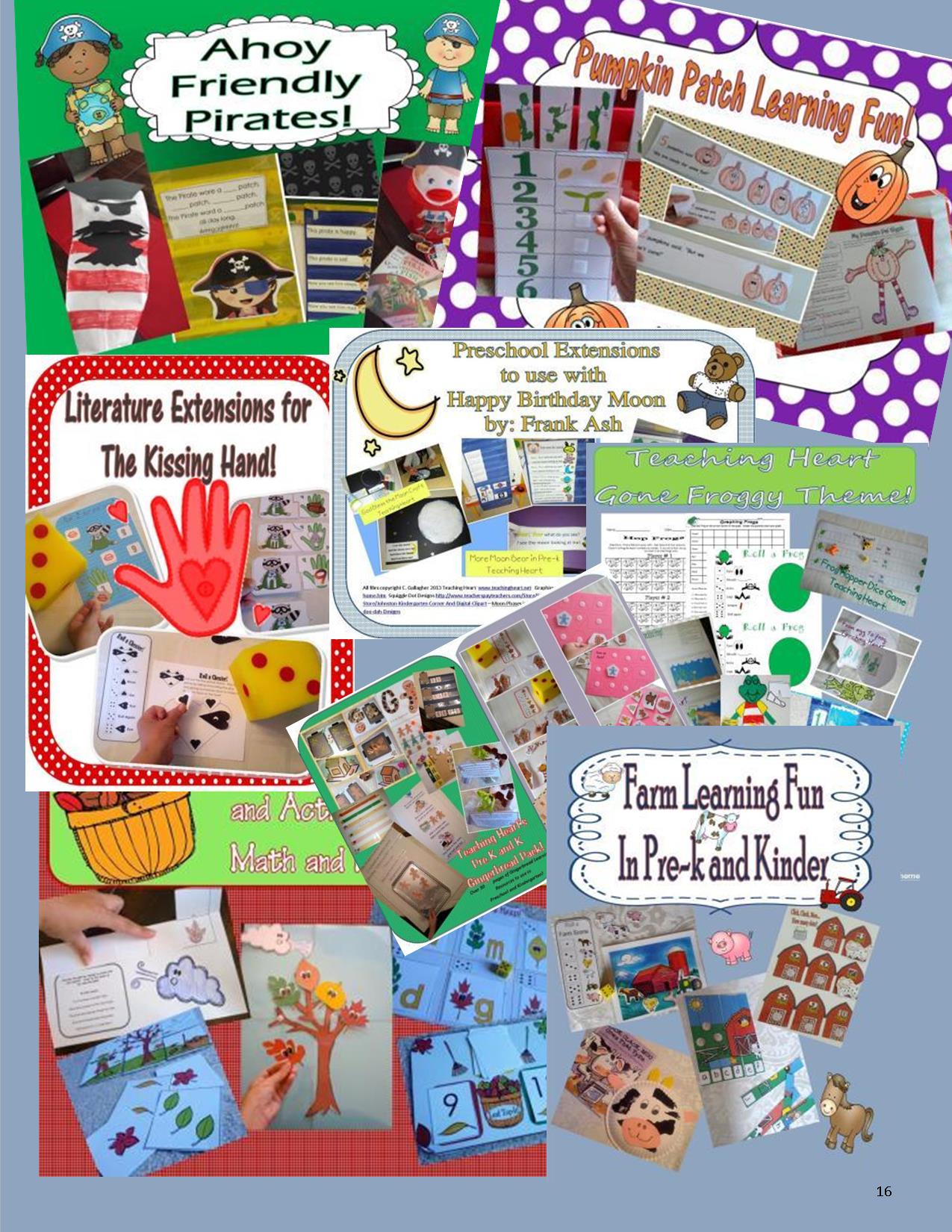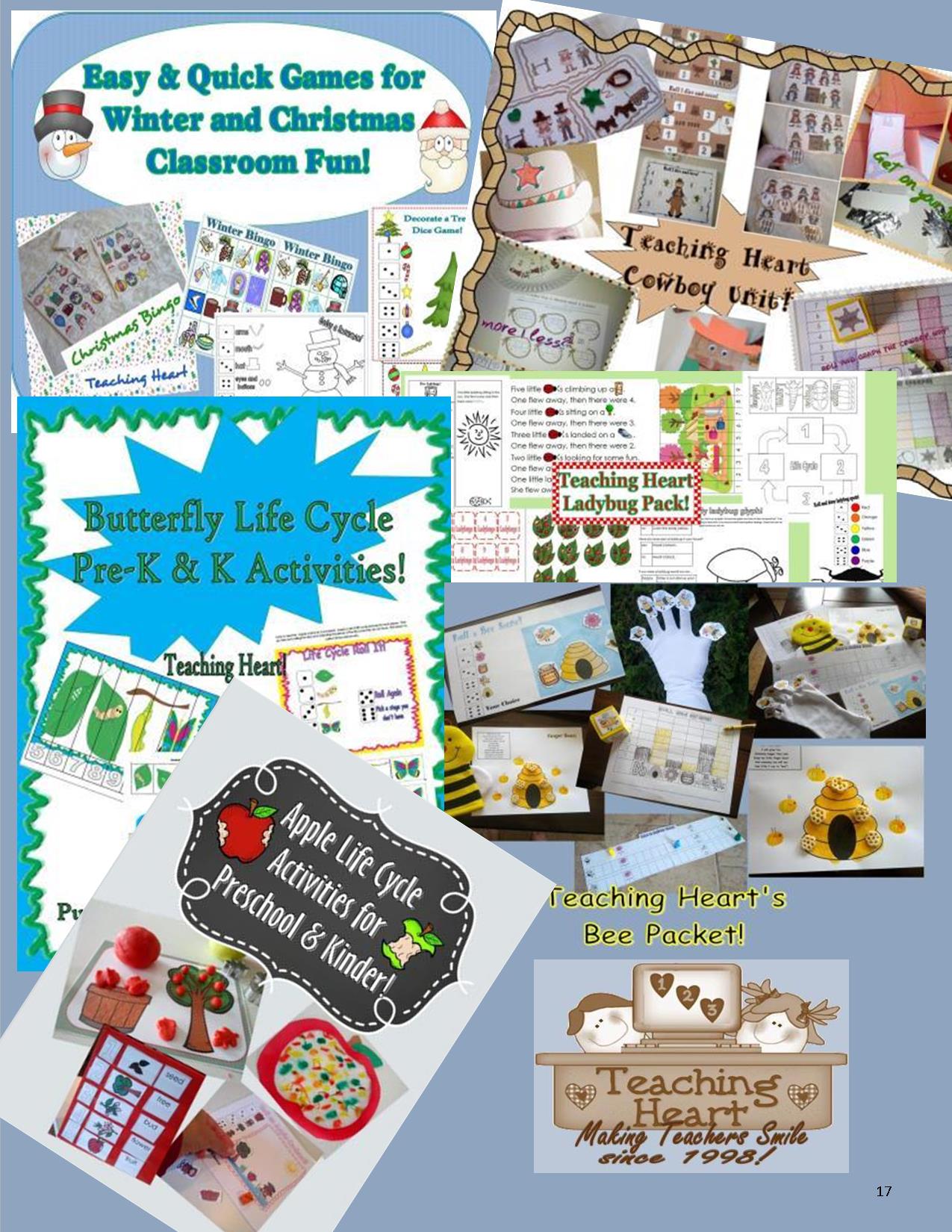 Teachers are loving the sets and are saying:
"This was fun to use at the end of the year! My Transitional Kdg. kids LOVED it!" - Carolyn R.
"Excellent materials for our cowboy unit. The kids love this!" - Paula B.
"I love this !! It is a perfect fit for my kids. Thank you ." - Dreaming and Learning in Pre-K Said
"great craftivity ideas!" - Erika
"So Many FUN activities!" - Aimee B.
"This made my party easy! Thanks so much!" - Amy J.
"This is an awesome resource. Thank you." - Vonda V.
"I can't wait to use this in my class. I love the glyph." - Diane K.
"Great stuff!" - Deborah K.
"I cannot thank you enough for ALL the files. Each one is amazing and perfect for my classroom. Next year will be such a great year in my
classroom. My job just got easier! - Happy Preschool Teacher
and so many more positive comments....
Get it now. Allow 1-2 weeks for delivery.
$109.00
Below is a more detailed list of the 100's of files you get on the DVD. It truely is an amazing set and an awesome deal!!!!!!
Apple Themed Activities
1.) Apple Roll Say Keep—Directions for play. Cards include alphabet letters/sounds and Dolch Pre-Primer Words.
2.) Apples Numbers—Make into a center. Student matches the apple with the seeds to the correct number. Independent sheet is included.
3.) Apples Playdoh Mats—Covers numbers 3 to 10.Students make seeds to match number. Also includes a pie to finish making and an /a/ to trace with the dough.
4.) Apple Glyph
5.)I Have Who Has Apple Picking Edition—A Game for 12.
6.) Apple Sequence—Student cuts out seven apple pictures and glues them in order.
7.) Apple Open House Topper Tags to attach to apples to hand out to parents at open house!!!
8.) Apple Parts—Students cut and glue to label the apple.
9.) Apple Jacks Math—
10.) Roll and draw a happy apple—Supply dice. Students take turns rolling dice and drawing in parts of the happy apple. First one to finish their apple is the winner.
11.) Ten on Top Beginning Sounds Game.
12.) Apple Beginning Sound Coloring Sheet—Color apples based on beginning sound of picture.
13.) Trace, Cut, Glue Numbers 1-20
Apple Life Cycle Packet
~ Page 4 and 5 Apples on Top Picture Frame Activity and a fun lesson idea.
~ Page 6 and 7 Apple Coffee Filter Craft and Template.
~ Page 8 to 10 Apple Play Dough Mats with ideas.
~ Page 11 to 15 Apples Happy Poem activities. Includes pocket chart pieces.
~Page 16 Position Words Activity. Students glues an apple based on dictated text.
~Page 17 Apples in my Basket Glyph. A simple glyph for a small group of students to work on.
~Page 18 Roll an Apple Orchard Dice Game. Students take turns rolling a dice and collecting images for their orchard. First person to collect all the pictures wins.
~Page 19 to Page 23 Apple Life Cycle. Includes a coloring page. Includes pocket chart pieces. Includes a cut and sequence activity sheet. Includes a little book to color. ~Page 24 through Page 30 Apple Coloring Code.
~Page 31 is a simple cut and paste math counting activity. ~Page 32 should be used with lesson on page 4.

Bug Files—Bee Files
Page 5—Printables to make a Bee Finger-puppet glove to go along with the five bees poem included.
Page 6—Simple Bee Glyph to Color and Take Home.
Page 7—Bee 10 Frames.
Page 8-9 —Bee counting puzzle. Page 10 —Roll a Bee Scene. Print a few copies, Laminate, and cut out five bee pieces. Supply a dice and 1 playing board and set of pieces per player. First player to get all their pieces onto the blue backdrop wins.
Page 11-15—Counting Game—Students work together to finish a puzzle. They collect Bees along the way. Game stops when puzzle is completed. Count the bees to find a winner. Directions included.
Page 16—17 —Race to the Bee Hive Dice Game
Page 18 –19—Little Bee Book—Trace numbers and number words. Color
BEE
Page 20—22—Two dice cover-up games.
Page 23-24—Dice Graph—printables to make a graph. Student rolls until one column is filled.
Page 25—Bee Phonics Activity Sheet— rhymes with Bee, beginning sounds, and trace b's.
Page 26, 27, 28, 29 —Craft idea—Finger Bee Craft and Poem to Match. Beehive Printable to use with craft. Page 29 is just a ready to print ver-sion. All you do is add the fingerprints.
Page 30—Count By Fives Puzzle—Print, laminate, cut. Students put the puzzle pieces together.
Page 31—35—Bee Pocket Chart Poem. I read the poem and call on someone to match the picture to the text.
Bee Themed Calendar and Classroom Forms
1.) Bee Themed Numbers to 31 - Can use on class calendar. (Publisher and PDF)
2.) Bee Themed Months (PDF and Publisher)
3.) Bee Days of Week (PDF and Publisher)
4.) Bee of Week - Form for class student of the week. (Publisher and PDF)
5.) Bee ABC Display - Two letters print per page. (Publisher and PDF)
6.) Bee Schedule Cards - Laminate and write times on cards with Dry Erase Marker. (Publisher and PDF)
7.) Bee Thank You Card - Fold and send (PDF and Publisher)
8.) Bee Desk Name Plates (PDF and Publisher)
9.) Bee Table Numbers 1-6 (PDF and Publisher)
10.) Bee Newsletter Template - Change it to fit your needs. Type in Text Boxes. (Word and PDF)
11.) Bee Calendar Center Sheet - Have students complete one for each month. An easy Calendar Center. (Word and PDF) 12.) The Four B's Sign (Word and PDF) 13.) Bee Conference Reminder (Word and PDF)
14.) Bee-utiful Work Award 15.) Bee Classroom Job Cards
Bugs—Hungry Caterpillar Literature Extensions
1.) Pocket Chart Pieces—Print out the pieces, cut, and laminate. Use to re-tell the story as a class. Allow students to add the pictures of the moon, leaf, sun, and caterpillar to the chart as you read. Mix up the days of the week and put them back in order.
2.) Roll a Caterpillar Game- Print out one game board for each player. Print out one set of caterpillar pieces per player. Students take turns rolling the dice and then selecting the caterpillar piece they rolled. First person to roll all the caterpillar pieces wins.
3.) Caterpillar Apron- All pieces and directions needed to make the apron seen. Use to retell the story by feeding the caterpillar the items in the correct order.
4.) Caterpillar Paper Bag Puppet- All pieces and directions needed to make the puppet seen. Use to retell the story by feeding the caterpillar the items in the correct order. Have each student make one by cutting out the pattern and gluing it to a paper bag. They can take their puppet and story pieces home to retell the story to a family member.
5.) Sleepy Caterpillar Story- A mini book for your students to make. They color the pages based on the color word used on the page. Also, they add a number in the blank after counting the leaves on the page. Once finished the pages are cut and either hole punched or stapled to form a little book to take home and share.
6.) Beginning Sound Match Up—All pieces needed to make a beginning sounds center. Each caterpillar has two pictures on its body. Students place the beginning sound next to the picture.
7.) Read and Number Layered Book
8.) Pattern Cards—Ready to print pattern cards.


9.) Rhyme Game—Print out caterpillar game board and the butterfly cards. Cut out the butterfly cards. Stack butterfly cards face down. Students take a butterfly card and look at the picture and cover up a picture on the caterpillar card that rhymes with the picture on their butterfly card.
10.) Counting Review Student fills in missing numbers and counts the objects and writes the number.
11.) Butterfly Glyph- Materials and directions to make Butterfly Glyphs. Includes patterns and legend.
12.) Ladybug Ending Sound—Letter mat with matching pictures. Student places picture on top of correct ending sound. 2 write the ending sound printables.
13.) Bug Graph Students cut and glue bugs onto a graph.
14.) Caterpillar Trace- Trace the dotted line to take the caterpillar to a healthy snack.
15) Lady Bug Adding
16.) How Many Ladybugs Pocket Chart Students count the ladybugs on each leaf and match it to the correct number.
17.) Sort by Color, Count, Trace—Students cut out bugs, sort them by color, write how many in the circle, and trace the color word. To reuse with small groups, laminate and use a dry erase marker.
BUGS—Butterfly Life Cycle
1.) Butterfly Life Cycle Little Book—A six page color and take home and share little book.
2.) Pocket Chart Pieces—Four large stages of a Butterfly Life Cycle—Eggs, Caterpillar, Chrysalis, and Butterfly. Includes large set of words to match to each stage.
3.) Life Cycle Chart—student cute, and pastes the stages onto a chart. I have included this in color and black and white.
4.) Pre-Reading and Math—Trace the words: Eggs, Caterpillar, Chrysalis, and Butterfly. Trace Numbers, Cut-out, and Glue numbers.
5.) Activity Sheet—Cut and Glue the Next Stage of the Life Cycle. Graph the stages.
6.) 5-12 Puzzle—Cut the puzzle and students put back together.
7.) Roll a Life Cycle Game—Students take turns rolling dice and collecting a piece of the life cycle based on their rolls. First person to roll and collect all four stages wins. Then they may sequence their stages in order.
8.) Race to Become a Beautiful Butterfly Life Dice Game—
9.) Roll 2 Dice and Cover Game
BUGS—Lady Bug Files
(Pages 3-4) 5 Little Lady Bug Flap Book—Student colors and traces numbers. The bugs disappear as the student read the poem and turns the pages.
(Pages 5-8) Various 5 Little Lady Bug Poem Formats for use.
(Pages 9 –10) Counting Lady Bugs Pocket Chart Pieces or Center—Student counts ladybugs and matches it to a leaf.
(Page 11) - Simple ladybug life cycle pocket chart pieces.
(Pages 12-13) Lady Bug Life Cycle Cut and Paste—In color and black and white
(Pages 14-18) Lady Bug Life Cycle Cut and Past Wheel Craft—In color and black and white. Spin the wheel and share each stage of the life cycle.
(Page 19) Ladybug Cycle Cut, Sort, Count, Trace, and Graph—
(Page 20) Ladybug Early Glyph Fun—Great way to introduce data interpretation with the younger students. Work through the glyph in small groups and let your students share their finished glyph with a parent. Easy—all you need are crayons!!

Ladybug
(Page 21) Ladybug counting puzzle—Print and laminate. Students can put the puzzle together. How many ladybugs do you see when you put the puzzle together. (Page 22) Ladybug Phonics Activity Sheet(Page 23) Ladybug Roll and Draw Dice Game—Students take turns rolling the dice and drawing colored spots on a ladybug. First person to get all six colors drawn on the bug wins.
(Page 24) Ladybug 10 Frames Student Worksheet—Students cut, count, and paste the numbers.
Christmas Games
Pages 3 to 16—Here are two Bingo games. One is a Christmas version (pages 3 to 9). The other is a Winter Version (pages 10 to 16). Each game is played the same way. There are 12 different cards for each game (six pages with 2 cards per page). The last page (9 and 16) includes calling cards. Print cards and calling cards. Laminate to use year after year! BONUS: Play Christmas or Winter Memory with pages 9 or 16. Print two pages of page 9 if playing the Christmas version or two pages of page 16 if playing the winter version. Or mix them all up a play one huge game.
Page 17—Decorate a Tree Dice Game Print and laminate page 17 as many times as you need sets. You will need one set per play-er. Cut out tree decorations. Players take turns rolling dice and putting ornaments on the tree. If they roll an ornament they already have, it is the next person's turn. First person to roll all six ornaments and deco-rate the tree first, wins!!!
Page 18—Color a Snowman Dice Game—Played the same way as page 17, except your students color in the snowman part they roll.
Cowboy
1.Saddle Up Those 10—Three 10 Frames Extra Practice Sheets. (3pages)
2.Cow Poke Top It Math Game—2 player game. Players find greatest number. (17 pages)
3.Puzzle Beginning Sound Center—Make this a take it to your seat center. Students match the beginning sound to a picture to form a puzzle. (9 pages)
4.A Cow Poke and His Horse—Counting Center (2pages)
5.Cowboy Roll Say Keep— Letter sound game
6.Simple Math and Reading Activity Sheets Cowboy Themed—Letter sounds and counting (10 pages)
7.Western Themed Roll and Graph—Use a blank dice and images provided. Includes graphing sheet. (2pages)
8.Cowboy Shape Match Center— Shape Matching Activity (2 pages)
9. 3 Cowboy Play-Dough Mats— Laminate and add play-dough for hours of fun. (3 pages)
10. Cowboy Roll and Cover—2 different versions. Page 1 is to be used with one dice. Page 2 is to be used by adding 2 dice together.
11. Cowboy Race to Your Horses Dice Game—Fun board game. 12. Roll a Cow Boy Scene—Dice Game where students roll the dice to create a cowboy picture.
13. Cowboy Western Puzzle Counting Game—
14. Paper Page Puppet Craft Template—Create a paper bag cowboy with this template.
15. Lasso up 1's—Math center for practice of 1 less and 1 more.
16. Boot craft template / Cowboy Hat Craft Template—Use these patterns to create a paper boot craft to display and a cowboy hat the kids can wear home.
17. Cowboy and Cowgirl Poster—Use for decoration.
18. Wanted Poster—Place picture of student in for a Bulletin Board Display. (1page)
Fall Scarecrow
1.) There Was An Old Lady Who Swallowed Some Leaves—Baggie Patterns.
2.) There Was An Old Lady Who Swallowed Some Leaves- Apron Patterns.
3.) There Was An Old Lady Who Swallowed Some Leaves Dice Game
4.)Scarecrow Mini Book
5.) Scarecrow Coloring Page
6.) Scarecrow Numbers Pocket Chart or Take to Your Seat Center - Students match the crows to the sentence. Crow Manipulatives Included.
7.) Fall Day Mini Book—Students color and cut. Then place pictures on correct page.
8.) The Little Old Lady That Was Not Afraid of Anything—Book Review Form.
9.) The Little Old Lady Who Was Not Afraid of Anything Pocket Chart Pieces.
10.) Pumpkin Whip In A Cup Activity
11.) Fall Edition of I Have Who Has for 12 students. Directions Included.
12.) Scarecrow Memory Game
13.)ScarecrowRoll, Say, Keep lowercase letter sounds game. Direction Included!
14.) The Scarecrows Hat by Ken Brown Story Props can be used in pocket chart. Laminate and put magnets
on them and retell on cookie sheet. Match the props to the words.
15.) Scarecrow Hat Pocket Chart Activity-Cut and laminate pieces for use in your pocket chart. Students
finish the sentence by adding the picture to retell the story. Also included is a cut and paste sheet for independent review.
16.) Scarecrow Emotions Pocket Chart Pieces. Students the correct picture to given sentences.
17.) Roll a Scarecrow Dice Game
Farm
Page 4— How Many on the Farm Worksheet. Students look at a farm picture and count how many they see of each given animal.
Page 5 to 12—Counting Center. Print, laminate, and cut. Provide clothes pins. Student counts and marks how many with the clothespin.
Page 13 to 15—Patterning Activities. Velcro center and a cut and paste worksheet.
Pages 16 to 18—Graphing Fun Activity. Page 17 should be printed and displayed. Students look at page 17 to answer and fill in page 18.
Pages 19 to 23—Farm Puzzle Fun. Four farm themed puzzles that I suggest you print, laminate, and cut. One is counting by 1's. Another is counting by 5's. The third is a blank one that you can fill in with any skill (ABC's, count by 10's, count by 2's…) The fourth is a matching puzzle.
Page 24 –30—Beginning sound fun. Various activities for class instruction and individual practice. Page 31 to 33—Animal Friends—A little cut and trace book. Students trace the words and numbers. They color and then cut out a smaller animal to glue on the hill in the background of the bigger animals box.
Page 34 to 35—Fun with farm play-dough mats.
Page 36 to 37—A cow themed craft with templates that goes along well with the story Click Clack Moo. Page 38 to 41—Guess the animal in the barn manipulatives to use during class instruction.
Page 42 to 47—Counting dots on cows and matching them to the correct number. Small center and larger class demonstration size.
Page 48 to 51—Five Black Cows Class Interactive Chart Pieces. Everything you need to make an interactive display to go along with a fun counting poem.
Page 52 to 54—PIG CRAFT—Templates to create a pig using a balloon.
Page 56 to 60—A pig themed finger play
FARM
Page 61 to 63— Five pigs interactive book for students to make. Coloring and tracing involved. Great activity to use after using the chart on 56 to 60.
Page 64 to 66— Roll a Farm Scene Game—All materials need to make game. Just supply dice.
Page 67 to 70—T is for Tractor and Turkey Craft. Includes patterns and a fun idea for a creative craft using the students picture.
Page 71—Tracing lowercase letters and adding the missing letter. (Worksheet) Bonus Coloring sheet included. Page 73 –76—A fun counting game played in small groups. Everything you need to play the game is included. BONUS Mrs. Wishy Washy Mini Book, Big Book, Play-dough Mat and Craft
Frog
1.)Froggy Craft Template and Froggy Little Book (6 Page PDF
2.)Frog Play Dough Mats (3 Page PDF
3.) Accordion Egg to Frog Book (4 Pages PDF
4.)Life Cycle Pocket Chart and Matching Take it To Your Seat Center(
5.)Five Green and Speckled Frogs Printables to make interactive
chart. (4 Pages PDF
6.)Frog Hopper Dice Board Game (3 Pages PDF
7.) Paper Plate Frog Blower Craft Templates (1 Page PDF
8.) Five Frogs and a Flip Flip Book (4 Pages PDF)
9.)Hop Frogs Simple Dice Game (1 Page PDF
10.) Graphing Colorful Frogs ( 2 Page PDF
11-12) Frog Puzzle Game (4 PDF Pages
13.) From Frog to Egg Mini Book to print, color, and read
Fun With Food
Various Files
Gingerbread
1. 1 Yummy Gingerbread Baby Book
2. 4 Pages of Gingerbread Play dough Mats
3. Gingerbread Play-dough Recipe and a gift tag poem for you to attach to the dough and give as a great winter gift.
4. 2 pages of fine motor activities
5. Colored Cookies on My Plate Math Center with Center Activity Sheet
6. 2 Gingerbread Dice Games
7. Roll a Gingerbread Scene Dice Game
8. Gingerbread Marshmallow Sort
9. Gingerbread Cut and Sort Activity
10. Graphics for Sorting for Math lessons
11. Gingerbread Roll and Color
12. Gingerbread Bingo Dauber Roll and Dab Sheet
13. Make Gingerbread BIG Poem
14. Make Gingerbread Student Mini Book
15. 5 Little Gingerbread Men Big Poem Printables and Directions to make individual smelly trays.
16. Sandpaper Gingerbread Magnet Template
17. Gingerbread Shape Match
18. 4 pages of simple independent number and letter sheets
19. Roll Say Keep Alphabet/Letter Sound Game

Happy Birthday Moon Literature Extensions
Pages 3 and 4 are backlines to make a little book about what bear might seen in the sky. You can see this in the first picture below.
Page 5 and 6 are pocket chart extras. IPage 7 and 8 are printables to make Playdough Mats to match the story. The kids had fun making Bear and Moon a cake. They added candles with the play-dough. They outlined the six. They gave Bear and Moon hats to match the story.
Page 9 and 10 are printables to make the God Bless the Moon craft.
Page 11 is a reference chart of the moons phases.
Page 12 contains the four phases when I teach this to Preschool, we color the white part yellow to show where the sun is reflecting off the moon.
The Kissing Hand Literature Extensions.
6-14.) A to Z Puzzles to use in small groups or as a literacy center
15. - 16) Cut Up and Sort Day and Night Sentences. Use during group instruction.
17.) Count Up and Match—Count the kisses and match to the Raccoon with the correct number.
18.) Beginning Middle End—As a class read through the statements and circle beginning, middle, or end.
19.) Take Chester to the Kissing Hand Dice Board Game—Roll the dice and race to the kissing hand. Use foam shaped hearts as markers.
20-21.) Roll and Put together a Chester—Dice game. Cut out shapes to form Chester. Roll the dice and put together Chester.
22. - 24) Dice Cover-Up Games 25.- 26.) Beginning Sound Cover Up
27. - 28.) Count by 1s and a Count by 5s Puzzle—I suggest you print, laminate, and cut these.
29.) Kissing Hand handprint poem and page- student places they handprint on the page and glues a heart in the center.
30.) Kissing Hand 10 frames count, cut, and glue
Leaf Theme
Page 5 and 6—Roll and graph the leaves that fall! Include a make it yourself leaf dice on page 5. I suggest you print page 5 on cardstock. Cut and tape the dice together. Have your students complete page 6 with the dice.
Page 7 and 8—Fall snack tree. You can purchase fall themed M&Ms to have your students decorate this tree. Great for one-to-one correspondence. If food is a no-go, just use pom-poms.
Page 9 through 15—Activities and pocket chart pieces to go along with the poem FIVE LITTLE LEAVES. Super cute activities to match!!!
Page 16 and 17—A little mini book that students can color and trace. Then they can cut and staple to share at home.
Page 19 and 20- Counting 1 15 cut apart activity.
Page 21 through 35—Pieces and directions for the LEAF TOP IT math game.
Page 36 through 40- ROLL SAY KEEP leaf Letter Sound Game includes directions and all printables. All you need is dice.
Page 41 through 45—Counting Leaves Puzzle Game Includes all printables and directions. This is a print and go game super easy to set-up and kids love playing this in small groups.
Page 46 through 48—Cover It Dice Game. Page 47 is played with one dice and page 48 uses two dice.
Page 50 through 53—Letter Sound Match Up Center Students match the letter sound to a picture with the same beginning sound.
Page 54 and 55—Math and Reading Worksheet for extra practice
Ocean Themed Calendars and Decorations for your classroom!
Old Lady Files—Files to make an Old Lady Apron, Baggie, and a Swing Top Garbage Can. Dice games to go along with some of the Old Lady Books. Other bonus printables to match some of the There was an Old Lady Books by Lucille Colandro. Print, Laminate, and use for years!!! Hands-on classroom fun!
Pirate
Page 4—Pirate hat template—Template for you to create a Pirate hat for the students in your class. Just print and trace.
Pages 5 to 13—Pirate Poems with Manipulatives to Match. Color Poem and Emotions Poem.
Page 15—Trace the letter P. Match the coins to the numbers. Draw the pirate faces. You can place this sheet in a page protector and use with a dry erase marker.
Page 16—I punched holes in these and strung them in the center of a string. Use for beading activity.
Page 17 to 22—Literature Extensions to Match There Was an Old Pirate who Swallowed a Fish. Includes story manipulatives and a little book to match.
Page 23 to 25—A game to match the story.
Page 27—A pirate themed puzzle
Page 29 and 30— Pirate Play Dough Mats
Page 32—Template to create a pirate puppet.
Page 33—Stamp, color, and stick activity
Page 34 to 41—Pirate Bingo
Page 42—Pirate Handprint Craft
Page 43—What Treasure Box is the Pirate hiding behind.
Page 44—Match the jewel to the correct pattern
Page 46—Numbers 1 to six. Color, count, and glue activity sheet.
Page 47—Graph the pirate pictures activity sheet.

Polar Express
2 Polar Express Games for Polar Express Day in Your Classroom. The object of the Polar Express Counting Game is to collect as many bells as you can before the puzzle of the train is put together. The Object of the Dice Game is to be the first person to make it to the present. Be careful don't spend too much time drinking Hot Chocolate!

Pumpkin Patch
Page 6. Five Little Pumpkin Manupulatives
· Page 7. Five Little Pumpkins Poem with coloring page.
· Page 8 and 9. Five Little Pumpkins Counting Flap Book.
· Page 10. Counting Puzzle to print.
· Page 11 and 12. Counting puzzle to color and glue to page 12
· Page 13. Number writing and one to three worksheet.
· Page 15 and 16. Pumpkin Sequencing Pocket Chart Pieces to use when teaching about the pumpkin life cycle.
· Page 17 and 18. Pumpkin Sequencing activity.
· Page 19. Cut, Count, and Graph the Pumpkin Life Cycle Worksheet
· Page 20 . Pumpkin Life Cycle Mini Book for students to color.
· Page 21 and 22. Once I Planted a Pumpkin Seed Mini Book
· Page 23. Pumpkin Pals Glyph Activity.
· Page 24. Pumpkin cut and paste 10 frames worksheet.
· Page 25 26 and 27. Pumpkin Rhyming activities.
· Pages 29 and 30. Pumpkin Themed Play-dough Mats.
· Page 31. Five Pumpkins on a Gate Dice Game. Have students take turns rolling the dice and matching the picture to the number rolled. First person to roll the gate and five pumpkins, wins!
· Page 32. Square Pumpkin Counting Puzzles one to six.
· Page 34 and 35. Life Cycle Sequence Puzzles one to six. Great for an independent center.
· Page 36. Beginning Sound Pumpkin Patch Match Up

Rainbow Fish Literature Extension
1.Rainbow Fish CD Craft Template - print out template to easily make this fun craft.
2.Rainbow Fish Math Board Game - Practice adding 1 to 3 . Practice subtracting 1 and 2.
3.Rainbow Fish Emotions Pocket Chart Pieces and Independent Activity Sheet to match!


RAINBOW FISH
4.Roll Scales Dice Game - Decorate a fish with shapes (scales). Great game for review of dice, shapes, and colors.
5.Counting Puzzles - One in color so you can print on cardstock laminate and reuse as a center. One is black and white. Students can glue this to the given sheet and then color.
6.Fish Color Match Pocket Chart Printables - Use during whole class instruction/ circle time.
7.Mini Book - students color the book and take home to use as a retelling of the Rainbow Fish story.
8.Counting Fish Activity Sheet - cut and paste activity
9.Beginning Sound Cover-Up - Page 1 contains the game board for this activity.
Rainbow Themed Files
1.) Rainbow Shape Match Center—You can use this as a take it to your seat center or you can just print both sheets and have your students cut and glue the shapes to page 2. I laminated and used Velcro to attach the pictures. Student matches the shapes.
2.) Rainbow Puzzle Game—A Counting Game that is easy to play and set-up.
3.) RAINBOW HAT CRAFT - This file contains the printable for the rainbow hat below.
4.) Printables to make a ROY G. BIV
5.) Letter sound puzzles in a rainbow theme a-z
6.) Roll Say Keep Rainbow Themed Number Recognition Game.
Pre Primer Sight Word Activities
Words covered on all activities include; a, and, away, big, blue, can, come, down, find, for, funny, go, help, here, in, is, it, jump, little, look, make, me, my, not, one, play, red, run, said, see, ,the, three, to, two, , up, we, where, yellow, you
1.) Large Dolch Pre-Primer Sight Word Cards. Use for various activities or in a pocket chart.
2.) Graphing Dolch Pre-Primer Sight Words Set—Student cuts out sight words and glue to the graph. Last they could up how much they have of each word and write it on the sheet. A little math fun with sight word practice. 8 pages of activities.
3.) Crunch Dolch Pre-Primer Sight Word Game—
4.) On the Farm DOLCH Pre-Primer sight word dice game. Student rolls the dice and follows the directions on the playing card. When time is up, players count their cards to see who has the most.
5.) Cut, Glue, Trace, and Draw Dolch Pre-Primer Sight Word Activity Sheets— 9 pages.
6.) Dolch Sight Word Pre-Primer Roll a Word Games— 4 pages / 7 games.
7.) Crack the Code Activities— 9 pages of activities.
8.) Cover Up—4 cover-up mats with a bug theme
Snowman Themed
Page 5 and 6—Roll a Snowman. Student adds the snowman pieces as they roll.
Page 7—Color a Snowman. Students take turns rolling the dice. First person to color all the parts, wins.
Page 8—Draw a Snowman. Students take turns rolling the dice. First person to draw a snowman, wins.
Page 9, 10, and 11—Snowball game. You will need to provide pom-poms or markers for this game. Directions included.
Page 12 and 13 —Color a Snowman Rhyme Activity that can be done as a class activity or in small groups. Page 14 is an independent review of the activity which can be used as enrichment.
Page 15 to 24—Beginning Sound Center. Students add a snowball with a picture of the given beginning sound. Page 25 to 28—Snow globe craft template and directions. Page 29 to 36—Many activities to use with the book, There was a Cold Lady Who Swallowed some Snow. Swing trash can template, little book, and dice game.
Page 37 to 41—My two favorite snowman poems/songs with manipulatives to match. Page 42 to 44—Snow Play dough Mats

Page 45 to 49—Templates to make a large snowman toss. Write letters, numbers, and or sight words on ping pong balls and have your students say the sounds and toss into the snowman.
Page 50—51—Print these on cardstock. Add a magnet. Place on cookie sheet and have students put the pieces together to make a snowman of their choice.
Page 52 to 53—Handprint craft with poem to attach. Page 54 to 57—Snow Globe Counting Game with a dice. All you need to provide is counters. I suggest mini marshmallows.
Page 58 to 60—2 Color, Trace, and Stamp Sheets. You can use a bingo dauber or a round stamp of your choice.
Page 61 to 62— I used this sheet in a page protector and the students used a dry erase to trace the letters and numbers. They enjoy adding details to the blank snowman.
Page 64—Match and count snowflake cards for your pocket chart. Page 65 and 66—Roll and graph snowman parts. Dice is provided and record sheet is provided.
Pages 67 to 76—Snowman Glyphs—Two different glyph. One is in craft format. Another is a simple coloring glyph. There is a class Data sheet to match the first Glyph. Students can look at the displayed graphs to complete the sheet on page 75.
Page 77 to 82—Roll Say Keep Snowman Themed
St. Patrick's Day
2 Games for St, Patrick's Day fun in Preschool and Kindergarten and First Grade. Can be used in a center or in small groups. Also great party game for your St. Patty Day Party!
1.) Puzzle Game 2.) Dice Game
Thanksgiving
Pages 5 to 10—Turkey Time Counting and Puzzle Game.
Page 11 and 12—Roll a Turkey Game
Page 13, 14, and 15—Roll a Turkey Dinner Tally and Graph.
Page 17 and 18—Addition center. Match a problem to the correct Pilgrim.
Page 19 through 28—Beginning sound puzzles. Match the turkey to the correct sound.
Page 29, 30, and 31—Match the shape center
Page 32 and 33— Create your own skill puzzle
Page 34 to 39—Letter sound roll, say, keep. Last page includes blank cards that you can program with your desired skill.
Page 40 to 46—Turkey Time Bingo—8 different cards and a set of calling cards.
Pages 46 to 48—Dice Game—Race and Roll to the pie!
Page 49—Roll two dice and cover game.
Page 50—Bonus T is for Turkey and Tractor Activity Sheet.
The Three Little Pigs
Page 3 and 4—Emergent reader. Student can color and bring home to share with a parent.
Page 5 to 8—Three Little Pigs game. Just print and use in small group.
Page 9—Color, trace, and stamp activity sheet. Number three.
Page 10—Color by code. Cut-out dice provided. Print dice on cardstock and tape together to have forever.
Page 11 and 12—Easy Three Little Pigs Craft page and idea.
Page 13—Color cut and sequence pictures from the story activity sheet.
Page 14 to 16—Story manipulatives. Laminate and add a magnet to the back to use on large white board to retell the story.
Page 17 and 18—Tally and Graph activity. Printable dice provided. Makes a wonderful math center.
Page 19— Color, Trace, Cut, Count and Glue—Activity sheets for the numbers 2 through seven.
Page 20—Roll and Cover Math Center. Print page 20 on card stock. Supply markers and a dice. Students take turns rolling dice and marking off the number they rolled. First to cover their card wins. Great for independent game time or small groups.
Page 21—Little Piggy knows his letter sounds board game. Supply markers and a dice. Students roll dice and say letter sound on the brick. First person to get to the brick house first is the winner.
Page 22—Practice a skill puzzle—Laminate cards and then use a dry erase to add a skill on the bottom of the puzzle. Cut apart puzzle and students put it back together. Great for counting by 5's and 10's or counting up. Also good for ABC order.
Page 23—A beginning sound cut, color, and glue sheet.
Page 24—Three Little Pigs Glyph Activity Sheet. Great way to introduce preschool and kindergarten age kids to data interpretation! (MORE FAIRYTALE FILES INCLUDED)
Valentine's Day Games
Pages 3 to 5—Fill my heart to BEE my Valentine Game! You must supply markers but only set-up required is to print and cut-out a set of cards!!! Be the first to fill you heart by covering all the circles. To play: Players take turns in order drawing 1 card and performing the act on the card. For example: If the card says +3, then the player would add 3 pieces to their heart. If the card asks the player to give a piece away, they must give one piece away, if they have the piece to give. If they do not have any pieces on their heart, they do nothing and it is the next persons turn. Play continues until someone covers up all the circles on their heart! Grades Pre-K to Second!
Pages 6 to 11—Puzzle Game - I love this game because all you need to do is print pages 7 to 11 and cut out the cards and you are ready to share this game with your class! Fun to play in small groups of 2-6 students!!! Directions included! Grades PreK to Second!!!
Page 12 to 19—Everyone's Engaged Bingo! The nice thing about this game is that every picture called will be on the card (just in a different order) - this allows for everyone to cover a picture at every turn but still just one winner. (Keeps all engaged knowing they must find the picture on every turn and is not frustrating like regular Bingo.) First person to get four in a row or diagonal, wins! Perfect for preschool, kindergarten, first, or second grade classrooms.
BONUS: Play V-day Memory with page 19. Print two pages of page 19.
Students can play in small groups, so you will need to print a set of playing card per two—four students.
Play like regular memory. Place all cards face down. Students turn over two cards on turn. If they have a matching card, they keep the set and try again. It is the next persons turn when the student does not get a match. Game is over when all cards are collected. Count cards to find a winner.
Page 20 and 21—2 free games from Teaching Heart Website
Page 22—Roll a box of BE MINE Chocolates. All you need for this game is a dice and the sheet!!!
Hands-on Bunny Themed Games, Crafts, Teaching Materials, and Activities for Preschool and Kindergarten!
Pages 7 to 11—Pieces and directions to make an interactive bunny counting chart to use at circle time. Counting back from 5.
Pages 12 to 15—The pages needed to create a flip book for students to color that goes along with the poem on the previous pages.
Pages 16 to 18—Bunny Themed Play Dough Mats
Pages 19 to 25— Shape and Color Pocket Chart Pieces… Find the real bunny and not one of his tricky friends.
Page 26—Pattern Cut and paste sheet.
Pages 27 to 29— Bunny carrot game. Counting up to 10.
Pages 30 to 33—Patterns need to make a given bunny handprint craft.
Page 34—Favorite preschool bunny facts
Pages 35 to 37—Printables to use with the Bunny Mallow Marshmallows.
Pages 38 to 39—Directions and template to create a bunny water bottle.
Pages 40 to 42—Various bunny activity sheets. Counting and tracing. Beginning sound.
Pages 43 to 45—Bunny Beginning Sound Center. Student matches carrot letter to bunny picture.
Pages 46 to 47—Bunny Tracer page.
Pages 48 to 60—Peeps craft idea with templates.
Pages 52 to 53—Peep Dice Game - Counting to 12. Counting two sets.
Pages 54 to 60—Peeps card game to practice skill of your choice. Beginning sound cards provided.

BONUS FILES to Match There Was an Old Lady Who Swallowed a Chick!!
+Old Lady Dice Game—Includes printable dice. Students Take turns rolling the dice. Be the first to fill the old lady's mouth with each item she swallowed and you win!
+Printables to create you own old lady to feed. Includes eggs with all letters and baskets you can program with your own skill!
+Old Lady Swallowed a Chick Pattern Practice Center: AB, ABC, AABB patterns practiced. Student places the picture next to the correct pattern.
+2 Hands On Following Direction Activities.
+ 2 Activity sheets to match the story!
+ Programmable puzzle.
CAT AND DOG THEME : Printable craft ideas, games, mini book, play-doh mats, games, and more to go with your cat and dog themed lessons in preschool or kindergarten.

Page 4, 5 and 6—2 Printable worksheets. Color, trace, cut, daub.
Page 7 and 8—Dog's Dots Mini Book—Color dots, trace words, count dots, and write number.
Pages 9 to 13—Patterns to make a cat hat.
Page 14—Patterns to make a cool cat necklace.
Page 16 to 18—Poems and manipulatives (colorful cat activities)
Page 19 to 22—Roll a colorful cat dice games.
Page 23 to 25—Cat and Dog Play-dough Mats.
Page 26 and 27—Two favorite cat poems.
Page 28 to 30—Pocket chart beginning sound pieces for sounds C and D.
Page 31 and 32—Roll cats and dogs—tally and graphing.
Page 32 to 32—Pocket chart pieces. Students count the bones 1-8 and match them to their number.
Page 39 and 40—Picture vocabulary cards to go along with the book Clifford's Good Deeds.
Page 42—a two player dice game called rolling for bones
Page 44—You choose your skill puzzle. Print, laminate, and program with numbers or letters. Then cut. Student puts the puzzle together by sequencing the number or letters.
Page 45—Raining Cats and Dogs Coloring Page
Page 46 to 51—Raining Cats and Dogs Counting Puzzle Game. Super easy set-up for this game. Just print and cut and you are ready to play. Directions included.
Fun with bears in Preschool and Kindergarten. Bear themed activities, pocket chart displays, manipulatives, craft templates, and more for your theme.
Page 3—Color, Trace, and Dab Dots for a Teddy Bear Picnic. Student Worksheet.
Page 4—Teddy Bear Counting Activity sheet. Cut out missing numbers and glue in correct place.
Page 5 and 6—Favorite Teddy Bear Poems
Page 7 to 9 —Teddy Bear Number Recognition Pocket chart pieces and activity. Numbers 1-12.
Page 10—14—Ten Teddy Bears in a Bed Activity. Magnetic White Board Pieces included.
Pages 15 to 18—Gummy Bear Colors and Shapes. Activities and Manipulatives.
Page 19 to 20—Bear in Cave Craft Cup Idea with printable bear template.
Pages 21 to 23—Coffee Bear Craft with Fingerprint Bee Hive.
Pages 24 to 27—Hands on Teddy Bear Picnic Themed Activities. Sequencing, Patterns, and Counting
Pages 28 to 29—Teddy Grahams Math Fun. Also edible treats to make for Teddy Bear Snacks.
Pages 30 to 31— Teddy Bear Exploration Activity
Pages 32 and 33—God Loves Me Beary Much Craft idea and template.
All files on the DVD are copyrighted 2002—2014 by Colleen Gallagher @ Teaching Heart www.teachingheart.net. Teaching Heart gives permission for these files to be used by one classroom teacher. If you wish to allow more than one teacher access to these files, please contact us about purchasing a license for multiple users. These files may NOT be shared online or sold in any form. Thank you and enjoy!