Fire Safety Theme Ideas
October is fire safety month. It is an important topic to cover throughout the year! Here you will find lessons ideas, links, books, and more to help you teach fire safety to your class! If you like a book, click on it to learn more at Amazon.com.
- October 2011

Here are some Fire Safety tips from the
United States Fire Safety Administration.
You may wish to place these tips on a chart and go over them with your class!
Make sure everyone in your family knows and practices escape routes from
every room in your home.
Remember to escape first, know how to notify the fire department, and when to call for help.
Never open doors that are hot to the touch.
Teach your family to stop, drop to the ground and roll if their clothes catch
fire.
Designate a meeting place outside. Try to make it a location away from your home, but not necessarily across the street.
Teach your family to never re-enter a burning building.

Watch a Video With Your Class

Fire Safety Vocab. Cards

These are taken from the Primary Teacher Time Savers for October-November CDROM! To learn more about this CD - click here! You may print, laminate, and use these as you wish. The CD has many fire safety activity sheets for you to use during this unit.

Some words to talk about:
fire, fire hydrant, firefighter, telephone, 911, ladder, matches, fire truck, smoke...


Awesome Books
You could read a book a day to your class. Children's Literature is the best way to grab your student's attention and spark a conversation on a topic. I always start a lesson out with a good book!


Poems, Songs, & Fingerplays!
One of the best ways to get students to remember something you teach them is to teach them a song they can sing. Here are some of my fire safety favorites!
"I Found Matches!" (Sung to "Skip to my Lou")

I found [matches] what do I do?
I found [matches] what do I do?
I found [matches] what do I do?
Tell me what to do!

Give them to a grown-up that's what I'll do!
Give them to a grown-up that's what I'll do!
Give them to a grown-up that's what I'll do!
Give them to a grown-up!

*replace matches with lighter for 2nd verse

Stop, Drop, and Roll!
(Sung to "Farmer in the Dell")

Stop, Drop, and Roll
Stop, Drop, and Roll
If your clothes should catch on fire,
Stop, Drop, and Roll

9-1-1
(Sung to "Frere Jacques")

There's a fire!
There's a fire!
9-1-1!
9-1-1!
Call the fire department!
Call the fire department!
9-1-1!
9-1-1!

Fire Department finger play:

Fireman, fireman number eight
Bumped his head upon the gate
The gate swung in,
The gate swung out
That's the way they put the fire out!
Emergency, emergency 9-1-1
Emergency, emergency 9-1-1

Smoke Chant

If you don't want to choke
Crawl under the smoke.
Get down on the floor
And head for the door

Sing For Safety


Have the children construct a model of their bedroom and discuss their alternate route out if their door is hot to the touch. This is a good project to do at home. I found that many of my parents had not discussed this with their children. The parents were grateful for me bringing it up. The children brought in the models and explained to the class how they would get out.

We talk about dialing 911, choosing a "meeting place" for all family members to meet when they exit the house during a fire (or fire drill) and we practice "Stopping,Covering (their face with hands), Dropping, and Rolling."

One follow up activity to a field trip to a firestation involves the making of a class book. Each child draws a picture of something they s/he learned on our trip to the fire house. On the top of each page I write something like, "Firefighter Steve taught me...," or "When I went to the fire house..." and the child finishes the sentence. At this point in the year, most of them dictate the ending to me and I write it down. All pages go into our class book.

Place orange felt *flames* on child's shirt. Demonstrate how to Cover, Stop, Drop, and Roll on the carpet, to put the flames out. (*cover*, cover their face with their hands while rolling.)

Clothespin sheets up around the room, about 2 ft from the floor, and practice crawling, low, under the *smoke*. * Turn out the lights to practice getting out in the dark. Go around room and put red dots on hot things, and blue dots on cold things.

Visit the Dynamic Number Tracer link at DLTK to make a page with telephone number and another with 911. BBOARD IDEAS Hats Off To Fire Safety
Create a Firefighter hat pattern and give each of your children one. Let them design their own hat as well as the symbol that goes on the front of the hat. Put these hats on the board and write fire safety rules around them.

Stop Drop and Roll Board
Take a picture of each of your children in each position (a position standing, laying down, and rolling) Put these pictures along with the picture of a fire engine on the board


Nice Teachers Share Fire Safety Ideas!

I teach kindergarten so this is something we do every year! I always do a thing with "Stop, Drop, and Roll"...have students actually do that. But somehow, they think that is all there is to "Fire Prevention Week". Last year, I had the students brainstorm a list of safe places away from their house where they could meet family if they ever had a fire. The list had things like "the neighbor's house", "the big tree out front", "by the mailbox", etc. Then the children drew a picture of their house on one side of the paper and a picture of where they would go in an emergency on the other side. I had cut out on the Ellison-Die machine "paperdolls" for boys and girls and had them move the doll from the house to the safe place. Then they dictated a sentence for where they would go and I attached this to the bottom of their picture.I also sent home a letter to parents reminding them to practice a fire drill at home. This generated a lot of response from families. Many had never had a fire drill. The children were able to tell their parents where a safe place at home was. It was a good lesson.Hope this gives you an idea! Genie/GA-kindergarten

A couple of my favorites:
Take a walk around the school hunting for EXIT signs. You can keep tally marks of all the signs you find. They really think it's cool when I turn off the caferteria lights and they see the EXIT lights are still on. We make EXIT signs as a follow up.
Play a game to practice Stay Low and Go. Put a smoke detector on one side and a couple teams of kids about 10 feet or so away . You begin by pressing the test button on the smoke alarm so it sounds the alarm. THe kids all call out, "Stay low and Go." The children in the front of the line crawl as fast as they can to the other side where the smoke detector is and hit the test button which starts it off again for the next group of kids. Elimate competition by adding more smoke detectors or by not making multiple groups. Just make sure the kids understand that what they really do is crawl to get out and not to find the smoke detector in the home. This was not my idea, I got it from the net somewhere and my kids loved it. - Pat on 10/04/02

We take a trip to the local fire station as part of our fire safety theme. I then do a predictable chart called At the Fire Station...The kids then tell me something they saw, heard, felt, etc at the fire station. For example, I heard a loud siren.(Jimmy)Posted by Dawn/K/WI

Firefighters use_______. We brainstorm as a class the things that a firefighter might use and then they can choose one from the list.Ex: hammer, hose, mask, water, ax, firetruck, long pants, shirt, oxygen, radio, nets, walkie talkies, ladders, mascots, poles, fire stations, clamps, boots, etc. That is all I can think of now. I read a book about firefighters before we do this to spark ideas. Hope this helps. Posted by krea


Fire Safety Crafts For Your Class!
| | |
| --- | --- |
| | Fire Painting- Give student a black piece of paper. Squirt thick lines of yellow, red, and orange paint randomly onto the paper. Give the child a piece of saran wrap and lay over the paint. Encourage the child to pull the saran wrap off, using vertical pulling action. Remove saran wrap and let dry. If desired glue on a small fire engine. |
| | |
| | |

My Favorite Links To Fire Safety Fun!

Fire Safety Activity Sheets
A great idea, is to have a box filled with Activity Sheets. Allow your students to choose a sheet as a free time activity or at indoor recess. These activity sheets may also be used during a lesson!
| | |
| --- | --- |
| Escape planning grid, practice your escape plan with the entire family. | |
| Many Free Sheets Here! | Fire Safety File Folder |


Fire Safety Products
These would be great in a center!

Recipes
Fire Cups- Need: Small clear cups, red, yellow, and orange jello, cool whip, blue food coloring. First prepare all of the jello and chill. Then once chilled, cut the jello into small cubes. Mix the cool whip and a small bit of blue coloring in a bowl, set aside. Encourage each child to spoon in some red jello into the cup. Then spoon on orange, then yellow, creating layers. Lastly, dollop with some blue whip. You now have fire cups!!!
Kaboomu Shares how to make this fire truck snack!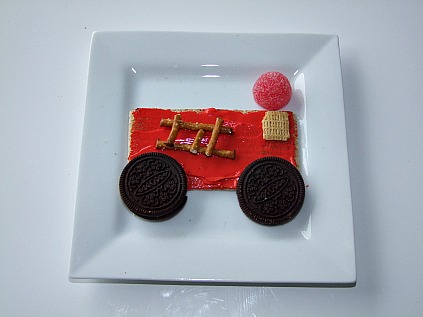 Have a favorite fire safety lesson idea or book idea that you do with you class? Be kind and share it on this page. Click here to send your idea!!!